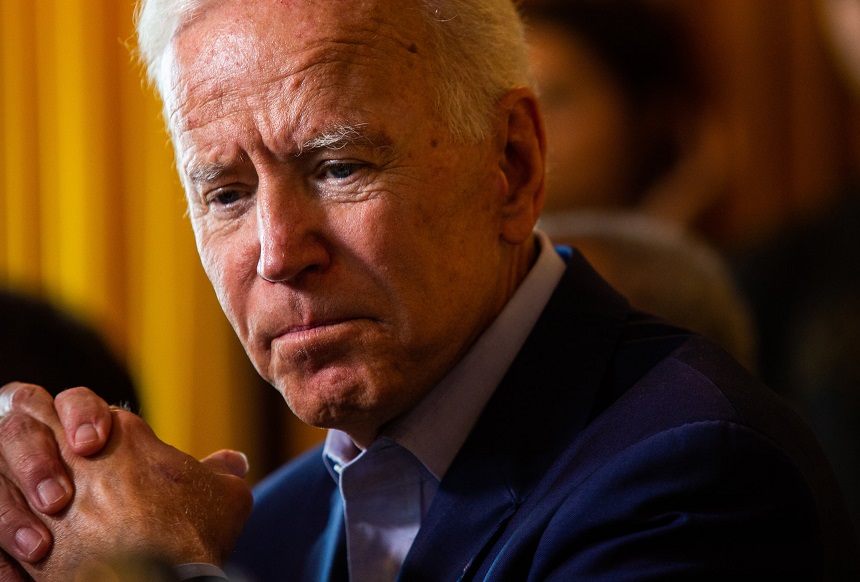 Former Vice President and dementia sufferer Joe Biden has no chance of winning the White House. And the real polls aren't doing him any favors.
Not long ago, a poll reported that 20 percent of Democrats surveyed believe Biden suffers from cognitive loss of brain function, i.e. dementia.
Almost 40 percent of 1,000 voters whom Rasmussen polled June 25-28 think Biden needs a check up from the neck up, and upwards of 50 percent think the time has come for him to say something about it.
"38% of Likely U.S. Voters think Biden is suffering from some form of dementia," the pollsters at Rasmussen reported yesterday. "Based on what they have seen and read, 48% disagree, but 14% are not sure.
Worse still, 20 percent of the Democrats polled think Biden is non compos mentis, along with 66 percent of Republicans and 30 percent of those not affiliated with either party.
Presuming that these voters don't want a demented president, that's a big block to lose.
Compound this with Biden's results in the Kentucky primary, where he garnered 57 percent of the vote. In those results, 20 percent preferred "other", and Sanders' "Bernie or Bust" crowd received 17 percent of the vote.
But that's not the only bad news to explain the "enthusiasm gap" for Biden. The media conveniently overlooked the New York primary where Biden received 67.2% of the vote, despite being the only candidate. In that uncontested race, Bernie Sanders took 19.1% of the vote, even though he dropped out 77 prior. Elizabeth Warren finished third with 4.4%, though she withdrew 111 prior.
Still, Leftists bombard America with fake polls heavily weighted for Democrats. Regardless, the bad news continues for Biden.
According the Rasmussen, most Americans don't believe Biden could serve even one term as president:
Likely Democrat nominee Joe Biden is expected to announce his vice presidential running mate any day now, and most voters think it's likely that person will be president within the next four years if Biden is elected in November.
The latest Rasmussen Reports national telephone and online survey finds that 59% of Likely U.S. Voters believe it's likely Biden's running mate will be president before the end of Biden's four-year term if he wins this fall, with 39% who say it's Very Likely. Thirty-five percent (35%) consider it unlikely that Biden's vice presidential choice will be president before his four-year term ends, but that includes only 14% who think it's Not At All Likely. (To see survey question wording, click here.)
In other words, Democrats will not be electing Biden, but instead his running mate.
Awkward. Democrats admitting (1) that they really didn't want Biden in the first place, and (2) the ultimate winner couldn't defeat a brain-dead moron the first time around and relied on "trickery" to do so.
How's that for a profile in "progressivism"?
Meanwhile, on the other side of the aisle most Republicans can't even spell Pence. Trump's VP is a nice guy, but let's keep it real: Pence is little more than a figurehead. America knows what we get with Trump and we want more.
In 2016, Pence supposedly balanced the ticket. No disrespect to the VP, but at this point Trump could replace Pence with a bobblehead doll and nobody would blink.
Ask any Republican his biggest fear, and the answer is likely, "Who can replace Trump once his second term ends?"! Pence certainly can't. But Democrats have it far worse. Because Trump will have decimated that feckless group of misfits and con men by the end of his second term.
A Biden presidency will never be. And as I've said many times on my radio show, Trump will win more of the popular vote than any president in history.
Democrats refuse to see the real lessons in polls. Worse, they so wish to feed their fantasies, they ignore all that's happening around them.
But the public sees it all. And they interpret through emotion; just like Democrats taught them. So the last thing they want is a demented president who acts a placeholder for somebody else they never wanted.