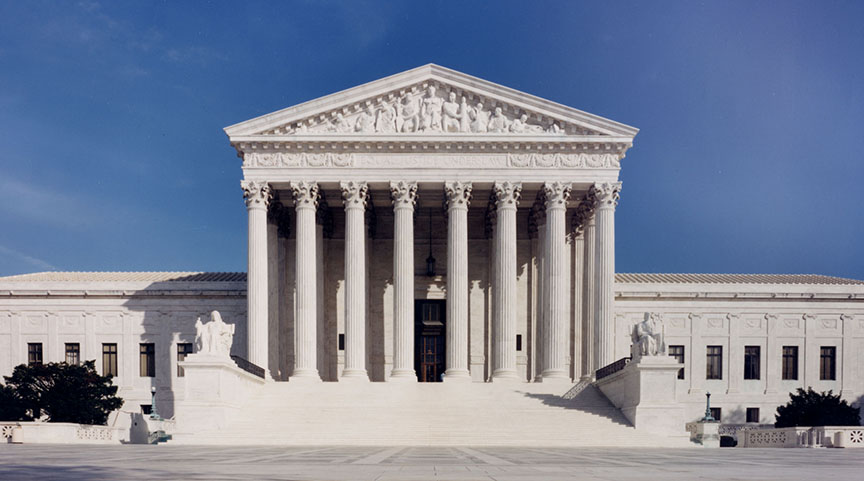 Who Will Trump Pick?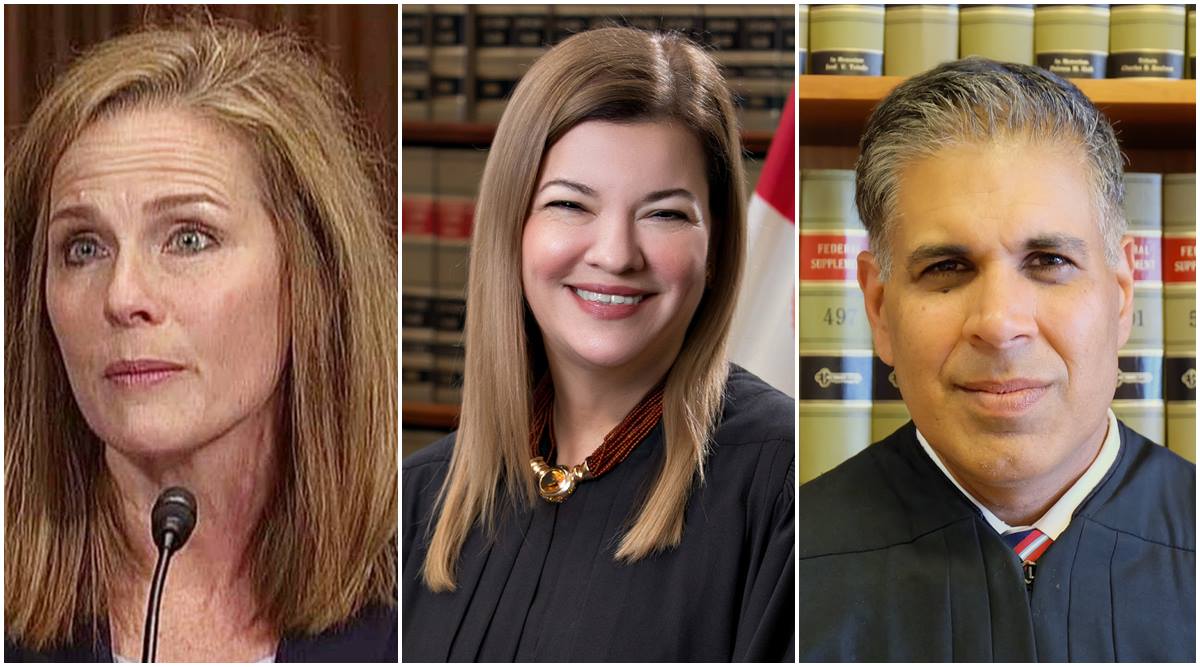 A Whole New Ballgame!
The passing of Supreme Court Justice Ruth Bader Ginsburg added a critical new importance to the 2020 Presidential election.
As we outlined in 2016, the behind the scenes political mischiefs that go on with manipulating the Supreme Court are as old as the country itself.  But this is 2020, and nothing can be considered 'predictable' in this topsy-turvy year.  Democrats are threatening everything from a second civil war to Impeachment 2.0 to keep President Trump from fulfilling his constitutional duties.
All we can hope for in times like these is that Mitch McConnell has a stroke from laughing too hard

— Katie Herzog (@kittypurrzog) September 18, 2020
Who are the likely candidates currently on President Trump's short list?  At his recent "Peaceful Protest" in Fayetteville, NC, the President greatly narrowed down his list of potential candidates: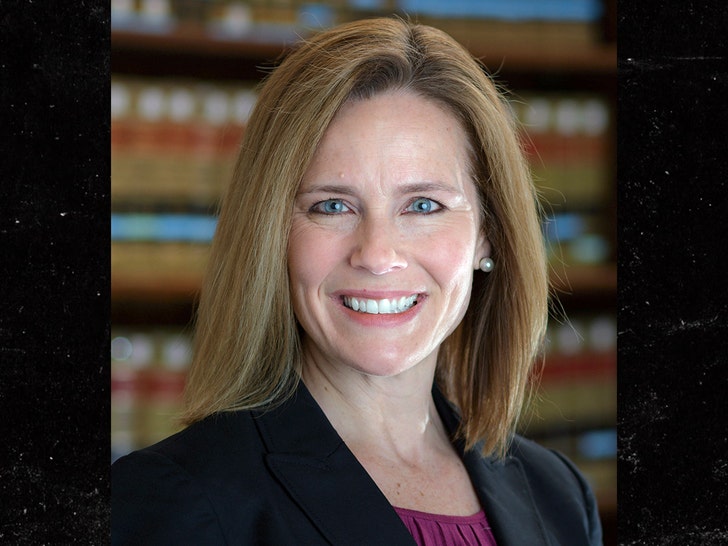 Judge Barrett appears to be the #1 potential choice to replace the late Justice Ginsburg.
A finalist for Trump's second high court nomination, which ultimately went to Brett Kavanaugh in 2018, Barrett, 48, is a favorite of religious conservatives.

A former member of the University of Notre Dame's "Faculty for Life," Barrett signed a 2015 letter to Catholic bishops that affirmed the "teachings of the Church as truth." Among those teachings: the "value of human life from conception to natural death" and marriage-family values "founded on the indissoluble commitment of a man and a woman."

The Indiana resident is the mother of seven children, including two from Haiti and one with special needs. She spent two decades as a law professor at the University of Notre Dame, from which she holds her law degree. She also clerked for Supreme Court Associate Justice Antonin Scalia.
Barrett has not yet been nominated, and the attacks have already started.
"She was kind of the Manchurian candidate," said one former colleague at Notre Dame Law School. "She's been groomed for this moment all the way along."

The notion of a new breed of Supreme Court candidate – younger, so as to serve a long tenure on the court; ideologically consistent but low-key in personality; buoyed by outstanding academic stature and experience on the lower courts – took hold after the searing nomination fight over conservative firebrand Robert Bork ended in defeat in 1987.

Bork's abrasive personality and long history of staking out contentious positions had marked him for defeat. In the future, judicial nominees would need to take greater care to be politically appealing and personally presentable.

Thereafter, the selection of potential Supreme Court nominees by presidents of both parties became high-stakes affairs, with aspiring jurists taking care to craft spotless careers for decades in advance.
Two Senators who are already on-record opposing Judge Barrett are Senators Dianne Feinstein and Dick Durbin when they violated the Constitution and applied a 'religious litmus test'.
The New York Times reported in September 2017:
Witness last week's Senate confirmation hearing for Amy Coney Barrett, a law professor at Notre Dame whom President Trump has nominated to serve on the 7th Circuit Court of Appeals. Going far beyond questions of legal philosophy and qualification, several Democratic lawmakers interrogated Ms. Barrett about her devout Catholicism, suggesting that her faith would impede her ability to serve as a judge.

"Do you consider yourself an 'orthodox Catholic'?" asked Dick Durbin of Illinois, himself a Catholic, taking issue with Ms. Barrett's use of that term to describe those who strive to align their lives fully with the Church's teachings. Mazie Hirono of Hawaii darkly insinuated that Ms. Barrett would apply Catholic morality to decide cases.

But Dianne Feinstein of California took things furthest. "Dogma and law are two different things," she said. "And I think whatever a religion is, it has its own dogma. The law is totally different. And I think in your case, professor, when you read your speeches, the conclusion one draws is that the dogma lives loudly within you, and that's of concern."

The notion that Catholics are so beholden to Rome as to be incapable of rendering independent judgment in public office has a long, sordid history. It was a mainstay of 19th-century nativist propaganda, and it would dog John F. Kennedy in the following century. Senator Feinstein later denied exhibiting anti-Catholic bias. But as with other forms of racial or religious animus, one needn't always use an explicit epithet to arouse ugly emotions.
NOTE:  Senators Mazie Horono and Kamala Harris did the same thing a year later to judicial nominee Brian Buescher during his hearing.
BTW:  Joe Biden, John Kerry, Howard Dean, and the Kennedy Family are all 'Catholics' too!  Why no criticisms of any of them?
Judge Lagoa is a 'newcomer' to the SCOTUS discussion.  She is a Latina, a Florida native, and a political ally of Governor Ron DeSantis.  Lagoa checks off a lot of boxes beneficial for President Trump in a tumultuous election year.  But who is Judge Lagoa?
Fox News provides some details:
The Miami native was nominated in 2006 by then-Gov. Jeb Bush to Florida's 3rd District Court of Appeals, where she served for more than a decade before being elevated briefly to the state's Supreme Court.

Last year, Trump nominated her to the Atlanta-based U.S. Court of Appeals for the 11th Circuit and she was easily confirmed.

Lagoa is a member of the conservative Federalist Society and is backed by Florida Gov. Ron DeSantis but some have questioned her conservative credentials, especially on abortion.

She's also a Roman Catholic and of Cuban descent, which could help Trump in November.
Again, Politico has criticisms Lagoa as well:
But some conservative groups could object based on what they see as Lagoa's insufficient record on abortion, the ultimate litmus test on the right. One prominent GOP senator, Josh Hawley of Missouri, has already said he would only vote for a nominee who has affirmed that Roe v. Wade was "wrongly decided."
Judge Jones-Rushing is the 'new kid' on the block, literally.  The 38-year-old overachiever has blazed an amazing trail in a very short time.  Yet the President's announcement that he would be selecting a woman happened in North Carolina, Jones-Rushing's home state, with Senator Thom Tillis. a supporter of Judge Jones-Rushing; in the audience.
Charlotte Observer unveiled her background:
Rushing, who is 38, clerked for Supreme Court Justice Clarence Thomas for the 2010-11 term. She also clerked for current Supreme Court Justice Neil Gorsuch before he was on the high court.

Rushing was first nominated for the 4th Circuit in 2018. The Senate did not act on her nomination by the end of the year, leading to her renomination in 2019. The Senate confirmed her along partisan lines.

Rushing, a registered Republican, joined Washington-based Williams & Connolly in 2011. She did not have the 12 years of experience practicing law that the American Bar Association typically prefers for federal judges below the Supreme Court.

According to her Williams & Connolly biography, Rushing focused on appellate matters, constitutional issues and regulatory challenges.

Rushing was born in Henderson County and her parents worked as public school teachers there. She attended East Henderson High and graduated from Wake Forest with degrees in music and political science. She was executive editor of the Duke Law Journal.
However like Barrett, Jones-Rushing religious beliefs could cause obstacles.  Her religious associations have already caused red flags with many liberal groups.
WTVD-TV explains further:
Her nomination was contested by some because of her association with Alliance Defending Freedom, a Christian nonprofit group that she worked for. The group is considered an "anti-LGBTQ" organization by the Southern Poverty Law Center.

"In my experience with ADF, I have not witnessed anyone expressing or advocating hate," Rushing wrote in a response to Senators' questions. "A number of leading Supreme Court practitioners at well-regarded national law firms work with ADF. Members of Congress, including members of this Committee, have filed amicus briefs in the Supreme Court supporting ADF's positions. I do not think members of this Committee or large reputable law firms would work with a hate group. I certainly would not."
Thank you @realDonaldTrump for including Allison Jones Rushing in the updated list of potential Supreme Court nominees. Judge Rushing is a western NC native I was proud to recommend to serve on the Fourth Circuit and a strong conservative choice who would uphold the Constitution.

— Senator Thom Tillis (@SenThomTillis) September 9, 2020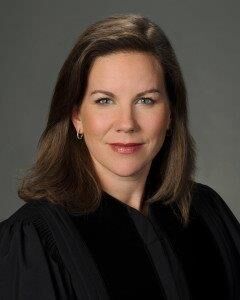 A recent addition to President Trump's short list, Judge Grant is 'The Outsider' of potential candidates.
WMAZ-TV tells her backstory:
Judge Grant currently sits on the Atlanta-based 11th Circuit Appeals Court, and before that she sat on the Georgia Supreme Court from 2017-18.

Born and raised in Atlanta, Grant clerked for Justice Brett Kavanaugh when he was a judge on the D.C. Appeals Court, from 2007-08. She was nominated by President Trump to serve on the 11th Circuit Court in 2018, and was confirmed in a 52-46 vote in July that year.

She has in the past served as the president of the Atlanta Chapter of the conservative Federalist Society, and is considered a "stellar conservative".

Just 42 years old, she was considered an appealing pick for the president when she was first named a possibility in part for how long she would serve on the Court.

The Northwestern University Law Review cites some of her major opinions. One includes overturning a man's conviction for his involvement in a drive-by shooting at Lil Wayne's tour bus.

In that case, Winfrey v. State, Grant indicated a philosophical bent for judicial restraint. She found a lower court judge had inappropriately "implied a desire to sentence the defendant and noted his proclivity for harsh sentences" when the judge suggested to the man he would get a lighter sentence for pleading guilty instead of not guilty.
Her position on Roe v. Wade could be deal killer for conservatives:
While liberal groups consider her "extreme," she noted in her confirmation process that she considers Roe v. Wade settled law and said, "I do agree that the decision in Roe v. Wade is a precedent of the United States Supreme Court that I will be bound to apply faithfully if confirmed."
Another recent addition, Judge Bade is the 'low profile' candidate.  Like the first woman to ever serve on the high court and late Chief Justice Rehnquist, Judge Bade is an Arizona native which is now a 2020 swing state.  She was appointed by President Trump to replace Justice Neil Gorsuch when he was appointed to the Supreme Court.
KSAZ-TV shares more:
Bade was born in Phoenix in 1965.

Bade graduated from Arizona State University, and earned her law degree from ASU's Sandra Day O'Connor College of Law. She worked as an Assistant United States Attorney for the District of Arizona, and also served as a U.S. Magistrate Judge for the District of Arizona before she was appointed to the United States Court of Appeals for the Ninth Circuit.
Until President Trump's announcement in Fayetteville that he would be nominating a woman, Judge Thapar's name was at top of President Trump's short list.  Is he the only man currently under consideration making him the 'longshot choice'.  If selected he would be the first Hindi-American to serve on the Supreme Court.
The Louisville Courier-Journal elaborates:
Amul Thapar grew up in Toledo, Ohio, with his maternal grandfather, who fought with Mahatma Ghandi for India's independence and impressed on young Amul how Gandhi had defeated an empire without shedding a drop of blood.

Thapar's father, Raj, has said the family urged Amul to become a doctor, but he had only one dream — to become a justice on the Supreme Court of the United States.

University of Richmond law professor Carl Tobias, who studies federal judicial selections, said Friday that Thapar will be in the mix because Senate Majority Leader Mitch McConnell has been a strong proponent and because he is conservative —McConnell recommended him for the district bench and the appellate court.

But Tobias said Thapar is not well known by many people and has not had the kind of cases heard at the Supreme Court or the U.S. Court of Appeals for the District of Columbia — the most common feeder for the high court.

If he is nominated and confirmed to the high court, his rise would be meteoric. 

And Thapar is a darling of the Federalist Society, the conservative intellectual group that believes the Constitution should be interpreted as it was written. The organization helped assemble a list of 25 potential nominees for Trump four years ago to which the president added 20 more names earlier this month.

As a high schooler in Dayton, Amul Thapar got straight As, was chess champion and captain of the golf team his father Raj said. The family was culturally Hindu but not devout.

He went on to Boston College, where he studied economics and philosophy and read Aristotle and Dostoyevsky before earning his law degree at University of California at Berkeley's Boalt Hall.

Thapar never sought political office but became involved in local Republican politics in Northern Kentucky in the early 2000s, which allowed him to meet his mentor, Senate Majority Leader Mitch McConnell and then-U.S. Sen. Jim Bunning. Both were instrumental in his appointment by President George W. Bush as U.S. attorney and judge.

The Courier Journal wrote in a 2018 profile that Thapar was married to Kim Schulte, a real estate agent who comes from a large Catholic family; Thapar converted to Catholicism when they were wed, his father said. They have three children who attended Catholic schools and the family had been regulars at St. Pius X Catholic Church in Kenton County, the profile said.
Despite having a broad casework, Thapar has not had the high-profile cases that gain scholarly attention.  Few of Thapar's cases have been argued before the Supreme Court or DC Court of Appeals, nor has he written about abortion or most politically hot-button issues.
Its Why He Was Elected!
In 2016, the main argument for electing Trump over Hillary Clinton was "Who do you want picking the next Supreme Court Justices?"  At the time is was a Democrat President with the opportunity to fill a vacancy left by the death of conservative justice, now it is the polar opposite.
Solid judicial picks have been a consistent campaign promise President Trump has kept through his first term, and one his supporters expect to continue.
The New York Times writes:
Social conservatives and evangelical Christian activists began mobilizing over the weekend to push for the speedy confirmation of the person President Donald Trump ultimately nominates to replace Justice Ruth Bader Ginsburg, sensing that their long-denied goal of shifting the Supreme Court decisively to the right was finally within reach.

The confirmation of a justice who would give conservatives a sixth vote — solidifying a right-leaning majority on a court that has split 5-4 in many of the most contentious cases involving social issues like abortion rights and same-sex marriage — would represent the fulfillment of a goal that has eluded activists for more than a generation.

It would also be the most consequential victory to stem from the religious right's unlikely partnership with the president and would serve as validation that the bargain between the thrice-married Manhattan billionaire and his flock of religious followers from the heartland has paid off far beyond expectations.

The bitterness of old disappointments still lingers for many conservatives, who believe the Republican Party was not vigilant enough in keeping liberal judges off the federal courts over the years. Although news of Ginsburg's death was just hours old, activists urged the party to act immediately, before any momentum was lost.

Trump appears to understand the urgency with which his base views the matter. The importance he places on keeping his word to his followers — especially when it comes to the Supreme Court — is underscored in a campaign slogan he repeats often: "Promises made, promises kept."
Combine the fallout of the 2016 election, the aftermath of the Kavanaugh confirmation, the Jacobin rioting currently taking place across the country; the insanity of 2020 looks as if will continue as unprecedented despite laws, history, tradition, or…common sense.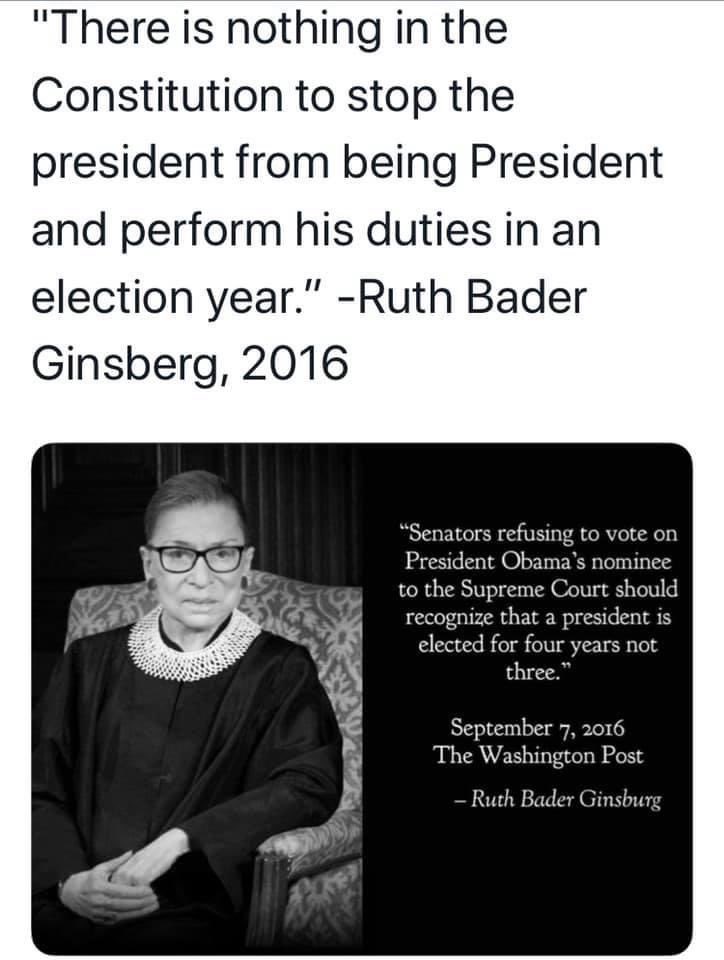 Looks like Ginsburg is speaking from the grave after all.