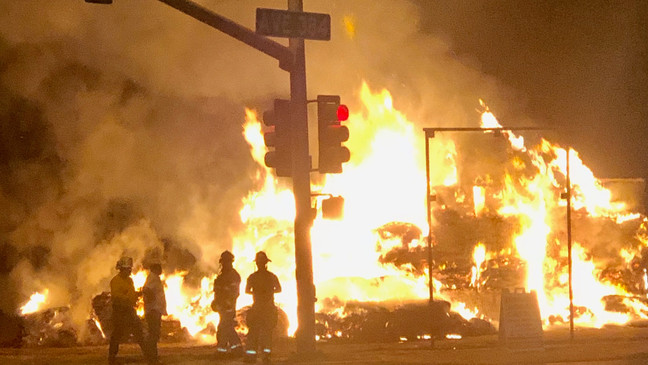 There's no doubt that California Republicans are under attack.
Gasps of Desperation.
With weeks left in the tumultuous 2020 election cycle Democrat loyalists are beginning to crack up. The self-proclaimed "Party of Tolerance" is now openly flaunting their insolence.
Sky News host Rita Panahi recently commented on the Democrat's redefining of what constitutes a 'peaceful protest' as violent rallies took place across the United States:
Assault on Free Speech.
Over the weekend California Republican Congressman Devin Nunes sent out the following press release:
KSEE-TV added further details:
Arsonists are suspected of torching a haystack fitted with signs for Rep. Devin Nunes and President Donald Trump near Dinuba on Saturday night for the second time in two weeks, according to the Tulare County Sheriff's Office.

Image courtesy: KSEE-TV
Deputies and firefighters responded around 10 p.m. to the area of Road 80 and Avenue 384 near Dinuba for a report of a fire, said spokeswoman Ashley Ritchie. A large haystack with numerous campaign signs for Republican candidates was ablaze.

Detectives found evidence indicating the fire was started on purpose.
Isolated incident?  NOT AT ALL!
This is the second time within two-weeks that extremists laid siege on this political display.
Image courtesy: Gannet Media
The Visalia Times-Delta reported in late September:
a haystack with a Devin Nunes banner on it burned down along a busy intersection outside Dinuba.

Tulare County Stockyard owner Jon Dolieslager said it was the third time in as many weeks that signs supporting his favorite Republican candidates had been targeted by vandals and thieves.

First, vandals spray-painted obscenities on the campaign sign and knocked it over. Unlike other Trump signs that have raised some eyebrows in Tulare County neighborhoods, Dolieslager said his signs did not contain profanity.

"The signs were clean until they spray-painted 'F*** Trump' on them," he said. "We left (the sign) up so everyone in the community could see what we're dealing with."

Soon after, the vandals appeared to return. This time, they shredded and stole the signs, Dolieslager said. The Nunes campaign caught wind of the incident and sent the cattle auctioneer a fresh banner.

On Monday night, the banner caught fire along with the haystack valued at $5,000, shooting flames several feet in the air. Bystanders and motorists posted dramatic photos of the blaze on social media.
Congressman Nunes responded to this earlier assault:
The violence against Congressman Nunes continues. Less than 48 hours after the second assault, a third assault commenced when a home displaying pro-Republican banners was torched.
The San Joaquin Sun is reporting:
Image courtesy: SJV Sun
One day removed from a repeat arson on a Dinuba haystack featuring signs for Rep. Devin Nunes and President Donald Trump, vandals set fire to a different property, this time in Kingsburg.

And the target of flames wasn't a mere haystack – it was a mobile home.

The other mobile home is currently occupied by squatters who – due to California's eviction moratorium – cannot be removed from the property.

The Kingsburg farmer said it wasn't the first vandalism attempt at his signs, and the vandals themselves were quite brazen.

Prior to the arson of the mobile home, individuals had attempted to light the Nunes sign on fire to no avail. Monday morning's arson required an accelerant, he said.

One side of the home featured a banner for Nunes' podcast. The other, Matoian said, featured Trump signs and flags along with the American Flag.

For Matoian, unlike Dinuba farmer and livestock auctioneer Jon Dolieslager, whose property has twice been the victim of arson for its political signage, the next headache is dealing with his insurance company to recoup the losses taken at the hands of vandals.
(STATE) Government-Sponsored Censorship.
Last week Los Angeles commuters saw a new site on the morning drive:
The massive Trump sign was erected in the early hours on private property along one of the busiest freeways in the country.  As previously reported, the Democrat-dominated Los Angeles local government did not look kindly on the display as they do other iconic California landmarks.
California's ruling uncrowned monarch, Gavin Newsom illegally deployed his CalTrans cronies to trespass onto the private property where they commenced knocking down the Trump campaign sign.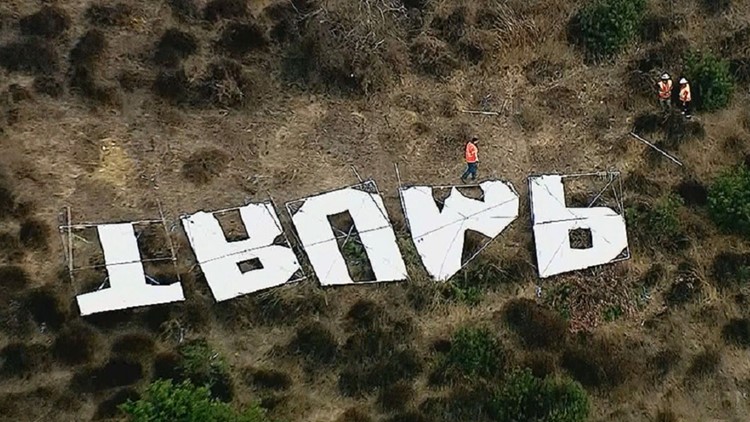 KCBS-TV explains the incident further:
The swift removal of a massive "Trump" sign in the style of the iconic Hollywood sign along the 405 Freeway in the Sepulveda Pass has some on social media calling foul.

But the California Department of Transportation, which removed the unauthorized sign, said it was taken down because it was a distraction and a safety hazard.
What is to stop anyone from trespassing onto anyone's property in California to remove political free speech and call it "A Safety Issue."  These actions by Democrat political leaders emboldened the behavior that is now transpiring against Congressman Nunes.
Praising Discord.
Echoing Maxine Waters' previous seditious grandstanding, Democrat Vice Presidential candidate Kamala Harris cheered on such behavior in a June 2020 Stephen Colbert interview:
FLASHBACK: As violent rioting continues across Democrat controlled cities, Kamala Harris' comments from June are striking: Protesters "should not" let up.

Does Harris believe the rioting and rampant vandalism in Kenosha should let up? pic.twitter.com/hqkLmC5nRu

— Steve Guest (@SteveGuest) August 27, 2020
The words of Democrat leaders have served as a rallying call allowing civil unrest to rein throughout the country since Memorial Day weekend.
The Oregonian observed:
Police declared the event a riot and ordered people rampaging through the city's streets to disperse but did not directly intervene until nearly an hour after the first statue fell. The crowd scattered when police cruisers flooded the area, and officers in tactical gear appeared to make several arrests.

People in the crowd were repeatedly admonished not to film. Passersby who happened upon the group were ordered by demonstrators to stop filming or delete photographs, including an apartment resident who had lasers shined at his eyes and a liquid thrown in his face as he appeared to shoot video of the scene from his terrace.

After toppling the statues, some protesters began smashing windows at the Oregon Historical Society, unfurling a banner that read, "Stop honoring racist colonizer murderers." A mural on the attached Sovereign Hotel building depicting the Lewis & Clark expedition was splattered with red paint.
This is further evidence that voting Democrat in 2020 is an endorsement of Rioting, Looting, Vandalism. Basically, a 21st century-styled Totalitarian rule in America.
Yet, Democrats find Trump offensive?
In light of recent behaviors, Republicans can now demand that all critical comments of Donald Trump might have said or tweeted in the past is never mentioned again!
Politico opines:
recent psychological research, some of it presented in January at the annual meeting of the Society of Personality and Social Psychology (SPSP), shows that it's not so simple. These findings confirm that conservatives, liberals, the religious and the nonreligious are each prejudiced against those with opposing views. But surprisingly, each group is about equally prejudiced. While liberals might like to think of themselves as more open-minded, they are no more tolerant of people unlike them than their conservative counterparts are.
As for the so-called #NeverTrumper Republicans that are 'sitting out' of the election or voting Biden/Harris, just consider yourselves cowardly collaborators and traitors!
Look at what's happened to California in 20 years, that is what Democrats want to emulate for the rest of America, from 'Sea-to-Shining-Sea'!
Despite the acts of violence, inspirations of hope still exist.
The Dinuba farmer has rebuilt his Nunes-Trump campaign display, and this time he is using metal shipping containers.