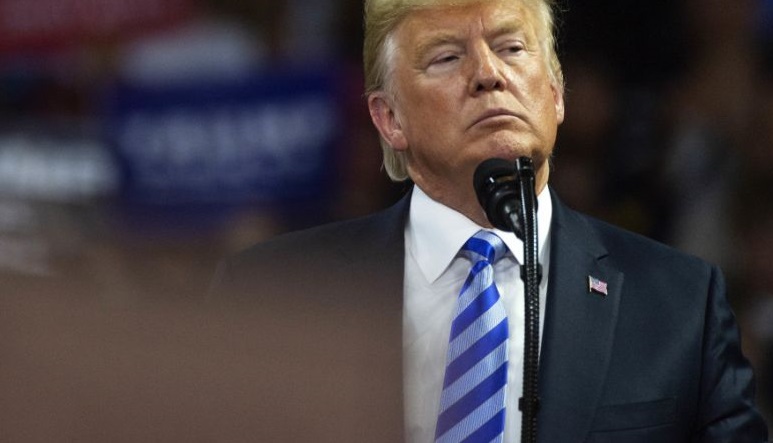 Never in the history of America have the Hollywood elites felt so empowered and entitled all at the same time.
I'm not sure why they're celebrating. They helped remove the greatest President in modern history.
But Hollywood isn't just celebrating. It's taking this opportunity to send a giant "F*<k You" to the millions of Trump-supporting Americans.
Talk about working to reunify the country! These half-baked celebs don't even understand what they've done here.
Today, Charles Hurt of Breitbart called Trump's Administration the "Greatest Political Show on Earth." I don't think it could be said any better. While liberals were busy throwing temper tantrums for five years, Trump gave us the best we've ever seen out of Washington, DC.
Hurt adds:
Only the greatest reporter in the history of the English language — William Shakespeare himself — might have been equipped to fully appreciate and record the tragedy, the comedy, the history of Mr. Trump's brief foray into politics.
Truly, Shakespeare would have been in love. He might have penned another 154 sonnets to convey his infatuation and fascination.
An original character of Mr. Trump's size would have starred in everything from "The Merchant of Venice" to "King Lear."
Mr. Trump would have eclipsed the role of wealthy bastard Don John in "Much Ado About Nothing," who describes himself as a "plain-dealing villain."
Try as they did, Mr. Trump's most unhinged critics failed to capture Shakespeare's descriptions of Richard III as "rudely stamped," "deformed" and "unfinish'd, sent before my time into this breathing world" — so hideous that dogs stop to snarl at him.
This, of course, is not a remotely accurate description of Mr. Trump, but it's what his critics were going for — even if they are too stupid and dull to realize it.
Ironically, it is those most accustomed to the last act that never could understand President Trump.
Exceptions to the Rule
Of course, we can't say all of Hollywood is made up of liberals. There are definitely famed Republicans such as Adam Sandler, Vince Vaugh, Joe Pesci, Jessica Simpson, Sela Ward, Jon Voight and Tom Selleck.
Roseanne saw the revamp of the iconic show she started in the nineties ripped away after her criticism of Valerie Jarrett. And James Woods, well, he's a conservative warrior through and through. Like Kevin Jackson, Woods is a constant voice of conservatism on social media. One dive into his Twitter feed, and you know Woods continues to fight the good fight. Even when he faces backlash and account suspensions.
Sadly, people like Woods are the exception, not the rule. Apparently, the truth isn't all that popular.
The Ultimate Tragedy
The ultimate tragedy in all this is the fact that leftists don't fully grasp what they've played a part in. Perhaps ignorance is bliss after all.
Still, it's disheartening to see the giant "F*<k You" Hollywood insiders are dishing out.
Breitbart elaborates:
Left-wing Hollywood stars are jeering at President Donald Trump and his more than 74 million supporters as the commander in chief enters the final hours of his term, saying "we have all dreamed and prayed for this day." Elites including Michael Moore, Billy Eichner, Chelsea Handler, Bette Midler, and Jeffrey Wright posted jubilant and in some cases hate-filled messages mocking the outgoing president.
"Fuck Trump, fuck his whole family, fuck anyone that chose to work with him and fuck every single Trump voter," comedian and Elizabeth Warren stan Billy Eichner tweeted.
"The last inauguration I refused to watch. This one I'm excited  for," Rosanna Arquette enthused.
"We are now entering the final 24 hrs of this madness. We have all dreamed and prayed and worked for this day," Michael Moore wrote.
Unity! What Unity?
Let's get real. The unity Biden speaks of is nothing more than lip service. At no point has Biden reached across the aisle in an effort to help heal America. If we're being honest, Biden lacks the capabilities to join these hotly divided sides after the most contentious election in history.
Just consider Biden's Inauguration plans:
The official celebrations have featured starring roles for actress Debra Messing — who has promoted physical violence against President Trump — and a musical ensemble called the Resistance Revival Chorus, which has smeared conservatives as "fascists."
Adding to the spirit of rancor, Hollywood celebrities are now trashing President Trump and his supporters as he prepares to exit the White House.
Michael Moore tweeted that Trump "was the hidden face of the US, revealed to all. Never again!" He qualified his remarks by adding that Ronald Reagan and Richard Nixon were "more evil."
Comedian Billy Eichner posted an angry, vulgarity-laden tweet in which he attacked the president, the first family, and the president's more than 74 million supporters.
Sacha Baron Cohen used Trump's final day in office to once again push for more social media censorship.
Comedian Lewis Black demanded that lawmakers impeach the president during his remaining hours in office.
Actor Jeffrey Wright urged his fans to "wait" for Trump's final days to come to an end.
Seinfeld star Jason Alexander also urged his fans to "hang in. Almost there."
Rosanna Arquette mocked Trump by predicting that TV ratings for the Biden-Harris inauguration will be "huge."
At least that one is clearly laughable. I'm pretty sure Rachel Maddow draws in more viewers than anything Biden.
More Hollywood Horseshit
I wonder if these lefties even know how far out of touch America believes them to be? Because it seems as though they're seriously delusional. Other countries are smart enough to praise Trump. Whether they nominate him for Nobel Peace Prizes or pay homage to our President in some other way, it seems Trump gets more appreciation abroad.
That's a bit surprising considering that leftists believe Trump alienates the rest of the world. However, it's quite the opposite. Other countries admire a leader that puts his homeland first. Unfortunately, that doesn't stop Hollywood from ripping the President to shreds.
Breitbart continues:
Bette Midler joked that she received "three" presidential pardons after she used Venmo to send money to a wrong account.
Star Wars actor Mark Hamill declared that it is too late for Trump to "rehabilitate his reputation."
Two and a Half Men star Jon Cryer thanks his followers and added: "Today I'm smiling."
Actor Bradley Whitford smeared Trump and accused him of making a "traitorous allegation" about the election.
Mia Farrow, actor Adam Scott, and comedian Wanda Sykes are counting down the hours to when their personal nightmare comes to an end.
Actor Billy Baldwin, brother of Alec Baldwin, posted a video of Kamala Harris dancing.
Comedian DL Hughley joked that the UPN sitcom Moesha lasted longer than the Trump administration.
Actress Kristen Johnson posted photos in which she is shown flashing her middle finger at the president.
Lady Gaga, who is scheduled to sing the national anthem during Biden's swearing-in ceremony, offered a rare note of conciliation, urging for "a day of peace for all Americans."
Tomorrow, leftists will celebrate. But they better drink the spoils as fast as they can. Because it won't be long before America is reminded of why they needed Trump in the first place.