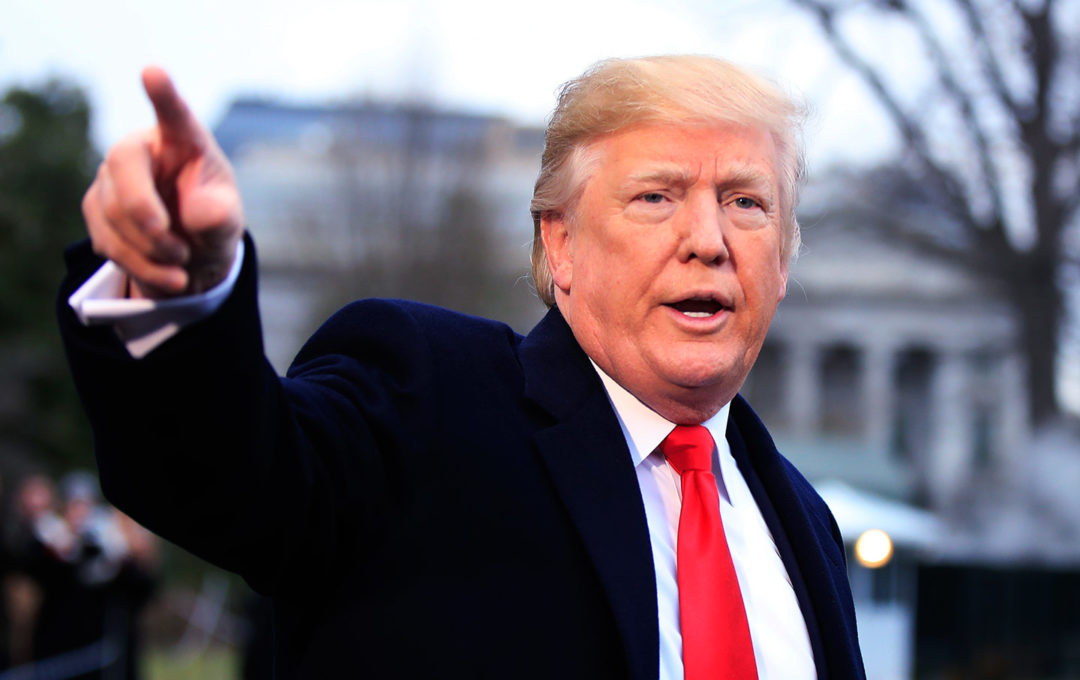 As the poet Dylan Thomas once said, "do not go gently into that good night," President Trump continues to fight for conservatives, despite the 2020 election steal.
Now, a group known as "Citizens United" rolled out their brand new campaign aimed at fighting the Biden agenda. Further, their ultimate goal is to protect the many Trump policies that clearly put America first.
Fox News elaborates:
Citizens United, the conservative nonprofit famous for its role in loosening campaign finance restrictions, is set to introduce the new project at the Conservative Political Action Conference (CPAC) in Orlando, Fla., which begins on Thursday.
Citizens United President David Bossie told Fox News that Citizens United's new StopBidenAgenda.com is an effort to "fight back."
Bossie told Fox News that Biden "did not receive a mandate to impose his radical agenda on America and we won't let him undo the successful America first policies of Donald Trump without a fight."
The website will feature videos and op-eds and will allow supporters to join petitions as well as stay up to date on Citizens United investigations and ongoing Freedom of Information Act litigation "in order to hold Biden accountable."
In fact, the site is a hub for supporters to sign various petitions. One is said to "restore trust in our elections," while another is set to "fight the Biden amnesty." Of course, the site also petitions congress to "appoint a special counsel" to take on the federal investigation into Hunter Biden's tax affairs.
Fox continues:
The website features Citizens United's top "stop agenda issues," including "constitutional issues, taxes, jobs, economy, climate, border security, China, Middle East, and Law & Order."
"The site will be continuously updated with the hottest content," Bossie told Fox News.
"Since the Never-Trump resistance warriors and fake news liberal media refuse to cover how the Biden administration's radical, liberal agenda will impact the lives of everyday Americans, we decided to launch this project to educate the American people," Bossie said.
"The media covers Biden's early bedtimes and cozy fires in the Oval Office and how he plays video games with his grandchildren," Bossie told Fox News. "Two sets of rules. Trump never got this type of coverage."
Of course the media is inundated with double standards. Consider the recent news of reopening immigration centers. When Obama used the facilities, they were considered a necessary tool for immigration. However, when Trump utilized the same facilities, he was accused of caging children. Fast forward to last week, the facilities are again A-OK to use. In fact, I couldn't find a single headline accusing Biden of caging children. And believe me, I searched.
These double standards are at the very root of America's downfall. Which is why conservatives are fighting harder than ever to keep the opposition in the limelight.
Social Media Savvy
A key aspect of uniting the Trumpers is obviously rooted in social media presence. And the big wigs such as Facebook and Twitter will stop at nothing to silence the conservative voice. In fact, FB removed The Black Sphere from it's forum, without cause. Of course, Kevin Jackson still hosts his radio show and we are working to maintain an online presence. But I can't lie. Their actions make it difficult to keep the conservative message out there.  But it seems Citizens United understands exactly what we're up against.
Bossie also pointed to Big Tech, saying that as tech companies end "the moratorium on political ads, we will be the first out of the gate with Google, Facebook and online ad campaigns."
"This project is part of our overall effort to defeat the Biden agenda and will include TV and radio ad campaigns as warranted," Bossie said.
Meanwhile, CPAC 2020 was one of the last major in-person events before the coronavirus pandemic began.
CPAC 2021
Today, staunch conservatives will voice our fears that America is under siege.
The annual conservative event has moved from Maryland to Orlando due to coronavirus restrictions. Masks are required in all public spaces of CPAC due to regulations in Orange County and the Hyatt hotel, where the conference is being held. Some of the peripheral activities around CPAC like book signings have been pared back to limit face-to-face contact.
CPAC is bringing a high-profile slate of Republican speakers, including top lawmakers like Sens. Tom Cotton, R-Ark., Ted Cruz, R-Texas, and Josh Hawley, R-Mo. Former Secretary of State Mike Pompeo will be there. So will high-profile state officials like Texas Attorney General Ken Paxton and South Dakota Gov. Kristi Noem. American Conservative Union President Matt Schlapp still expects a crowded hall for the conference's top speeches and a large number of politically engaged high school and college students.
But the highlight of the day will surely be President Trump and his son, Donald Trump, Jr. In classic Trump style, the president surprised his supporters with an appearance yesterday.

And one can bet today will be met with even more fanfare. Because we need Trump policies to hold strong. Before Biden sinks us all.