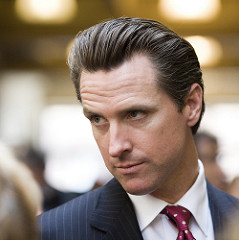 How about this xenophobia? Asian Seniors attacked in the Leftist "Utopia" of Californicate.
This story has all the salacious details of something Democrats will ultimately blame on Republicans. The elderly. People of foreign ancestry. Attacks. Only, California will have a hard time saying, "TRUMP DID IT!".
Wait for it…
As reported by NPR,
Business and civil rights groups in California are demanding action after a recent surge of xenophobic violence against Asian Americans in the San Francisco Bay Area left one person dead and others badly injured.
The brazen, mostly daylight assaults have rattled nerves in communities ahead of Friday's Lunar New Year holiday.
Just last week in San Jose, a 64-year-old grandmother was assaulted and robbed of cash she'd just withdrawn from an ATM for Lunar New Year gifts.
Surveillance cameras have captured many of the attacks, including one against a 91-year-old man in Oakland's Chinatown, who was hospitalized with serious injuries after being shoved to the ground by a man who walked up behind him.
In January, a 52-year-old Asian American woman was shot in the head with a flare gun, also in Chinatown.
Later in the month, 84-year-old Vicha Ratanapakdee was going for a morning walk in his San Francisco neighborhood. Surveillance cameras captured a man running at him full speed and smashing his frail body to the pavement. Ratanapakdee died of his injuries two days later. A 19-year-old man has been charged with murder and elder abuse.
You waited long enough. Yes, they blame Trump.
"These attacks taking place in the Bay Area are part of a larger trend of anti-Asian American/Pacific Islander hate brought on in many ways by COVID-19, as well as some of the xenophobic policies and racist rhetoric that were pushed forward by the prior administration," says Manju Kulkarni, executive director of the Asian Pacific Policy and Planning Council, a coalition of California community-based groups.
OK, just to be clear. The Chinese Wuhan virus is Trump's fault. And the "xenophobic policies" that limited the spread of a disease unleashed by China is Trump's fault, as well.
Incidentally, note that the 19-year old who attacked the Asian was not identified in the story. That's because the attacker was not wearing a Confederate flag suit and on the lacrosse team at UCLA.
No, the attacker was likely Black or Latino, and I'd be willing to bet a month's wages on it.
The article continues,
The more than two dozen recent assaults and robberies in the Bay Area mirror a national rise in hate crimes against older Asian Americans during the pandemic. From last March through the end of 2020, Kulkarni's group has documented nearly 3,000 incidents of anti-Asian hate across 47 states and the District of Columbia.
"And roughly 7 to 8% of those, unfortunately, come from elders in our community who have experienced incidents, not unlike the ones that have taken place in recent days," Kulkarni says.
Despite arrests in some of the high-profile attacks, the violence has prompted many Chinatown businesses to reduce hours during a normally bustling shopping period ahead of Friday's Lunar New Year holiday.
For those who missed the reasons behind the attacks, allow me to elucidate the two reasons for the attacks:
First, the increase in attacks is due to Gavin Newsom shutting down California's economy over a scamdemic. When people don't work, they figure out other means to create an income.
Second, the elderly are the most attacked subset in many communities. Like in the wild, the old and weak are targeted in desperate times. Who created those desperate times? Gavin Newsom and the Democrats who put the Wuflu virus on scamdemic overdrive.
Also, let's be clear about these business closures. They are due to the scamdemic, not the attacks. Further, circling back on the attackers, notice that police are catching the criminals "in some of the high-profile attacks".
Well, who are these criminals?
If the author of this article is accusing Americans of xenophobia, then reveal the culprits. If they are Black or Latino, don't hold your breath, because that tidbit ruins the narrative.
Nevertheless, the article continues to push blame away from Gavin Newsom and the scamdemic. Instead, the author continues fearmongering about a boogeyman who has remained nameless, though some of the boogeymen are in custody.
Those celebrations are already severely curtailed and businesses here badly damaged by the ongoing pandemic.
"The fear is not only for the patrons but also employees," says Carl Chan, head of Oakland's Chinatown Chamber of Commerce. "They [businesses] are so fearful they prefer to close early. We also have many juveniles driving around Chinatown and carrying guns, so they're also hurting people before they're being robbed."
Now, with the specter of crime, Chan says some community members are taking matters into their own hands. Half a dozen ad hoc volunteer groups have sprung up offering to protect businesses and older residents when they shop.
"Some of them are young people, they want to walk Chinatown," he says. "And then also helping seniors pick up the groceries and then walk them home."
Separately, more than 200 people across the area have volunteered to serve as "community strollers" in Chinatown starting next week.
Holy Mother of Jussie Smollett.
It may be The Year of the Ox in the Chinese zodiac, but I smell a rat.