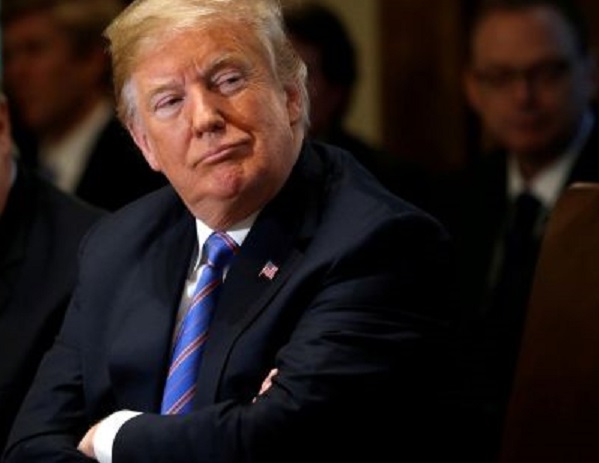 While the Lincoln Project pedophiles and sexual predators may have helped remove President Trump from the Oval Office, they poked the tiger.
Now President Trump is unleashing on the RINO and other establishment politicos in a way they have never felt. Many believe as I do that President Trump will be more effective outside of his rightful place at the White House.
To prove that point, President Trump fired at former George Bush strategist Karl Rove.
Former President Donald Trump intensified his war with the Republican establishment on Thursday by attacking Karl Rove, a longtime Republican strategist who criticized Trump's first speech since leaving office for being long on grievances but short on vision.
"He's a pompous fool with bad advice and always has an agenda," Trump complained in a statement issued by his office in Palm Beach, Florida.
President Trump is 100 percent correct about Rove.
Rove profiteered on his tenure with Bush, one of the worst presidential administrations in history. Still, Rove became a power-broker as he got Bush elected, then re-elected.
Post-Bush presidency, Rove built a multi-million dollar PAC that did nothing to further the cause of Republicanism or Conservatism. Rove's PAC helped RINOism.
And while the PAC built RINOism and fostered organizations like The Lincoln Project scumbags, Rove got a cushy, estimated $2 million annually from Fox News to espouse utter nonsense on the politics of the day.
Like most of these RINO relics, Rove couldn't be more wrong about most of his opinions, but is "respected" due to his pedigree. Enough.
The article continues, showcasing Rove's anti-Trump sentiment:
Rove, the architect of Republican George W. Bush's presidential victories in 2000 and 2004, wrote in an opinion article in the Wall Street Journal on Thursday that Trump's speech last Sunday to the Conservative Political Action Conference was wanting.
Rove noted that in a straw poll of CPAC participants, only 68% wanted Trump to run for president again in 2024, while 32% did not want him to run or had no opinion.
Trump's CPAC speech was noteworthy for rehashing his unfounded claims of election fraud in his November loss to Democrat Joe Biden, despite advice from his team not to do so.
Rove wrote of the 90-minute speech: "There was no forward-looking agenda, simply a recitation of his greatest hits. People like fresh material. Repetition is useful to a point, but it grows stale."
Greatest hits? At least President Trump HAS greatest hits.
What will Bush be remembered for? Hanging chads. Violation of American's constitutional rights with the very non-patriotic Patriot Act. And standing on an aircraft carrier stating he had won a war that has now waged for decades.
Frankly, I'm tired of posers. People who use their resumes for promotion, not their results. The Bush Era fostered The Obama Era. Those were Bush's results. And while Leftists may now want to canonize George Bush, true Conservatives have a much more jaundiced view of that putz.
Bush, and practically everybody in his administration were incompetents. Colin Powell would be Captain, at best, in the REAL man's army, for one example. Look at his record on republicanism and conservatism and you get my point.
Par for the course, is what most of the Bush era "Republicans" represent. Yet, the Dana Perinos and Karl Roves of the world get the deals. One day soon, the new stars of politics will emerge, and not from either of the establishment parties. These people will represent the REAL America.
As for Rove, he's sad that his star tarnished under President Trump. Further, it continues to tarnish. He will soon join the scrap heap of George Will, Noah Goldberg, and Bill Kristol. Just to name a few who now look like the hapless clowns they've always been.