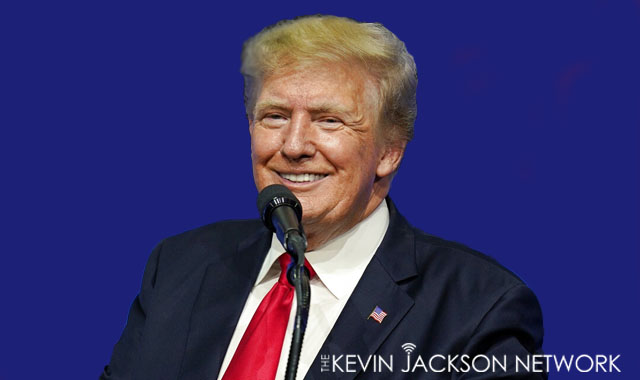 Like it or not, President Trump makes or breaks candidates. And make no mistake about it, Trump intends to end the career of lame-duck Arizona Governor Doug Ducey.
Ahead of Trump's rally in Florence Arizona, Trump sent Ducey a message.
"Rumors are that Doug Ducey, the weak RINO Governor from Arizona, is being pushed by Old Crow Mitch McConnell to run for the U.S. Senate. He will never have my endorsement or the support of MAGA Nation!"
And with that statement, Ducey's chances to be a senator from Arizona ended. Just like Biden's 2024 chances are also non-existent.
Now a few people disagree with me on this. I even debated a fellow radio show host on air on his notion that the Republican Party shouldn't nominate Trump again.
He and his ilk are wrong. Utterly and stupidly wrong.
While I disagree with Trump on touting vaccinations, on most other things I agree with him. And for those still talking style, I say STFU. Enough about "style". Trump was effective.
Moreso, people now see the difference between the competent, although at times bombastic Trump and the incompetent scumbaggery of Joe Biden.
I'm not one to care about endorsements of political candidates. I see these all the times, as candidates say, "I'm endorsed by the firefighters, etc." I generally see these as kowtowing to a group to get an endorsement, and for me they mean little. But when it comes to a Trump endorsement, it carries weight. Lots of weight.
Candidates plot to get Trump's endorsement. In one case, Trump endorsed a senate candidate, and now takes it back. This is my criticism of Trump, i.e. the vetting process. So be careful with his endorsements, as hopefully he improves on that front.
That said, when Trump DOGS you as he did Ducey, consider that the kiss of death.
Not long ago, Trump sent this message out by email:
Great news, another one bites the dust. Katko, from Upstate New York, is gone!
Trump was referring to the news of U.S. Rep. John Katko's abrupt decision Friday to retire from Congress at the end of the year. As one article commented, the resignation "sent shockwaves through the political world in Central New York, changing the dynamic of the 2022 election."
The shockwave of which they speak is Trump's ability to influence elections. I suspect Katko read the writing on the wall, after he voted to impeach President Trump. A career limiting move, particularly for a congressman in his 4th term.