Things haven't been going well for Pfizer. Yet, they're projected to bring in $54 BILLION in covid-related sales this year alone! So, they're going to try every trick in the book to keep the bad news on the down low.
Just last month, Pfizer begged a Texas judge to allow them seventy-five years to produce their vaccine data to the public at a rate of just 500 pages per month. Instead, they've been given eight months. So, we will know, in this lifetime, the perils of the so-called covid cure.
But don't expect Pfizer to just come out and say something. It doesn't quite work that way. Instead, they added a few red lines to their Q4 earnings statement that indicate stormy weather ahead.
ZeroHedge reports:
As Rubicon Capital's Kelly Brown notes on Twitter, the changes center around disclosures of unfavorable safety data.
For example, in Q4 they added: "or further information regarding the quality of pre-clinical, clinical or safety data, including by audit or inspection."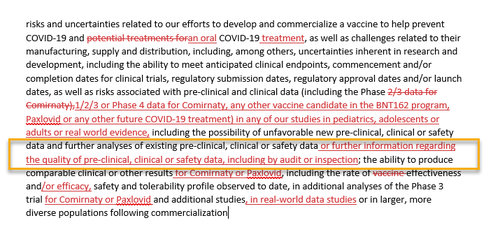 More from Brown, who notes that Pfizer is now highlighting "concerns about clinical data integrity…"
The company also notes that Covid-19 may "diminish in severity or prevalence, or disappear entirely."
Disappear Completely?
Isn't that ironic. Just this morning, Kevin Jackson predicted that covid will soon exit stage left.
As Jackson wrote:
Leftists milked the Wuflu cow completely dry. And now they must try to salvage things.
It was a close call. After all, Leftists weaponized the healthcare establishment against us. And of course they used media and social media to drive home their BS narratives.
Fauci the Fraud appeared more than Biden to stoke fear in the American populace. Doom and gloom lurked around every corner, and with every new Wuflu variant. But those days are gone.
You can't get a straight answer on omicron deaths. And don't expect to ever get the real death count from Wuflu. Democrats will just let that sleeping dog lie.
Here is an article that reports on the decline in Wuflu deaths, but it won't give an omicron number. In another article, they pretend to answer the question of the number of vaccinated people killed by omicron. See if you can find that number.
All we know is that the numbers are dropping. Substantially. And who determines what the drop needs to be for things to go back to normal?
From what I can gather, nobody. It's just happening, well…organically. In fact, it looks just like Biden's miraculous "Hail Mary" election night "win", where suddenly the votes magically appeared.
As Fox News reports, states are opening up.
More states are reporting a decrease in the number of COVID-19 cases and hospitalizations this week, as a surge of the highly transmissible omicron variant shows signs of easing. While some states in the Northeast had already seen positive indicators – with cases and hospitalizations falling late last month – western and southern states have still been stretched thin.
On Monday, Nebraska hospital officials said they were cautiously optimistic that virus hospitalizations will continue to decline, but noted they are concerned about the possibility of another surge.
We are hopeful that Nebraska hospitals are starting to experience the beginning of the end of the omicron surge," Nebraska Hospital Association president Jeremy Nordquist said. The state reported 627 people hospitalized with COVID-19 on Sunday, following its peak at 767 on Jan. 28. The number of cases reported to the Centers for Disease Control and Prevention (CDC) fell from 22,302 the previous week to 10,435 last week.
How convenient that all these states now collectively want to open up. Let me add that this doesn't sit well with Biden. Although he can barely remember what he had for lunch Tuesday, he sure holds on to the notion that he supposed to force masks on everyone. Now, as schools are dropping the mandates, Biden is at odds with governors of both parties. He wants to make an example out of our children. An example of conformity.
Parents and community leaders are finally standing up for what it right, and as such, more than schools are ditching these mandates.
For example, California is not extending the mask mandate. Meanwhile, CT, NJ, DE, OR are all ending mask mandates. Any idea what those states have in common? Leftists!
VA Supreme Court tossed the challenge to Governor Youngkin's anti-mask order. Meanwhile, the anti-vaxxers, such as the Freedom Convoy 2022, are making a global statement about the death poke.
If you are pro-mask or pro-vax, the foundation for anything you've believed about Wuflu is washing away underneath you.