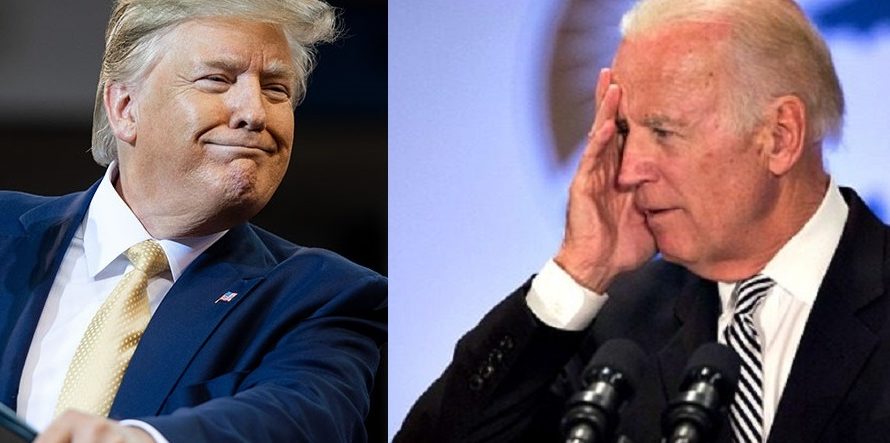 Biden is a demented clown. That's a matter of fact, not opinion. And he finally put the nail in his coffin, so to speak. Unfortunately, it was at the demise of the American people.
As anyone with a brain is aware, we just received our latest economic reports. Jobs are down. Growth is stagnant. Inflation is at another 40 year high. It's nothing but bad news. Meanwhile, our president denies the onset of a "recession," when it's clearly headed for an official rating of "depression." It doesn't get much worse.
The only ray of hope is the red wave on the horizon, and it can't get here fast enough. While the latest, disastrous numbers are felt across the country, many Americans can't help but ask themselves "what if Trump won?". Well, he did win, but what if he was actually in the White House?
#Winning
I'll tell you what life would be like. We'd be the largest producer of oil on the planet. Bigger than Russia. Bigger than Saudi Arabia. In fact, the world would be our oyster, as the saying goes.
Gasoline would be under $2 a gallon. Yes, folks, that translates into more family outings in the trusty old Suburban and cheaper groceries on the shelves.
Mamas and Papas would do a little dance, as they bought enough food for the kiddos to invite the neighbors over. No more beanie-weenie kids! It's hamburgers on the grill. Scratch that. Make it cheeseburgers, deluxe!
Sadly, we can't put any burgers on the grill this week, because we opted instead to run the air conditioner in our homes. And like the days of old, cooling the house now requires a pretty big piece of the pie. Clearly, couponing will soon make a comeback.
The most pathetic part of all this is that Biden didn't have to destroy us. Trump handed him a stellar economy, and set it on auto-pilot. All Biden had to do was sit pretty and smile. Our border was secure; our economy was thriving, and America was once again RESPECTED! The kind of respect Aretha Franklin summoned.
Instead, Biden was hell-bent on undoing all things Trump. In fact, he signed 17 executive orders reversing Trump directives his very first day in the White House! The old fool didn't even take time to analyze his plan of action. Which is exactly why it landed us right here, smack dab in the middle of hell.
Trump Weighs In
You can bet your bottom dollar that Biden's failures don't go unnoticed by #45. And if you really want to win a few wagers, you can also bet that nothing would stop Trump from commenting on the current state of the union. Which is exactly what Trump did, issuing this statement:
Inflation just hit ANOTHER 40-year high of 9.1%, which is terrible for our Country. Fuel prices up 60%, Airfare up 34%, Eggs up 33%—how can people survive this? How can businesses survive this? Our Country is so weak right now because the Radical Left Democrats have no clue what they are doing. All they want to do is "get Trump," and they are willing to destroy our Nation to do it. America will not allow this to go on for much longer. Don't vote for the Radical Left Democrats, vote for America First Republicans—Save America!
That's exactly what voters will do in the midterms and beyond. The only drawback is that it will take two more years to get rid of the moron who promised to "Build Back Better," but instead built back broke! But the clock will continue to countdown to Biden's guaranteed ending.
To be fair, Biden built this coffin all by himself. Well, with the help of his handlers, of course. All Trump did was watch him nail it shut.