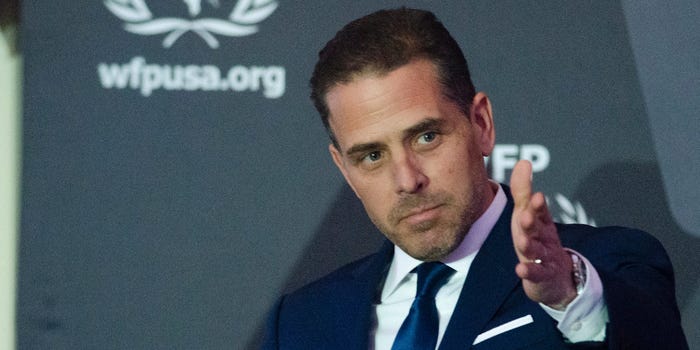 Delaware, like all states, has a mandatory reporting law aimed at making sure all child abuse allegations are thoroughly investigated.
Yet, according to the Biden laptop, "the Biden family, a disgraced business partner, and the first son's former psychiatrist failed to report Hallie Biden's allegations that Hunter was "sexually inappropriate" with his 14-year-old niece."
I guess apples really don't fall far from trees. After years of watching Biden sniff girls of all ages, we recently learned that he use to shower with his own daughter. She's spent years battling depression and addiction, and now it's pretty apparent why. In fact, it was a journal Ashley accidently left in a rehab facility that shined a light on the President's revolting behavior.
Unfortunately, Biden's actions make it even easier to believe his son would follow suit.
While the Biden family's shady Chinese business deals collapsed with the 'disappearance' and 'arrest' of Hunter's CEFC China Energy partners, Joe Biden, Jill Biden, Jimmy Biden, Ashley Biden, Naomi Biden, Liz Secundy, Devon Archer, and Keith Ablow all ignored Hallie's jarring allegations that Hunter was "gettin off sexually" with his deceased brother's daughter.
All of Hunter Biden's laptop messages and emails, including the ones featured in this article, can be found compiled in a searchable format on the website of Marco Polo, an anti-corruption organization led by a former Trump White House staffer.
Many of the exhibits featured throughout this article were organized by the non-profit research group, who have now been cited by FOX News, New York Post, Daily Mail, and countless other mainstream news organizations for their investigation into the Biden laptop.
Marco Polo's investigation could not be more important with the recent whistleblower revelations revealing that the FBI—which took possession of the Biden laptop in December 2019—is not legitimately investigating the crimes of the Biden family.
Unfortunately, the FBI can no longer be trusted to investigate Hunter Biden with integrity and the equal application of law.
Instead, the captured federal law enforcement agency solely serves to protect the corrupt and nepotistic bipartisan establishment, who impeached President Donald Trump in December 2019 for asking questions about the Biden family's activities in Ukraine, while the FBI quietly held onto the Biden laptop, which documented the Biden family's corrupt Ukrainian business deals.
Meanwhile, here is a slice of Hunter Biden's most disturbing messages:
On May 6, 2018, Hunter told his father Joe: "Text Hallie that you and Are getting my truck and packing my things to bring to your house. I mean it dad I need to be done… she is torturing me she tells the kids and I left them and she tells me that I am not allowed in my own House not allowed to be with them alone in line here can you help me she's literally without any oversight…"
On May 11, 2018, in an audio file labelled "Most Genius Shit Ever", Hunter lamented about a New York Times reporter asking about his representation of Patrick Ho, who he called the "spy chief of China", and his missing business partner, CEFC China Energy Chairman Ye Jianming:
"I have another New York Times reporter calling about my representation of Patrick Ho – the fucking spy chief of China who started the company that my partner, who is worth $323 billion, founded and is now missing. The richest man in the world is missing who was my partner. He was missing since I last saw him in his $58 million apartment and signed a $4 billion deal to build the fucking largest fucking LNG port in the world."
On May 16, 2018, Hunter's assistant forwarded him an email from New York Times reporter Matthew Goldstein asking about Hunter's representation of Patrick Ho: "When Ho was arrested one of his first calls was to Hunter's uncle, James Biden. I spoke to James and he told me that Patrick had called him in order to get in touch with Hunter who had been Ho's lawyer…We are are also told that Hunter knows Je Jianming, the chairman of CEFC, the giant Chinese oil company that is paying for Ho's legal defense."
On July 11, 2018, Hunter was speaking with his former business partner, convicted felon Devon Archer: "Yes it seems like an endless test of my sanity. Too hate as much as do right now is b beyond dangerous. Hallie wont let me see Natalie without my Father present. Can you fucking imagine that. That fuck up that ive fucking shielded for two years and taken all the heat is keeping me from talking to or being around Natalie."
On July 14, 2018, Hunter told his father Joe: "And by the way she's told Natalie I can see her anytime but that you want to be there for her protection. Naomi can't do it because I can manipulate Naomi through intimidation and do anything I want to Natalie. Read those words again Dad. Jesus Christ Dad you let her whacked out and dangerous going up to Philly for male escorts drive the kids and have them alone. You let Uncle Frankie get be Beau and I driving lessons when he was more fucked up than I've ever seen a person…When I knew Ash was using and told you you let her drive the kids to the Beach and back."
On July 21, 2018, Joe Biden told his son Hunter: "She [Hallie] is trying to split you and me I think she thinks I won't banish her because I'll loose my grandchildren but you[, Hunter,] are more important to me and she will not succeed[.] Mom agrees[.]"
Joe then forwarded his son a message from Hallie Biden that said: "Pop -This is from hunter to Natalie. This is inappropriate, hurtful, manipulative and wrong on so many levels. It's too much for Natalie. I am sober and having tests report to you. If Hunt does not enter a program and get multiple tests weekly then I don't know how YOU could allow Natalie or hunter anywhere near him."
In a creepy text message to his niece on August 4, 2018, Hunter wrote: "Happy birthday—ive tried calling…I have a gift for you whenever you can see me next…love you always always and always and so wish I was allowed to be with you."
On August, 7, 2018, in yet another message to his niece, Hunter lamented: "You're not allowed Natalie . They are coming to me but they wanted to see if you will come to lake with them. I won't going o lake if you can go." "I love you so much baby. It will all work out." "Can't wait to see you when I'm allowed by mom. ILYSM my girl".
Just days later on August 10, 2018, Hunter's uncle, Jimmy Biden, conspired with him to suppress the allegations that Hunter was being "sexually inappropriate" with his niece: "Hunter , it is imperative you call me or your father. Your father is getting as am I barraged by Hallie. He has not responded I have not responded. We both agree with and trust you. She is spreading what you told me and I believe you !!!! Are lies. Once again we both need you side of the story so we can both shove it down her fucking throat !!!! I implore you to call. Please I/ we are on you side. I believe you , this is nothing short of character assassination."
Sadly, all of this is only the tip of the iceberg. If you have the stomach to read more, click here.