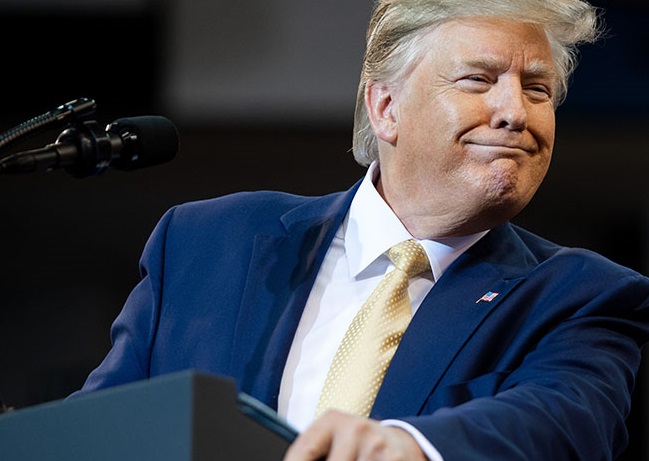 The New York Attorney General marches forward with everything they have, besides the one thing they actually need: Evidence.
As the case continues, so do the Democrat struggles. Clearly, the emotion is there. But lets just say the logic and facts aren't. Leftists dig and dig for anything they can possibly find. Yet, when they look up, no progress is made. Instead, Democrats are drowning in a deep hole, which better suits the claim of innocence for President Trump.
AG Letitia James filed civil charges, once again just to waste our time. Why file such a silly suit when you could just go for broke and press criminal charges? Simple. All they have is hearsay. In fact, I'm willing to bet these charges are being filed simply to try and detract from the next Biden dump of more Hunter scandals involving the Big Guy. The timing is certainly suspect.
However, according to James, Trump committed numerous acts of "fraud and misrepresentation", with the help of several friends and family members. Further, Trump inflated his net worth by billions of dollars.
"Mr. Trump and the Trump Org repeatedly and persistently manipulated the value of assets to induce banks to lend money to the Trump Organization on more favorable terms than would otherwise have been available to the company," James said, "to pay lower taxes, to satisfy continuing loan agreements and to induce insurance companies to provide insurance coverage for higher limits and at lower premiums."
You don't even have to read the words to know Trump's response.
As Fox News reports:
Trump attorney Alina Habba pushed back against the allegations against the former president.
"Today's filing is neither focused on the facts nor the law – rather, it is solely focused on advancing the Attorney General's political agenda," Habba said in a statement. "It is abundantly clear that the Attorney General's Office has exceeded its statutory authority by prying into transactions where absolutely no wrongdoing has taken place. We are confident that our judicial system will not stand for this unchecked abuse of authority, and we look forward to defending our client against each and every one of the Attorney General's meritless claims."
Is that the best they can do?
Lets back up. The witch against President Trump started in 2016. That's when Democrats first started pushing fairytales as facts in their quest to get rid of the big bad orange man. If EVER someone had an iota of proof against this man, you can bet we'd all know it by now. But that hasn't stopped leftists from trying.
First it was Russian collusion. That was a lie. Then, it was the Steele dossier, which later linked back to Hillary Clinton. After that, the whole Ukraine debacle occurred, where they tried impeach Trump for crimes Biden actually committed.
The list of lies goes on and on. But guess what list has failed to grow? That's right, the list of actual evidence against Trump.
I have a feeling this lawsuit is going to turn out a lot like an episode of Rachel Maddow. Remember when she spent an entire day teasing that she had Trump's taxes? As if they would prove some terrible crime!
The president didn't sweat it. Instead, in typical Donald Trump showmanship, he beat Maddow to the punch, releasing his tax returns before her broadcast.
The White House on Tuesday night released some details of President Trump's income and paid taxes from 2005, as MSNBC prepared to release the information in an evening broadcast.
Trump reported $150 million in income and $38 million paid in taxes, according to a statement from the White House.
MSNBC host Rachel Maddow had teased Tuesday evening that she had Trump's 1040 form from 2005. MSNBC host Lawrence O'Donnell tweeted, "This is the night we've been waiting for."
MSNBC alerted the White House about the information, and the White House seemed to opt to take the punch out of the report, releasing the major numbers itself shortly before the broadcast — and slamming MSNBC in the process.
Maddow's ratings never recovered. Nor did her career. That's something AG James may want to take into consideration, before she goes any further. Especially considering we already know the verdict: NOT GUILTY! 
*Editor's Note: This article was contributed to by Tucker Prestridge.