Leftists will do anything to prove their lies, and I do mean anything. But this time, political convictions cannot excuse what went down.
Or shall I say 'up'? As in 'up in flames'?
Meet Edward Fredrick Wackerman of Mariposa, California. He should've been named 'Wacko Man' instead.
Apparently, he set a  devastating massive forest fire in Yosemite National Park. At first, investigators blamed climate change for the damages that destroyed 127 homes, 66 buildings, evacuated thousands of people, and wiped out nearly 20,000 acres of vegetation.
No one died, but that is just by the grace of God. This idiot sure set the ball rolling towards murder. However, three firefighters were injured. And if you ask me, injuring a firefighter for sport is just as bad as shooting a cop. Maybe worse.
Have you ever seen a protest that firemen were only saving the white people? Of course not. Now, according to the California Department of Forestry, Wacko man is facing charges including: suspicion of aggravated arson, arson that causes great bodily injury and arson causing damage or destruction of inhabited structures.
The blaze was so bad, the smoke drifted more than 200 miles, all the way to Lake Tahoe, parts of Nevada and the San Francisco Bay Area.
Shhhhhh
So far, the way the fire started and how Wacko was finally caught is all hush-hush. I imagine leftists are looking for the right way to spin the story in order to hide Wacko's lunacy.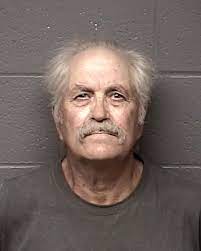 The New York Post writes:
"Ed Wackerman is facing several felony charges, including aggravated arson. These charges carry serious legal consequences and the District Attorney is committed to ensuring a fair trial and upholding justice," Wall said in a statement posted online.
"Currently, the investigation is under review by our office. Due to the sensitive nature of the case and the rights of the defendant, we cannot disclose anything other than what has been released in the Cal Fire press release," he added.
At the height of the massive blaze, about 6,000 people living in the nearby mountain communities were ordered by officials to flee their homes.
California has experienced increasingly larger and deadlier wildfires in recent years from what scientists say is the result of climate change. Officially initially believed that's what caused the Oak Fire.
The Oak Fire was just one of several devastating blazes that charred California last year.
The Mill Fire in Siskyou County caused two deaths and destroyed nearly 150 buildings.
On Friday, Cal Fire officials said the Mill Fire was caused by operations at a wood products mill in Weed, Calif., near the California-Oregon border.
More Than Meets the Eye
This isn't just about some deranged old man who set a fire. This is about leftism. Wackerman wanted "global warming" to be true so badly, he went out and tried to set the world on fire. In one of our most treasured national parks. Just like Democrats wanted Joe Biden to be the winner so bad, they somehow orchestrated more than 80M votes for a demented old clown. Ridding us of one of our most successful presidents.
The real problem boils down to this. When faced with the facts, leftists don't accept the truth. Instead, they manufacture evidence in an effort to make their lies believable. Sadly, this strategy has met with much success. Hopefully, 2024 is the year voters finally wise up.