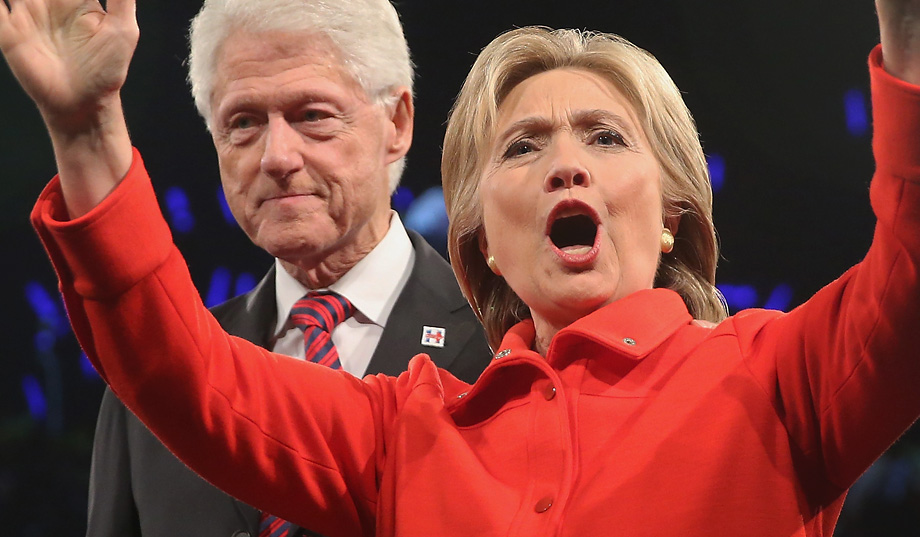 Hillary Clinton laid low for four years. Except for that ridiculous book tour that flopped like a fish out of water.
She knew it was dangerous to show her vindictive face. But the 2020 heist freed Clinton from her self-imposed quarantine.
Now, the hellcat sees an opportunity to regain some dignity. If she ever really had some to start with. Nevertheless, Clinton pounced on Trump the moment Democrats pulled off the biggest steal in a century. Crooked Hillary was waiting for the 'all-clear' after the first attempt to over-throw Donald Trump failed. If anything, at least Hillary was smart enough not to gloat too soon.
Of course, we all know how the election should have been called. But I'll save that rant for later. Except that it gave Hillary Clinton the guts to reappear in mainstream politics.
As Fox News reports:
Hillary Clinton weighed in on former President Donald Trump'sa second impeachment trial this week, suggesting in a tweet that if the Senate ultimately votes to acquit him, it will only be because "the jury includes his co-conspirators."
"If Senate Republicans fail to convict Donald Trump, it won't be because the facts were with him or his lawyers mounted a competent defense," Clinton, the former secretary of state, tweeted Wednesday morning. "It will be because the jury includes his co-conspirators."
That's hilarious coming from a Clinton.
How many times has she evaded arrest? Broke the law and never faced a single consequence?
Off the top of my head, I'm thinking White Water, Bengazi, and Hillary's emails. And that's not to mention the many ruthless crimes she helped her husband sweep under the rug. Such as the brutal rape of Juanita Broaddrick. Yet, Hillary Clinton feels justified in weighing in on Trump's impeachment.
Her tweet came before the second day of Trump's impeachment trial, during which Democratic impeachment managers played never-before-seen footage showing how close rioters came to lawmakers during the deadly Jan. 6 Capitol attack.
The impeachment managers are trying to tie Trump's actions, including his refusal to accept the results of the November election, directly to the actions by a mob of his supporters who ransacked the Capitol at the beginning of January. Five people, including a U.S. Capitol Police officer, died during the attack.
When the trial concludes, the Senate will have to decide whether to convict Trump of incitement of insurrection. Although Democrats hope to gain at least some Senate Republican votes, it's unlikely that they'll garner the support of 17 GOP members, the number needed to hit the 67-vote threshold required for Trump's conviction.
Wasting Time
It's no wonder Democrats are happy to sit back and waste their time on yet another trial that won't end in their favor. They need something to distract the American people while the slide in more executive orders aimed at destroying middle class America. No matter how successful Trump's initiatives are, the Left will undo them for the sake of destroying anything under Trump's umbrella.
If the former president were convicted, Democrats would then vote to bar Trump from holding office ever again.
But only six Republicans — Sens. Bill Cassidy of Louisiana, Susan Collins of Maine, Lisa Murkowski of Alaska, Mitt Romney of Utah, Ben Sasse of Nebraska and Pat Toomey of Pennsylvania — joined all 50 of their Democratic colleagues to vote that the impeachment trial against Trump is constitutional, indicating an uphill battle for the House managers in securing a conviction.
Another Win
No matter what Democrats throw at Trump, he bounces back everytime. The only ones to suffer from these trials is the American people. Because we foot the bill every single time Democrats pull this nonsense.
Sen. Rand Paul, R-Ky., told Politico on Wednesday that he expects at least 44 Republican senators to acquit Trump.
"Everybody objects to that violence. Everybody is horrified by that violence," he said. "But the question is: Did the president incite that?"
House Democrats, joined by 10 Republicans, impeached Trump on Jan. 13.
Shame on the Republicans who are too scared to stand up for Donald Trump. Their days in Congress are numbered. Because conservatives are starting to realize one thing. We can'tkeep these incumbents in office unless they are dedicated to making America great again!