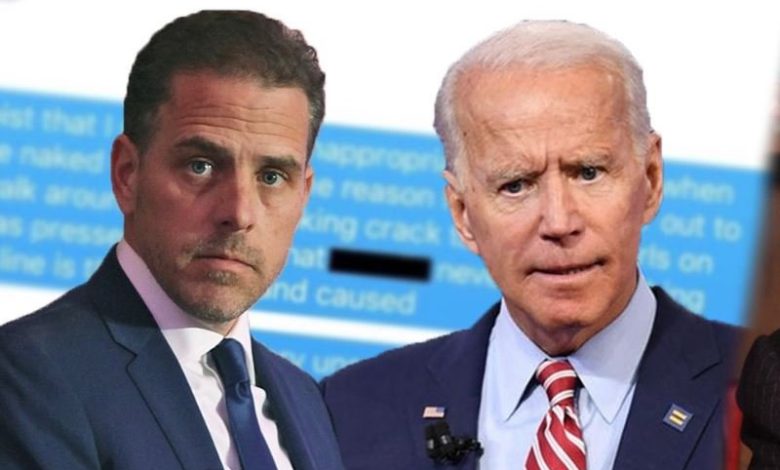 So now CNN wants to look into The Big Guy? This is the beginning of the end for Biden and "the Biden name".
Things are heating up for the Bidens. What you will note is how the Democrats begin distancing themselves as a Party from the Bidens, and start to leave Joe and Hunter swinging in the wind. Watch for the small signs.
Just recently CNN actually mentioned that Joe Biden lied about not knowing any of Hunter's foreign business partners.
Oh, look — CNN wants to talk about 10% for the big guy now. What a joke. ? pic.twitter.com/HcP8QTutIp

— Suburban Black Man ?? (@niceblackdude) January 18, 2023
Soon, Biden's blind eye will be declared a bona fide lie. Things will only get worse from there. Democrats will pretend to be outraged by these "new revelations", and game on.
For now, one has to speculate at what made CNN finally jump ship like rats fleeing the Titanic. It seems unlikely that the Network decided to join in some journalistic integrity. But there are plenty of other ideas. Perhaps Obama finally gave the kill order for his old bro.
CNN Handlers gave the directive….Ruin his career….We can't have him run in '24…. Republican led House is going to dig up DIRT. . Drive it home to all viewers…..all 10 of them….ratings down the drain. .

— SaneintheBrain (@OREPatriot) January 18, 2023
Obummer must have given the word

— Susan Kelley (@scootersmom2293) January 18, 2023
— Bitchin Bob (@RobertB52038791) January 18, 2023
I guess they needed "verify ", aka follow orders. A little late. Biden's been given his walking papers…how will they killary him?

— Syl (@sylzach1) January 18, 2023
So what now?
Are we supposed to congratulate CNN for finally telling the truth, albeit in the face of way too much proof to remain in denial? Or do we just welcome them to the show?
Hey, #CNN…
It's about time!..? pic.twitter.com/j41ljvzcaK

— Skeeter (@juanitamcope) January 19, 2023
Either way, Biden's name will never ring quite the same!
"I Give You My Word, As a Biden!"
I'm pretty sure that catch phrase started with Biden's first big lie, which coincidentally was told on Biden's first day in Congress. That's when Biden's first wife was killed in a tragic accident, most likely a form of vehicular homicide and suicide. It's quite believable that Mrs. Biden turned into traffic on purpose in an effort to kill herself and her children. Her newborn daughter was also a casualty of the accident.
The lie wasn't centered around Mrs. Biden's postpartum depression. In fact, it was glossed over because Joe Biden blamed the other driver, claiming his wife and daughter were murdered by a drunk driver! Boy, did that lie gain traction over the years. So much so that it ruined the life of the truck driver. He spent decades trying to clear his name, fighting off death threats, and being publicly crucified. To this day, his daughter speaks out in defense of her father. But I digress.
Here's what CNN says about Biden's word:
For years, as Joe Biden has sought to assure the American public he deserves their trust, he's relied upon a go-to phrase meant to underscore his credibility: "I give you my word as a Biden."
But that's not the only way the Biden family name has been used. The president's brothers have invoked it in their private business pursuits over the years to suggest access to power and influence, according to a CNN review of court documents, emails and video recordings as well as interviews with former business acquaintances.
A year after Biden was elected, for example, his youngest brother, Frank, boasted in a speech to medical professionals gathered in Boston of the "bully pulpit" he was afforded due to "my brother Joey," and vowed to help attendees "get federal dollars." Just three months ago, Frank Biden was an invited keynote speaker at a medical conference in Venice, Italy, where he gave advice to a group lobbying the federal government – a trip he acknowledged he did not pay for but declined to say who did.
Biden's son, Hunter, meanwhile, has bluntly acknowledged in a memoir that his last name was a "coveted credential" helping him land a lucrative and controversial gig as a board member for a Ukrainian energy company when Joe Biden was vice president. That company, Burisma, "considered my last name gold," Hunter Biden wrote.
With Republicans taking charge of the House of Representatives this month, the Biden name and what it stands for are expected to be at the center of a wide-ranging oversight inquiry into alleged influence peddling and potential conflicts of interest, even as the GOP has turned its immediate attention to Biden's handling of classified documents.
The partisan probe is likely to delve deeply into the contents of a laptop computer that Hunter Biden purportedly discarded at a Delaware repair shop in April 2019. A digital copy of the laptop's hard drive has been broadly shared among right-wing operatives and was provided to CNN by Jack Maxey, a former co-host of Steve Bannon's "War Room" show. It appears to contain a massive trove of information detailing, among other things, how Hunter Biden worked to put his business associates in the same room as his famous father. Hunter Biden has not confirmed or denied that the laptop was his.
At least one email from the laptop – cited in a November report released by Republicans on the House Oversight Committee – shows Hunter Biden acknowledging that his family lineage was one of his major selling points. As he discussed a Chinese business deal in September 2011, Hunter Biden told a colleague that a potential business partner's apparent fondness for him "has nothing to do with me and everything to do with my last name."
Of course, Hunter is exactly right about that.
The Biden last name is the underlying tie between all of this corruption. But for some reason, CNN still wouldn't give Republicans the satisfaction of acknowledgement. Instead, they continued to promote this narrative that Republicans don't have all the facts.
When it comes to modern politics, I think it's fair to say that 90% of fact is fiction, and 90% of fiction is actually fact. Think about it, what are some of the facts, according to the left? Global warming, the 'advantages' of green energy, the idea that babies aren't living beings before they are born… we could go on. But the point is, leftists do not present these ideas as opinions, but rather as hard core truths.
On the flip side, how many Republican "conspiracy theories" have panned out to be the facts? The vaccine is dangerous. The virus is benign without underlying factors. The pandemic was a scam. Hunter's laptop links the Big Guy to China. Again, the list goes on. Which makes it no surprise that CNN still tried to paint Republicans as out of touch.
CNN adds:
Republicans have suggested that Biden's son and brothers illegally used their family connections for profit, but have so far offered scant evidence to support that claim. Joe Biden has repeatedly said he never discussed his son or brothers' business dealings with them.
"The President has pledged to restore ethics to the White House and has established the most rigorous ethics guidelines of any administration in history, consistent with his commitment to ensure government works for the American people," said Ian Sams, a White House spokesperson. "Unlike in the previous administration, no family member has or will serve in the administration or be involved in government decision making."
Hmmm. Funny. I've yet to see an email from Don Jr. working out the terms of selling his father to China. And trust me, if it existed, Democrats would have presented it by now.