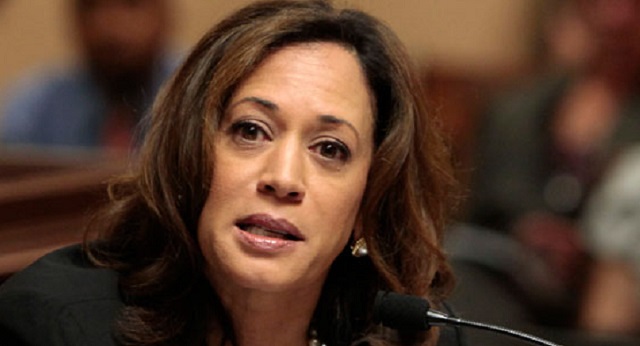 Kamala Harris: Without DREAM ACT Thousand of Teachers could be DEPORTED
So much for the jobs Americans don't want.
According to this tweet from Kamala Harris, if DACA is not passed, America could lose THOUSANDS of teachers!
If we don't pass the DREAM Act, thousands of teachers could be deported. https://t.co/7R5DUM0goK

— Vice President Kamala Harris (@VP) October 23, 2017
Teachers? Americans don't want to teach?
Outside of teaching "inner city" kids, I'd teach. But I want the suburbs, where parents care about their children's educations. And frankly, I wouldn't want to have to whoop some little hooligan's butt, if he lipped off.
So are the teachers Harris mentions to teach in ghettos and barrios?
As USA Today reported,
Growing up in metro Atlanta, Yehimi Adriana Cambrón Álvarez could see Cross Keys High Schoolfrom her bedroom window.

Born in Morelia, in Mexico's central Michoacán state, a place especially hard-hit by the country's drug war, she was brought to De Kalb County, Ga., as a child. Cambrón grew up as an undocumented immigrant, one of an estimated 11.3 million. She graduated from Cross Keys and earned a studio art degree in 2014.

She's now deep into her third year teaching art at her alma mater.

"This has kind of been my dream, to come back and teach here," Cambrón said on Tuesday as she prepped for classes. "This is a community that I grew up in — this is where I call home."

Her well-laid plans could soon collapse: Last month, the Trump administration began winding down Deferred Action for Childhood Arrivals (DACA), the 2012 Obama administration program designed to protect undocumented immigrants brought here as children.

If lawmakers can't fix DACA, Cambrón and thousands of teachers like her could face deportation when their work permits expire — in her case, that happens in February 2018.
As usual, the Left regale us with stories of the good "Dreamers". But they won't tell you about those whose dreams are killed by Dreamers.
Breitbart reported on crime by potential DACA illegals:
As Attorney General Jeff Sessions announced the end of the Obama-created Deferred Action for Childhood Arrivals (DACA), from which more than 800,000 un-vetted young illegal aliens have been given protected status and work permits, the number of them who are convicted criminals, gang members, or suspects in crimes remains staggering.
The unconstitutional DACA makes a distinction between good DACA citizens and bad ones.
Lifezette makes the distinction based on crimes committed:
But a person could have several misdemeanors that don't fall under one of these categories and still be approved for DACA, they write, "if the misdemeanors arose out of the same set of facts on the same date, USCIS [U.S. Citizenship and Immigration Services] may look upon that misconduct as one misdemeanor rather than multiple misdemeanors."

How many of the young adults now in the DACA program have been convicted of battery either before being granted DACA status, or after? We don't know.

How many in DACA were convicted of three or more misdemeanors but were still granted what amounts to almost-legal status? We don't know.

But we have a better idea of how many DACA participants have committed other kinds of crimes — crimes involving fraud in order to work in the U.S. when they are not legally present in the U.S. and not legally allowed to work.

Most DACA recipients "have committed multiple felonies in order to get jobs," wrote Ronald Mortensen of the Center for Immigration Studies in a March 2017 report, listing the crimes: "Social Security fraud, forgery, perjury on I-9 forms, falsification of green cards and driver's licenses, identity theft, etc."

"'Dreamers' [for the Development, Relief, and Education for Alien Minors (DREAM) Act] continue to commit these job-related crimes right up to the day their DACA status is approved and they obtain work permits and their own genuine Social Security numbers," he wrote.

What's even more shocking is to see that the federal government has not only turned a blind eye to these crimes, and not reported them to law enforcement, but has specifically instructed DACA recipients to withhold information on DACA application forms that would implicate them.
Let's make Kamala Harris have to decide who stays and who goes.
Let's also have her tell American citizens that she wants to give 20,000 jobs to non-Americans.