Giving The CRP A Grand Ol' Jolt!
California Republicans have had a handful of minor victories to hang their campaign hats on in the 2018 midterm primary cycle: Businessman John Cox finished in the top-two of the State's Governor's race along with three other Republican candidates clearing the State's 'winner-take-all' open-primary system last June.
Republicans successfully recalled an unpopular Democrat State Senator, thus taking away the Democrat's absolute control over Sacramento politics; and replaced him with Republican State Senator Ling-Ling Chang.  Republican State Assembly Candidates Justin Mendes and Neil Kitchens demonstrated strong showings in traditionally 'blue districts', providing an opportunity for State Republican to flip the other house of the State's Legislature. Then in the political shocker that was felt all-the-way to Washington DC (and Silicon Valley), Stanford and Yale educated millennial Republican candidate Elizabeth Heng proved the vulnerability of longtime Democrat political stalwart (and longtime Pelosi consigliere) Congressman Jim Costa.
Yet despite these positives to rally around, California Republicans remained as a whole in an unorganized apathetic malaise.  That all changed this past Labor Day weekend thanks ironically to none other than Eric Bauman, Chairman of the California Democratic Party!
The brouhaha started with a snide hit piece in Los Angeles Magazine:
Orange County is shaping up to be one of the hottest political battlegrounds going into the midterm elections–and, it appears, Irvine-based In-N-Out Burger has cast their vote early. The corporation gave $25,000 to the California Republican Party this week, according to a public filing on the Secretary of State's website.
The filing was spotted by Washington, D.C.-based journalist Gabe Schneider, who shared it on Twitter Wednesday afternoon.
It's certainly not the first In-N-Out Republican contribution. The fast food chain has a long history of donating to political causes. In 2017 and 2016, the company donated $30,000 per year to the California GOP for general party expenses.
In some areas of California, Republicans seem to be playing defense in 2018, even in areas where they've comfortably held seats for long periods of time. If they can continue to out-fundraise and out-spend progressive challengers in those competitive districts, they may be able to hold on.
In-N-Out isn't a one-party burger shop, though. The corporation has also given $50,000 this year to a PAC known as Californians for Jobs and a Strong Economy. That group is as pro-business as the name implies, but, as the Sacramento Bee reported in 2014, it was founded by David Townsend, a political operative who identifies as a centrist Democrat.
This immediately drew the ire of the intolerant Bauman:
Et tu In-N-Out? Tens of thousands of dollars donated to the California Republican Party… it's time to #BoycottInNOut – let Trump and his cronies support these creeps… perhaps animal style!https://t.co/9zkdFaG5CJ

— EricBauman – The UnCommon Sense Democrat (@EricBauman) August 30, 2018
"Not so fast," warns Harmeet Dhillon of the California Republican Party to KPIX-TV:
"I think this is a pretty petty and unnecessary, divisive fight for the Democrats to pick," said Dhillon. "What the Democratic Party is really doing is signaling to all donors in California that we are closely watching what you're doing with your money. And don't you dare give money to the other side or we will punish you and take to social media like Eric Bauman did today. We'll call for a boycott and destroy you."
At least one customer KPIX 5 spoke with said he would continue buying burgers at In-N-Out.
"This is a nice California institution. There's no reason to boycott them, I don't think," said In-N-Out customer John Chadwick.
When asked if the contribution might stop him from buying a burger, he replied, "No of course not. Maybe if Antifa comes out here, but I doubt that."
"Obviously I'm not boycotting In-N-Out! I don't really have a political stance on the other side. I don't get too involved in that stuff," said customer Kelii Dominguez.
KPIX 5 spoke with other people who said while they won't stop eating at In-N-Out Burger, they do understand it's a politically charged time in our country.
In response, In-N-Out corporate leadership released the following statement:
In-N-Out Burger responds to #BoycottInNOut. The Executive VP says In-N-Out donated to both political parties not just the California Republican Party. Here's the official statement. @KPIXtv pic.twitter.com/r3eejM5B8N

— Mary Lee (@MaryKPIX) August 30, 2018
But for the Democrat leadership and the mainstream media, the sin of "contributing to the GOP in a Blue State," was unforgiveable in a state that was all about absolutism.  A message had to be sent once again, and In-N-Out had to be made an example if any other major business were to ever dare do the same.
Gadzooks, It Backfired!
Instead quite the opposite occurred. There was an uprising!
Not only did Californians shun the State Democrat Chair's edict, but sent but the people of California sent their own message…by the thousands!
We went In & We came Out, now take THAT & Stuff Your Faces you Liberal Fools ???????? ? #whatsyerbeef #walkaway #support @innoutburger as the Insane Left is trying to destroy them. ?❤️???? pic.twitter.com/Wkh2ZYkSN0

— Kristy Swanson (@KristySwansonXO) August 31, 2018
Even California's Republican political leadership jumped in to show their support for In-N-Out!
There's nothing more Californian than In-N-Out Burger. Great lunch today in #Fresno. If .@GavinNewsom is nervous debating me on CA issues – maybe a friendly Double Double vs Caviar joust? pic.twitter.com/pEHqhb8jD3

— John Cox (@BeastJohnCox) August 30, 2018
A bi-partisan milkshake toast to @EricBauman. The deliciousness of #InNOut – and the silliness of the Bauman boycott – may be one of the few things we all agree on today. A great employer with outstanding burgers. Cheers! pic.twitter.com/0PwTaWwKpD

— Jim Patterson (@JimPatterson559) September 1, 2018
https://twitter.com/CASenatorJim/status/1035259034612289536
https://twitter.com/AntonioSabatoJr/status/1035317900100304896
Do you love @InNOutBurger too? pic.twitter.com/GcnGPeIPXp

— Franklin Graham (@Franklin_Graham) August 31, 2018
I'm sorry to inform you @EricBauman that the lines at Bay Area @innoutburger are as long as ever and the double double animal style tastes especially good today. But please, continue to attack a beloved California institution. pic.twitter.com/5BYO1g8UNd

— Matt Shupe (@MattShupePR) August 30, 2018
And there was THIS GUY!  The intrepid writer of this piece:
Bauman has since walked back the tweet.
but not before going as far as to say "there was no protest!"  So how did California Democrats so spectacularly fail?
The Los Angeles Times provides the answer:
By the end of the day, Democrats were distancing themselves from the idea and Republicans were enjoying a political feast, with some making big lunch orders to show their support for the chain and posting photos on social media.

Political experts said they aren't surprised that In-N-Out has proven hard to demonize, especially if the company's sin was simply donating to the Republican Party.

"The stomach overrules the mind," Jaime Regalado, emeritus professor of political science at Cal State L.A. "A cheap, good-tasting burger is hard to dismiss politically."
Just wait until the Progressive Left learns there really are Bible verses on the bottom of In-N-Out containers!
The Era Of The
#Boycott
In-N-Out is not the first major American business to run into problems with provocateurs looking for a controversy.  The New York Times outlines:
Hudson's Bay pulled the Ivanka Trump fashion brand from its stores after being targeted by several campaigns urging shoppers to stay away from retailers offering Trump family merchandise. Ms. Trump said she was shutting down the brand in July, saying that she wanted to focus on her work in her father's administration.

Chick-fil-A

has come under fire because the family that owns it has donated to organizations fighting same-sex marriage.

Starbucks

faced calls for a boycott after getting rid of traditional Christmas images on its holiday cups.
Companies including the Avis Budget Group, Delta Air Lines, Hertz and United Airlines cut their ties with the 

National Rifle Association

 after coming under criticism for links to the organization in the wake of the school shooting in Parkland, Fla.
New Balance had to make a statement saying that it did "not tolerate bigotry or hate in any form" after comments from Matt LeBretton, the vice president for communications, attracted support from white supremacists and prompted consumers to share images of the company's shoes being burned or thrown in the trash.
It is not just consumers calling for companies to take a stand — investors are increasingly doing it too. BlackRock, the largest investor in the world, said that if companies want the firm's support, they must make "a positive contribution to society." As a result of "governments failing to prepare for the future," society has been "turning to the private sector and asking that companies respond to broader societal challenges," Laurence D. Fink, a BlackRock founder and its chief executive, wrote in a letter.
Nike is now the next feeling the boycott sting after signing a new contract with Colin Kaepernick.
"Why Is Everyone Behaving Like Animals-(style)?"
There are some people that might ask, "So What?"
#InNOutBurger donated to the California GOP and now Democrats are boycotting the chain.

The irony? The Party of the Working Class is boycotting one of the few fast food chains that pays its employees rather well. pic.twitter.com/go8vNdw0r2

— Joe Walsh (@WalshFreedom) August 30, 2018
The East Coast may have White Castle, but California has In-N-Out!  And we are perfectly happy with that!
Although an Alabama lawmaker has invited the burger chain to move their corporate operations to his state with open arms, there are not any plans for In-N-Out's begin business operations east of the Mississippi River in the foreseeable future.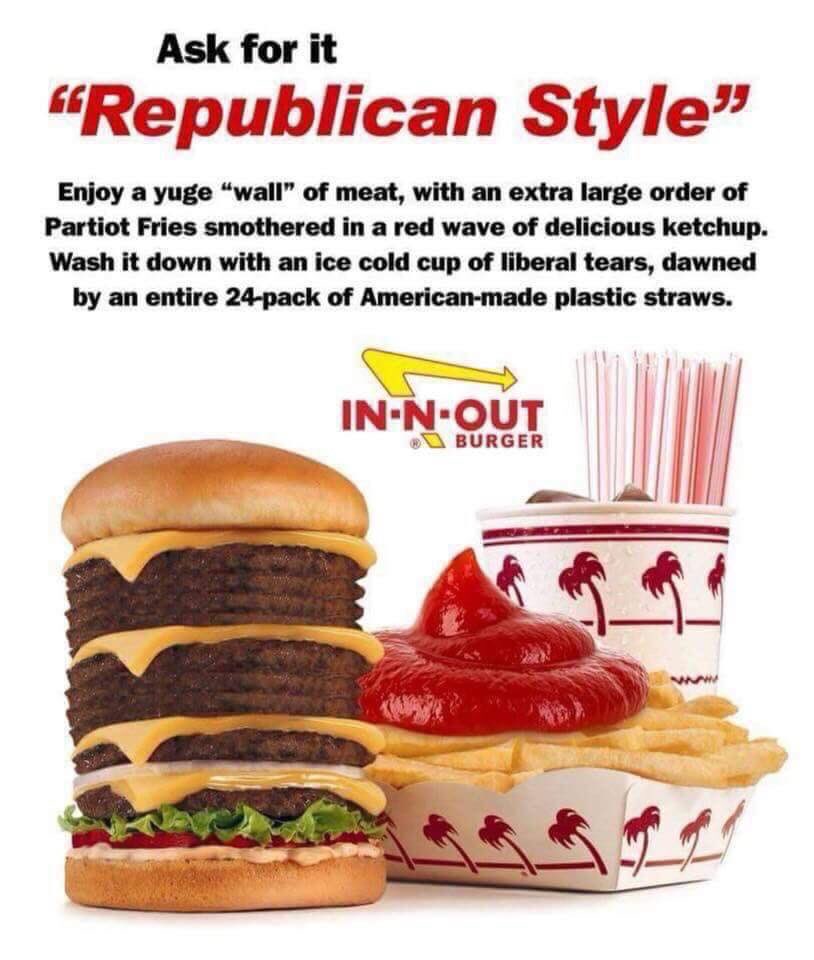 In the meantime, new inductees to the can learn more about the infamous "secret menu" and thus what "a hamburger's all about!" here: