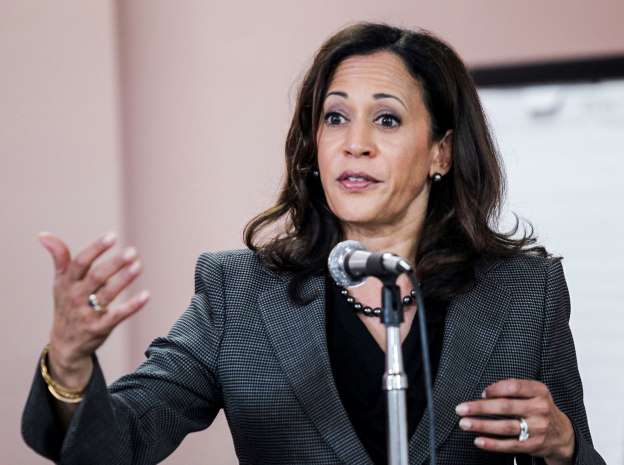 Kamala Harris finds herself in another conundrum. This one involves Jeffrey Epstein.
As it turns out, Harris' soul has a price. According to AP, her campaign is partially funded by the lecherous Leftist.
Harris is no stranger to controversy, as she recently supported Jussie Smollett. Recall that Harris blamed hatred of the LGBTQ by Trump supporters as the reason for what was later proven to be a Smollett hoax. One would think a seasoned politician would learn quite the lesson from such a scandal. However, Harris is obviously a slow learner.
Consider this snip from the Associated Press:
Kamala Harris bemoaned the influence of the powerful and connected elite last Tuesday when she called on top Justice Department officials to recuse themselves from any matter related to Jeffrey Epstein. She said their former law firm's work on behalf of the financier accused of sexual abuse "calls into question the integrity of our legal system."
Yet the same day, Harris' husband headlined a Chicago fundraiser for her presidential campaign that was hosted by six partners of that firm — Kirkland and Ellis, according to an invitation obtained by The Associated Press.
Harris, a California senator and Democratic presidential candidate, was one of several White House hopefuls to blast the handling of Epstein's case in Florida a decade ago. (Back then) his lawyers negotiated a deal with federal prosecutors that allowed him to avoid the possibility of years in prison. But her decision to move ahead with the fundraiser hosted by Kirkland and Ellis partners while criticizing the firm underscores the tension that can arise when a politician's rhetoric collides with his or her need to raise money to sustain a presidential campaign.
"If any connection with Kirkland and Ellis is a stain on (senior Justice Department officials), why isn't a connection with the law firm for the receipt of campaign contributions a stain on her own campaign?" said Paul S. Ryan, an attorney for the good-government group Common Cause.
Leftist Hypocrisy
Clearly, this is leftist hypocrisy at it's finest. Here we have our labor secretary, Alex Acosta, resigning more than a decade after Epstein's original conviction. But Kamala cashed his check anyway.
As CNBC explains:
Epstein had long been under investigation by both federal and local law enforcement for sex crimes against underage girls that took place from 2002 to 2005 in New York and Florida.
Acosta, as a U.S. attorney, struck a secret plea deal with Epstein allowing him to avoid federal prosecution on similar charges.
Epstein was required to register as a sex offender and ended up serving a custodial sentence of 13 months in jail, where he was allowed out during the day on work release.
Even Acosta expressed frustration with the lax punishment Epstein received. "The work release was complete BS," Acosta said in Wednesday's news conference. He said that his office intended for Epstein to carry out all of his sentence, which he expected to be 18 months, behind bars.
Obviously, Acosta found himself between a rock and a hard place. Thus, he took the only step that guaranteed Epstein jail time. Without putting that deal on the table, Epstein could've walked free.
Times Have Changed
According to criminal justice statistics, out of 1,000 sex crimes reported, only about 4 rapists ever go to jail.
Considering these daunting facts, its no wonder Acosta crafted a deal that ensured punishment for Epstein's actions. That deal might not be ideal. However, a legal exoneration of previous charges creates many obstacles for the current proceedings. It's better to have any conviction than none at all.
Further, we have to face facts. Sex crimes are uncomfortable to speak of. Which makes them especially tough to prosecute. Victims face fear and anxiety through the process that often leads them to change their testimony or worse, refuse to testify. Although 2006 doesn't seem so long ago, thirteen years makes a huge difference in the way these cases are handled. Especially when it comes to the way victim testimony is both given and received. Our judicial system has evolved. We now recognize that trauma hinders the ability to fully relate the ordeal for many victims.
Therefore, today's standards brand Epstein a sex offender. We've come to understand what a predator is, and we're ready to hold them accountable. But that still doesn't guarantee a conviction.
Stepping Down
It's hard to understand why Acosta is crucified by leftists for his role in the previous Epstein case. Now, he feels the only way to continue to help further Trump's agenda is to step down. Thus, Acosta turned in his resignation, and Trump reluctantly accepted it.
However, Kamala Harris feels no shame in taking his money, and if fact, her team tried to justify the situation.
As the AP noted:
"Ian Sams, a Harris spokesman, said there wasn't a problem with accepting the campaign contributions because the firm is big and the partners who hosted the fundraiser didn't work on Epstein's plea agreement."
But that directly contradicts Harris' own statements.
"In our democracy, no one — no matter how powerful or well-connected — is above the law. Yet Epstein's deal, secured by his lawyers at Kirkland and Ellis, calls into question the integrity of our legal system and undermines the public's confidence that justice will be served," Harris said in a statement released hours after the Chicago fundraiser.
So the moral of the story is this: Kamala's soul had a price. And a campaign donation was enough to cover it.