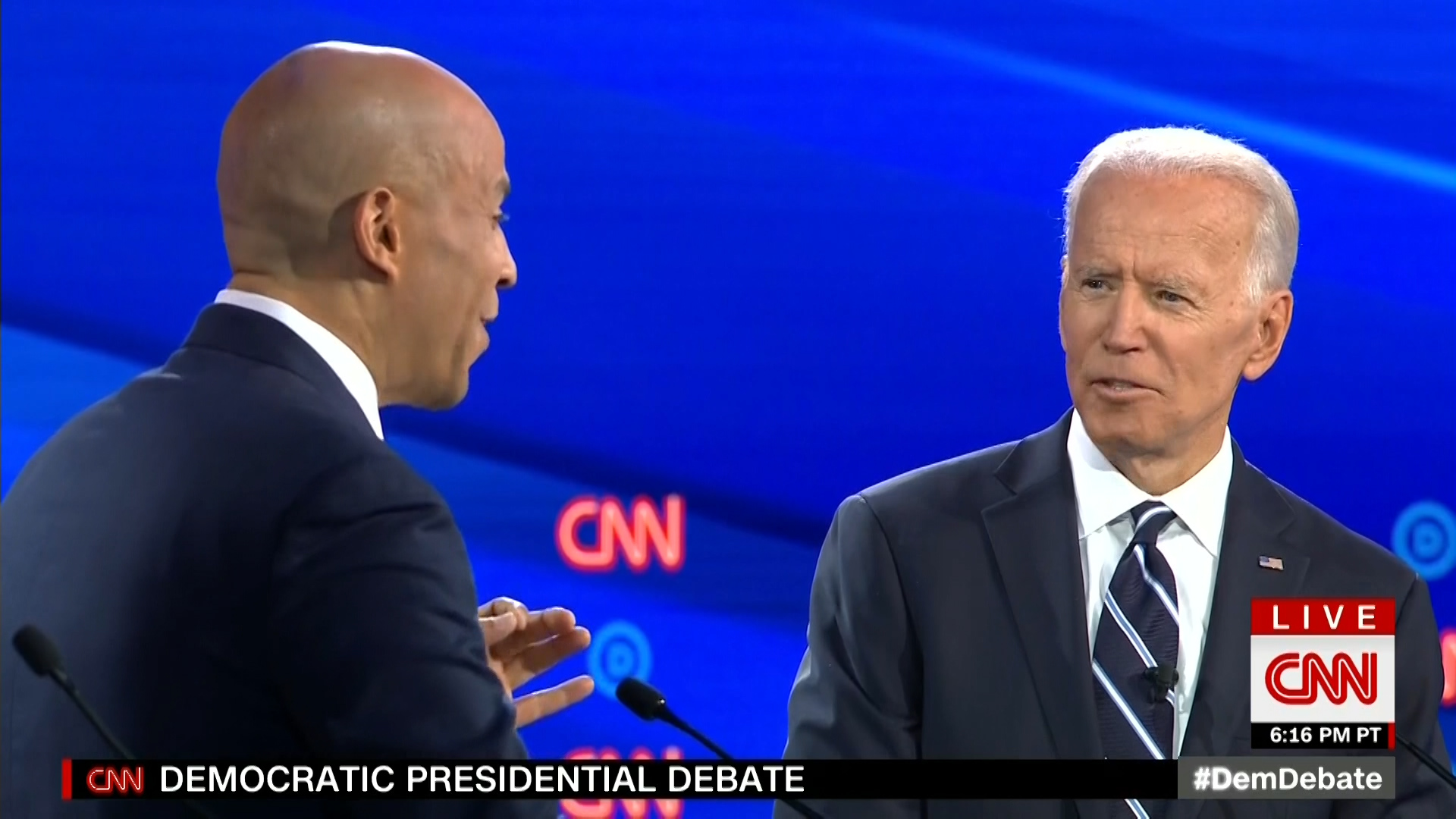 Americans are tired of the absurdities on the left. And they're tuning out to prove it.
In fact, CNN just hosted the latest round of Democrat Debates, and subsequently posted the lowest ratings for the 2020 election cycle thus far. I suspect future democrat debates will suffer the same fate.
Apparently, there's not enough Excedrin in the world to muddle through anymore of these pathetic lie-fests.
As Fox News elaborates:
The network landed an average of 8.3 million views during the three-hour telecast. That marked quite a dip from its previous two-part debates in July, where viewership peaked at 10.7 million. CNN's debate also saw an almost 50-percent drop from the first debate hosted by NBC News back in June, which received 15.3 million viewers.
In addition, 449,000 viewers watched live streams on various platforms from CNN and The New York Times, who co-hosted the debate.
The fourth debate featured 12 candidates on one stage. They were: former Vice President Joe Biden,; Sen. Elizabeth Warren of Massachusetts; Sen. Bernie Sanders of Vermont; South Bend, Ind., Mayor Pete Buttigieg; Sen. Kamala Harris of California; tech entrepreneur Andrew Yang; Sen. Cory Booker of New Jersey; former Rep. Beto O'Rourke of Texas; Sen. Amy Klobuchar of Minnesota; former Housing and Urban Development Secretary Julián Castro; Rep. Tulsi Gabbard of Hawaii; and billionaire donor Tom Steyer.
CNN Slammed
It seems CNN doesn't have many fans today. Of course, they've been rolling downhill fast for the past three years.
Fox elaborates:
CNN's Democratic presidential debate was criticized by everyone from media watchdogs to the candidates themselves following Tuesday's showdown — with complaints ranging from perceived favoritism of Sen. Elizabeth Warren to attacks on the specific questions asked by moderators.
The Hill media reporter Joe Concha told Fox News that CNN's debate enhanced its already not-so-respectable reputation.
"The network is under heavy criticism from the left and right today, and rightly so," Concha said. "Its pursuit of sizzle over steak and focus on social issues over truly substantiate matters – economy, jobs, opioid crisis, border crisis, all-things China – has damaged the network's credibility even further."
One would think a partnership with the New York Times would add accountability to such an event.
Obviously not!
CNN partnered up with The New York Times for the event, which was moderated by CNN's Erin Burnett and Anderson Cooper and Gray Lady editor Marc Lacey. While viewers complained about several issues with the moderators, a question Cooper asked about Ellen DeGeneres and former President George W. Bush's friendship was perhaps the most lampooned.
"Three hours and no questions tonight about climate, housing, or immigration," Julian Castro tweeted. "Climate change is an existential threat. America has a housing crisis. Children are still in cages at our border. But you know, Ellen."
Sen. Kamala Harris also took to Twitter to criticize the moderators, noting there weren't questions about climate change, LGBTQ rights or immigration.
"These issues are too important to ignore," Harris wrote.
While Castro and Harris used social media, Rep. Tulsi Gabbard, D-Hi., slammed CNN and The Times directly from the debate stage over what she described as "smears" against her on foreign policy.
"The New York Times and CNN have also smeared veterans like myself for calling for an end to this regime-change war," Gabbard said. "Just two days ago, The New York Times put out an article saying that I'm a Russian asset and an Assad apologist and all these different smears. This morning, a CNN commentator said on national television that I'm an asset of Russia — completely despicable."
And then there's the issue of time.
Obviously, Warren is the latest leftist 'fav' and it shows. Critics like DePauw University professor Jeffrey McCall noticed Pocahontas dominated the proceedings.
"The time imbalance was so obvious and quite unfair to Gabbard, Castro and the others.  That Warren is now or at the top of recent polls is no excuse for allowing such an imbalance," McCall told Fox News. "A candidate forum is supposed to give all candidates a fair opportunity to engage the dialogue and that absolutely did not happen. The debate moderators apparently don't own stopwatches."
Of course, losing viewers is nothing new to CNN. Their glory days as the most trusted name in news ended long before Trump came along. But the President certainly hammered the nail in their coffin. Actually, it was their hatred of the president that did them in.