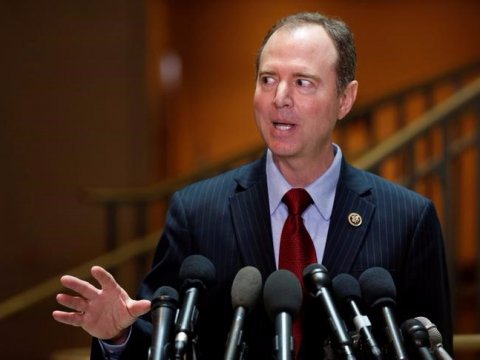 Democrats refuse to learn their lessons. So just as in November of 2016, Democrats head into a fight they can't win.
I warned the hapless Democrats not to allow Robert Mueller to testify, but they paid no attention. So now I issue the same warning to Democrats regarding their "whistleblower." DON'T DO IT!
Nevertheless, according to the NY Post and other sources, the whistleblower at the center of the Ukraine scandal will testify before the House Intelligence Committee. So declared Chairman Adam Schiff.
When asked by ABC News' George Stephanopoulos if the committee and the whistleblower have come to an agreement, Schiff responded, "Yes we have."
"And as [acting Director of National Intelligence Joseph Maguire] promised during the hearing, that whistleblower will be allowed to come in and come in without a minder from the Justice Department or from the White House to tell the whistleblower what they can or cannot say."
"We'll get the unfiltered testimony of that whistleblower," he told "This Week."
Talk about leading a lamb to slaughter.
Democrats haven't thought this one through.
To allow a second-hand (at best!) witness to testify against the likes of Jim Jordan and other Republicans is political suicide. If you believe Mueller looked back, as rednecks say, "Hold my beer!".
Democrats have withheld the identity of the so-called whistleblower in order to maintain some level of what they believe to be credibility. But when this person comes forward, he will be rightfully destroyed.
All we know thus far from a New York Times report is the individual is a male CIA officer who was, at one point, detailed to the White House. President Trump rightfully referred to this person as a spy.
The spy submitted a complaint to the intelligence community's inspector general alleging that President Trump asked the new president of Ukraine to work with his lawyer Rudy Giuliani to investigate Joe and Hunter Biden.
Since then, the president took the unforeseen step of releasing notes from his phone call. These notes completely debunked the fake news narrative of the Left.
One would think that President Trump's transparency would have been seen by Democrats as a warning to back off. But Democrats continue to chase the car. And as for the upcoming whistleblower's testimony, the dog just caught the car. Ouch!
I've asked on my radio show and other news outlets, what do Democrats expect to gain here? They know the Bidens are guilty, so how can you possibly protect them?
What an insane ploy to bring down Trump with a dolt and his crackhead son as your "trump card," pun intended.
What revelations will this whistleblower make that blows up in the face of the Democrats? Will we learn that this person is a plant by former CIA Director John Brennan? Or an Obama holdover from some other rogue clandestine agency out to get Donald Trump?
The can of worms looms large. And for Democrats, the worm will soon turn.
This is a miscalculation of monumental proportions. And I predict that President Trump and AG Barr will soon tire of this nonsense and begin dropping small nukes on the Democrats. I know as far as this Peyton Place goes for me, I can't wait to see the plumes.