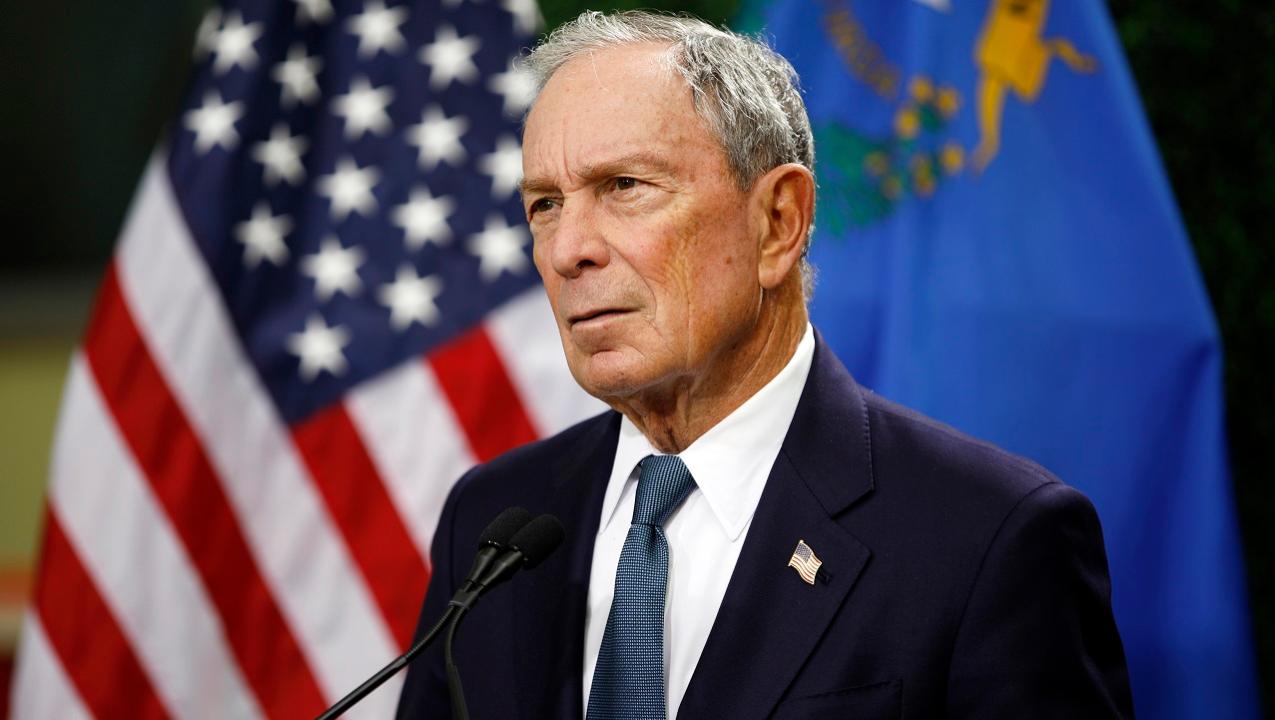 For the past week, we've seen thousands of Bloomberg ads as the NY billionaire attempted to buy his way onto the Democrat ballot.
Today, he threw in the towel and said "vote for Biden instead."
Just as I expected, no balls. At least that's how my teenagers say it. The going got tough, and Bloomberg bowed out.
And his endorsement of Joe Biden is so jam-packed with lies, it's almost fodder for Comedy Central.
As Axios reports:
Michael Bloomberg, who spent hundreds of millions of dollars to self-fund his 2020 presidential run, announced Wednesday that he is suspending his campaign after a poor performance on Super Tuesday and will endorse Joe Biden.
What he's saying: "I've always believed that defeating Donald Trump starts with uniting behind the candidate with the best shot to do it. After yesterday's vote, it is clear that candidate is my friend and a great American, Joe Biden," Bloomberg said in a statement.
"I've known Joe for a very long time. I know his decency, his honesty, and his commitment to the issues that are so important to our country – including gun safety, health care, climate change, and good jobs."
Bad Strategy
Bloomberg thought he was a chess master, like Trump. But his strategy didn't quite pan out. Bloomberg didn't jump in early. Of course, there were oodles of candidates at the start. However, Bloomberg banked on a string of Super Tuesday victories. He thought the wins would be enough to push Bernie out of the way and mark him as the frontrunner.
Talk about a big fat flop of a plan! Instead, voters revived Joe Biden's campaign.
Axios continues:
Pete Buttigieg and Amy Klobuchar both exited the race between the South Carolina primary and Super Tuesday and chose to back Biden — along with Beto O'Rourke.
On Super Tuesday, Biden scored surprise victories in states like Texas, Massachusetts and Minnesota — and racked up huge wins across the South.
While Bloomberg was viable in multiple states, he didn't win any — and his only victory was in the territory of American Samoa.
Can't Buy Me Love
Here's what I think happened. Bloomberg is a billionaire. And Trump is a billionaire. Bloomberg witnessed the masses' adoration of the president, and thought the voters love rich people. Tom Steyer made a similar assumption. And while money can buy some TV ads and radio spots, it can't make people love you.
Trump's money isn't what put him in the White House. It's Trump's tenacity and ambition coupled with his love of country that won his place in the Oval Office. In fact, if we want to get real, Democrats don't trust money.
There's a reason for that. Consider the number of Democrat politicians that are millionaires. Nancy Pelosi, Maxine Waters, and Bernie Sanders all fit the bill. Now consider how they amassed such wealth. Crooked deals and shady transactions. How else does someone take a job making $175k and turn it into $15m? And since Democrats know their own dirty tricks, they're slow to trust the billionaires among them. Which is why Bloomberg and Steyer are both out.
Bigger Problems
Bloomberg had bigger problems than a pocket full of money. As we previously mentioned, Bloomberg's time in the mayor's office showcased both his racism and sexism.
First and foremost is Bloomberg's stop and frisk policy that had five million black men thrown up against the wall. Then, Bloomberg reportedly told female employees to "just kill it" when faced with pregnancy in the office.
And that's not all.
He faced criticism for his use of non-disclosure agreements after being accused of harassment and gender discrimination by former female employees of Bloomberg LP.
Bloomberg also faced an ethical conflict related to his ownership of Bloomberg News. The eponymous founder refused to allow his company's journalism arm to investigate him as a candidate, forcing it to extend that policy to all 2020 Democrats.
Isn't it funny that Democrats constantly call Trump a racist? Yet, their own candidates ooze with hate and moral turpitude. Ironically, Bloomberg went head to head with Trump during the Super Bowl.
They both took out 60-second ad slots. But Trump wasn't worried. In fact, the president tagged Bloomberg as "Mini Mike."
Many of the ads you are watching were paid for by Mini Mike Bloomberg. He is going nowhere, just wasting his money, but he is getting the DNC to rig the election against Crazy Bernie, something they wouldn't do for @CoryBooker and others. They are doing it to Bernie again, 2016.

— Donald J. Trump (@realDonaldTrump) February 2, 2020
Trump was right. Bloomberg's campaign wasted millions. And in the end, he couldn't even defeat Bernie Sanders. Do Democrats smell doom yet?