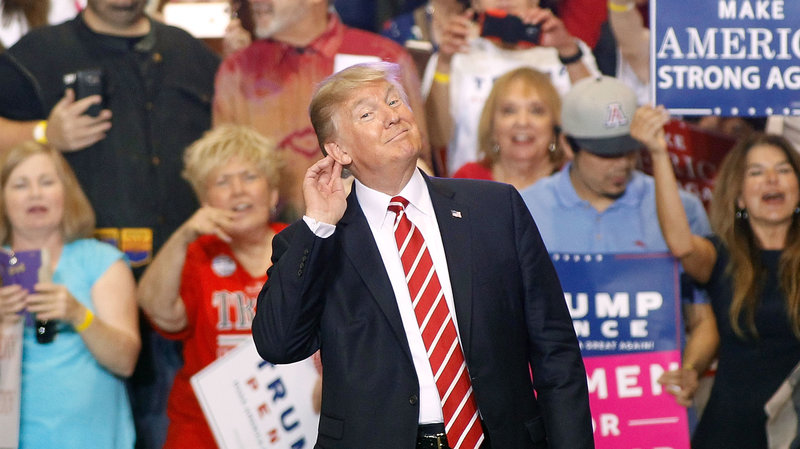 I love trends. And the fundraising trend for President Trump bodes well for his re-election.
For those wonder who will win in November, allow me to save you the suspense. President Trump will be re-elected. And all you need to do is watch the trends.
One trend is Trump's fundraising.
The president has consistently outraised Democrats; no big accomplishment, given Democrats' woes. Just look at the multitude of clowns who ran for the Democrat nomination. Then consider their eventual "winner." So bad news for the bozos, as Yahoo News reported on fundraising through Feb 2020:
Through Feb. 2020, Trump and the Republican National Committee have raised approximately $459 million combined, according to an NBC News Political Unit deep dive into the FEC filings. By comparison, Biden and the Democratic National Committee have raised $203 million during that same time period – so less than half of the Trump-RNC haul.
So Team Trump raised double what Biden and the DNC raised during the same period.
But it gets worse, according to The Daily Caller:
President Donald Trump's reelection campaign reported Monday morning that it had raised $212 million in the first quarter of 2020.
The figure, raised by the campaign, the Republican National Committee and joint fundraising committees, was a $56 million increase from Q4 haul in 2019. $63 million was hauled in during March alone, bringing the campaign's total for the 2020 election cycle to $677 million.
"Americans can see President Trump leading this nation through a serious crisis and they are responding with their continued enthusiastic support for his re-election," campaign manager Brad Parscale said in a statement accompanying the announcement. "Joe Biden, Democrats, and the media continue to oppose his every action, but the people know that President Trump is fighting for them so they are fighting for him as well."
In the wake of the coronavirus pandemic, the campaign has transitioned to a fully digital platform and has allegedly made contact with more than 17 million voters since the White House social distancing guidelines were issued in mid-March.
Doing the math, in the month of March, Team Trump raised more money ($218 million) than Democrats did in the previous two months. And Trump's team did this during a pandemic.
Still problems worsen for Democrats as NBC reported.
A joint committee could also be a boost to the DNC, because, while it has raised over $115 million in the 2020 election cycle, the organization only has $14 million on hand. Its last Federal Election Commission filing shows the committee is $6 million in debt.
Ouch. All that money raised and nothing left to spend. Is this really who Americans want running the country. A group who can't balance its own checkbook wants to take on the nation's?
No wonder under Obama America's debt doubled. Like his fellow Democrats, he has no ability to manage money effectively.
Trump proves daily that he can manage money. And his millions of supporters have faith in Trump's fiscal abilities.
As for his re-election, Trump doesn't need the money. He will get earned media whenever he wants. Actually, Trump sets the media's agenda. So the money for Trump is merely a measure of his popularity. So expect him to keep raising lots because he likes being popular.
And that's a good thing.