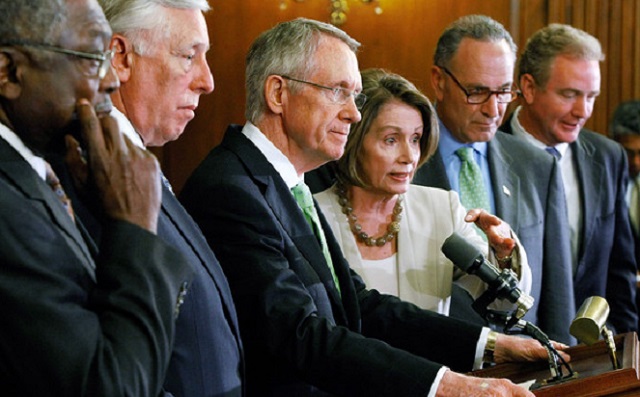 Padding pockets is a common practice on the left. And you can bet this scandal goes all the way up the chain.
In fact, House Speaker Nancy Pelosi might want to crawl down Hillary Clinton's rabbit hole and hide our for a while.
Have you ever wondered how Pelosi amassed so much wealth as a public servant? Let me clarify it for you. She steered billions, not just millions, but billions to a light rail project. And her husband just happened to be a major investor in the company.
TIME OUT!
Can we just rewind for a minute?! All the way back to 2016. Remember when Congress was buzzing with outcries for Donald Trump to liquidate his businesses? They insisted being President created a conflict of interest.
Then, in 2018 Pelosi was among the liberals demanding Trump's tax returns. Of course, he flipped the script on leftists when he scooped Rachel Maddow's "expose!"
Still, leftists were quite indignant, accusing Trump of shady back-door dealings from the moment he stepped into the Oval Office. One again, the leftist hypocrisy is lighting up like a Christmas tree.
Back to Pelosi
She pocketed a pretty penny after San Francisco's real estate boom.
According to the Free Beacon:
When cloud computing giant Salesforce sold a large plot of land to the Golden State Warriors in April, it had House Minority Leader Nancy Pelosi (D., Calif.) to thank for helping to swell real estate prices in the area.
Pelosi has worked for more than a decade to steer taxpayer funds to a light rail project in San Francisco's Mission Bay neighborhood, where Salesforce had planned a new campus. Experts say the project boosted the value of Mission Bay real estate.
The company's CEO, Marc Benioff, is a high-dollar Democratic donor. Pelosi and her leadership PAC are among the recipients of his generous campaign contributions. Pelosi's husband is also a major Salesforce investor.
Greasing the Wheels
Isn't it ironic? Trump's staunchest critic has been greasing the wheels and lining her pockets all along.
However:
Pelosi's tireless advocacy for federal support for San Francisco's light rail system has come under scrutiny for potentially enriching another liberal billionaire, hedge fund manager Tom Steyer.
In Salesforce's case, Pelosi's work appears to have financially benefitted not just a Democratic mega-donor, but also a company in which Pelosi's direct family owns a large stake as well as valuable real estate holdings in her husband's portfolio.
Salesforce paid $278 million for 14 acres in Mission Bay in 2010. It bought the land from a group called Alexandria Real Estate Equities, which had purchased it from FOCIL-MB, a division of Democratic financier Tom Steyer's hedge fund.
The exact dollar figure of its sale to the Warriors was not released. "We paid a very pretty penny," the team's co-owner said.
And we're not talking small potatoes.
Real estate values in Mission Bay have skyrocketed over the past decade as the city works to transform the former industrial neighborhood.
"From a decrepit and seemingly abandoned old rail yard 15 years ago, Mission Bay has sprouted into San Francisco's fastest-growing neighborhood," the San Francisco Business Times reported last year.
San Francisco real estate is some of the most expensive in the nation, and Mission Bay has seen some of the fastest-growing property values in the city in recent years.
Contributing to that rise has been the expansion of the city's Third Street Light Rail line. Studies on the financial effects of public transit projects, including one that looked specifically at the Third Street expansion, have found that they increase property values in surrounding areas.
I don't know about you, but I smell a little White Water in the air.
Pelosi has been the expansion's champion at the federal level. Since 2003, she has secured well over a billion dollars for the project in the form of earmarks, federal funding agreements, and stimulus disbursements.
That work has come under scrutiny since it was revealed that Farallon was a major landholder in Mission Bay as Pelosi, a recipient of Steyer campaign contributions and an ally of the billionaire environmentalist, steered taxpayer money to the light rail extension.
A 2004 real estate deal gave Farallon ownership of roughly two million square feet of commercial space in Mission Bay. Salesforce's planned campus in the area was a bit smaller, but still significant: according to documents submitted to San Francisco Planning Department, its four buildings would have comprised nearly 1.5 million square feet.
An increase in value of Salesforce's real estate from 2010 to its sale this year would mean a financial gain for the company and its investors, one of whom is Pelosi's husband.
According to her most recent personal financial disclosures, filed in May of this year, Paul Pelosi owns a stake in Salesforce worth between $500,000 and $1 million.
Pelosi first invested in the company in 2000, when he purchased between $15,000 and $50,000 in stock. According to financial news service Motley Fool, "Pelosi seems to have acquired shares in a private offering" prior to the company's 2004 initial public offering.
Its stock has soared since then. It debuted at $3.75 a share on June 23, 2004. As of Thursday, it was trading near $53.
Pelosi isn't the only Dem to Benefit from fancy friends.
CEO Marc Benioff bundled half-a-million dollars for President Barack Obama's reelection campaign. He has donated an additional $300,000 to Democratic candidates, party organs, and interest groups, according to data compiled by CQ Moneyline.
…
Among the most recent recipients of Benioff contrubtions is Pelosi, to whom the Salesforce CEO maxed out with two $2,500 contributions on Jan. 31 of last year. He gave another $5,000 to Pelosi's leadership PAC and $15,000 to the Democratic Congressional Campaign Committee the same day.
Those contributions came just four months after Pelosi secured $967 million in federal funding for the Third Street light rail project.
Sounds like Pelosi took a page out of the Clinton play book.
And like Hillary, she'll stand in front of America and pretend the real enemy of the people is Donald Trump. But I guarantee you this. Pelosi's about to get a big lesson in ethics, and what mainstream America deems acceptable. It's time we throw the baby out with the bath water.