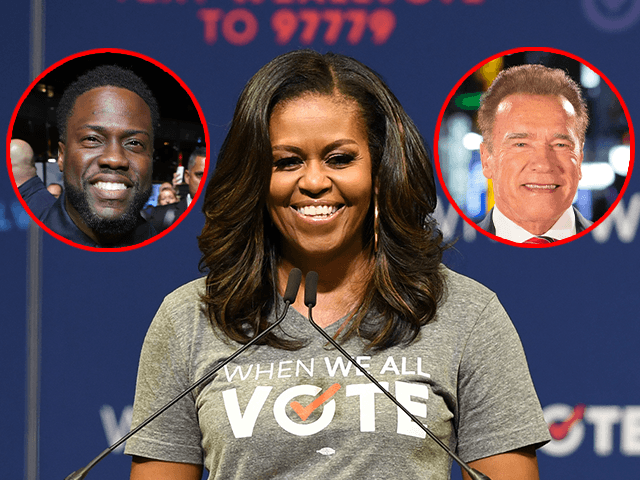 ABC To Televise DNC Convention 2.0
Image courtesy: Entertainment Weekly
Democrats are getting a convention 'Do-Over'!
The Democrats and the 'Political Swamp' Establishment are getting a defacto reboot from last month's DNC Convention. Or as Tiger Woods might call it, a mulligan.
ABC will be airing "VOMO: Vote or Miss Out," a nonpartisan comedy special event created by ATTN: in partnership with When We All Vote, featuring some of the biggest names in comedy and music, MONDAY, SEPT. 14 (10:00-11:00 p.m. EDT).

Emceed by comedy legend Kevin Hart, the entertainment-filled television event will aim to encourage electoral participation in the 2020 election.
https://www.facebook.com/ABCNetwork/videos/353581032345514/
This is further proof of how big a disaster the DNC Convention was for the Biden Campaign.
The Salt Lake Tribune provides additional details:
Ann Romney will team up with Michelle Obama on prime-time television to encourage people to vote this fall.

The former first lady and Romney — whose husband, Sen. Mitt Romney, lost the 2012 race to former President Barack Obama — are both scheduled to appear on "VOMO: Vote Or Miss Out."

Michelle Obama's nonprofit When We All Vote is working with ATTN: and Sara + Tom, the production company founded by Sara Gilbert and Tom Werner, on the special.
Entertainment Weekly produced a cavalcade of celebrity attendees:
Will encourage electoral participation via appearances from celebrities and political figures from both sides of the aisle, including Will Ferrell, Scarlett Johansson, Michelle Obama, Cindy McCain, Jon Hamm, Ann Romney, Arnold Scwarzenegger, Tim Allen, Jay Leno, Tiffany Haddish, 2 Chainz, Tiffany Haddish, Cindy McCain, Jon Hamm, Tim Allen, Jay Leno.

Other celebrity guests include Lil Baby, Cristela Alonzo, Whitney Cummings, Kaia Gerber, Charlamagne Tha God, Liza Koshy, Jaden Smith, and Willow Smith.

And many more surprise guests.
Who are those Surprise Guests going to be?  Joe Biden and Kamala Harris?
Deadline provided a list of more celebrity attendees:
Larry David, Susie Essman, Chris Rock, Amy Schumer, JB Smoove, Wanda Sykes, Usher, LeBron James + More Than A Vote, and musical group Migos have added their voices and will participate in the special.

"We have a societal responsibility to participate in our country's democracy," said producer Tom Werner. "This nonpartisan special will, through comedy, encourage people to vote this November."
'THIS' Is Nonpartisan?
The definition of Nonpartisan is:
Not partisan.  Especially free from party affiliation, bias, or designation.
Michelle Obama to be leading this effort is an affront, especially after her error-filled speech during the DNC Convention.  When We All Vote claims to be nonpartisan on their website, but at the same time market Michelle Obama has the organization's Chairperson.
Then this so-called "nonpartisan" organization announced in a press release their 2020 campaign co-chairs:
Michelle Obama released a video message announcing 7 new Co-Chairs joining When We All Vote, a national, nonpartisan organization launched in 2018 to increase participation in every election.

Joining Mrs. Obama as co-chairs of When We All Vote – as her Voting Squad – are Selena Gomez, Liza Koshy, Shonda Rhimes, Megan Rapinoe, Tracee Ellis Ross, Kerry Washington, and Rita Wilson will officially join Co-Chairs Tom Hanks, Faith Hill, Janelle Monáe, Lin-Manuel Miranda, and Chris Paul.

The video is being released to mark one year until the 2020 General Elections. In the video message, the Co-Chairs urge Americans to join When We All Vote and sign up to create their own "Voting Squads".
As for ATTN:? 
The organization has deep roots with the Obamas, was the masterminds behind creating the Stoneman-Douglas Kids personas, and has been producing video material for Joe Biden targeting young people since 2018.
With an unprecedented election season, we're bringing together maximum star power for #VOMO: Vote or Miss Out. On Sept. 14th, some of the biggest names in comedy & politics are coming to @abcnetwork for a 1-night only special event with one goal: helping America register to vote. pic.twitter.com/EVFi5DVoQv

— attn (@attn) September 2, 2020
Adweek unveils more:
ATTN: co-founder Matthew Segal said that the publisher has done a lot of work with the Obama family over the past two years, including creating short-form videos about the fellows and fellowship programs from their nonprofit Obama Foundation, as well as get-out-the-vote videos prior to the 2018 midterm elections with former President Barack Obama.
There is not one officially declared pro-Trump celebrity attending this one-hour event.  Even more disconcerting, is all of the so-called Republicans listed are "Never Trumpers".
https://www.youtube.com/watch?v=q4wgojkSzlU
Besides Governor Hogan, not one of Republican politicians attending is a significant current elected politician.  Yet Hogan and President Trump are not political allies.
So is this is the 'new' definition for "nonpartisan" in 2020?  In reality, this is merely a masked hour-long political ad for the Biden/Harris ticket on a major TV network in prime-time.
The producers of this quasi-campaign rally have earned a well-deserved chewing out from Inigo Montoya:
But on Election Night 2020, there is going to be a different word every Democrat will be crying out.