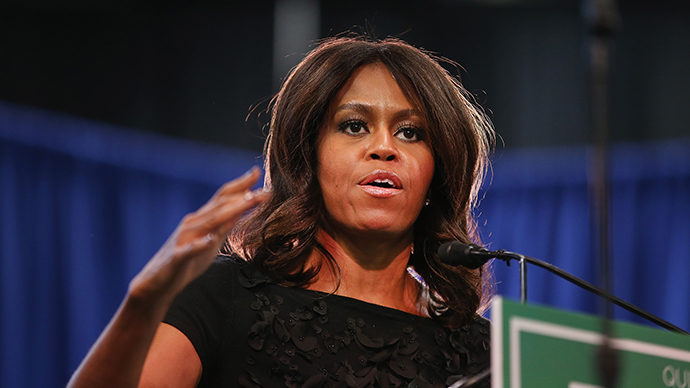 A friend of mine wrote an open letter to Michelle Obama on Biden's racism. He asked me to distribute it.
I've discussed much of this either here or on my radio show. And as the author suggests, Blacks who support Biden have some explaining to do.
Robert Oliver writes,
HELLO MRS. OBAMA
If Donald Trump had a history of lying to Black Americans about participating in the Civil Rights movement, you would have called him out publicly on it, would you not?
You would have promoted the hashtag "#TRUMPCOMECLEAN," would you not?
Then, you would have called him "unqualified" to be President of the United States, would you not? Why? Because he would have intended to make fools out of Black Americans for personal political gain.
So why do you support Joe Biden?
No doubt you have heard of high-profile activist Shaun King, who has gained the utmost respect of Al Sharpton. He wrote the following about Biden:
"Since the early 1970s, Joe Biden has been a serial liar. Especially when it comes to his 'work' in the Civil Rights Movement. It's the equivalent of stolen valor and is fundamentally disqualifying.
(…)
Soon, it was discovered that Biden had not just plagiarized those four speeches, but had lied about academic awards, lied about scholarships, lied about his ranking at Syracuse Law School, where he had nearly been kicked out for plagiarizing five entire pages of an essay, and that he also frequently lied about something that he had made a central part not just of his 1988 presidential campaign bid, but of his entire public persona.
Temporarily, Joe Biden paid a price for most of those lies, but was never fully held to account for the worst of them all. On the backs of people who actually paid an enormous price for being activists and organizers in the Civil Rights Movement, Joe Biden created a completely false narrative of his work and contributions to the movement that persists to this very day. Instead of plagiarized speeches, he was plagiarizing details about his actual life. He not only told these lies in previous generations, they have now fully returned to his current stump speeches in churches and venues around the country as if he never acknowledged and apologized for them in the past. It's shameful."
King continues:
"On two very important occasions, Joe Biden actually told the entire truth about his involvement in the Civil Rights Movement. Nearly everything else has been a lie. I've counted at least 31 different lies he has told about being an activist, organizer, sit-in demonstrator, boycott leader, voter registration volunteer, Black church trainee and more in the Civil Rights Movement, but every single time I dig, I actually find more interviews, more lies, more fabrications, more tales he told to voters, reporters, historians, and more.
(…)
In September of 1987, with his presidential campaign completely consumed by his lies, Biden, with his entire public life in shambles, fell on his sword and told the truth about his lack of work in the Civil Rights Movement. In repeated interviews, campaign events, and national keynote speeches at the Democratic Conventions of both Maine and California, Biden told wild tales of how he marched, sat-in, and boycotted during the Civil Rights Movement and even went so far as to suggest that he had traveled to Selma and Birmingham with such actions, but with his campaign in tatters, he finally said they were all lies." — "2 truths and 31 lies Joe Biden has told about his work in the Civil Rights Movement".
I interrupt to say that I referenced King's work not long ago. I asked the very same questions, particularly given the calls of "racist" against President Trump. Clearly, Biden is the real racist. Perhaps worse, he's an opportunist.
Oliver continues,
Click on the link for the CNN video panel discussion with Jake Tapper —  "Biden on trail in 1987 lied about 'marching' for civil rights".
Click on the link for The Young Turks dissection of Joe Biden's deception — "Joe Biden's LIES About Involvement In The Civil Rights Movement: Joe Biden is lying about his involvement in the Civil Rights Movement. Ana Kasparian and John Iadarola, hosts of The Young Turks, break it down".
Click on the link for the Newsone article which writes:
"A new report claims that former Vice President Joe Biden, who has been holding a big lead atop the Democratic presidential polls since he announced his candidacy in April, has repeatedly and knowingly lied about his involvement in the civil rights movement. Despite advisers reminding him of the truth, Biden has 'kept telling the story anyway,' according to a damning report from the New York Times' Matt Flegenheimer." — "Joe Biden Has Reportedly Lied For Decades About Marching In The Civil Rights Movement".
The Civil Rights Movement brings to mind the "Bloody Sunday" on the Edmund Pettus Bridge in Selma, Alabama.
The attack on men, on women and on children by Bull Connor's forces in Birmingham, Alabama, and the brutal murders of Freedom Riders in Neshoba County, Mississippi. Yet, does not Joe Biden cheapen and disrespect the memories of these victims all to secure the black vote for personal political gain? That is unconscionable.
Biden wrote on Facebook: "You deserve a president who will tell you the truth." So Mrs. Obama, my question to you is, if you were Joe Biden, how would you explain to millions of black people–especially to your mother Marian Shields Robinson who lived every day of the civil rights movement–why you brazenly lied to them about your involvement in the movement?
Is there any reason why we should not condemn Biden for crossing the line in desecrating the Bloody Sacred Ground of the Civil Rights Movement to score political points?
You and I know that Biden cannot acid-wash, degauss, or permanently erase his past. Should he not be held accountable for his words?
Will you openly ask Joe Biden why he lied to Black Americans about participating in the Civil Rights Movement?
DO YOU NOT THINK YOU AND MILLIONS OF BLACK AMERICANS DESERVE AN ANSWER?
~Robert Oliver