According to leftists, we should thank the vaccinated for the tone of this years Memorial Day.
Clearly, the celebration was a far cry from last year's masked madness. But I think we should lean more toward the "return of common sense" and less towards the ruse of a vaccine when we decide who to thank.
Surprisingly, the President managed a few decent remarks while he paid homage to his late son (perhaps the only decent man on the family lineage), Beau Biden.
Fox News explains:
President Biden attended a memorial service in Delaware on Sunday as he remembered his late son, Beau Biden, who served in the Iraq War and died of brain cancer on May 30, 2015.
"We're honored, but it's a tough day, brings back everything," Biden said in a Sunday speech. "So, I can't thank you enough for your continued service to the country and your sons, your daughters, they live on in your hearts and in their children, as well."
He then addressed the nation on Monday with a Memorial Day address at Arlington Cemetery.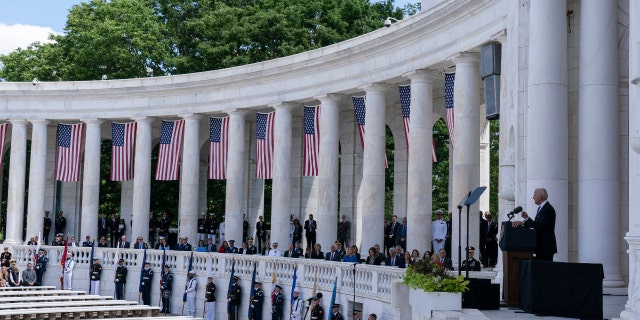 "We're the children of sacrifice made by a long line of American service members – each a link in that chain of honor," Biden said during his speech. "… We are free because they were brave."
As President Trump so eloquently proclaimed:
"On this Memorial Day, we remember the fallen heroes who took their last breaths in defense of our Nation, our families, our citizens, and our sacred freedoms," Trump said. "The depth of their devotion, the steel of their resolve, and the purity of their patriotism has no equal in human history."
Fortunately, our former presidents managed to preserve the sanctity of the day.
Fox News elaborates:
Former President Obama issued a Memorial Day statement to social media, saying, "This Memorial Day, let's remember the men and women who sacrificed everything for the people they served with and the country they loved. We owe them all an enormous debt of gratitude."
Former President Bush attended a wreath-laying ceremony in Kennebunkport, Maine.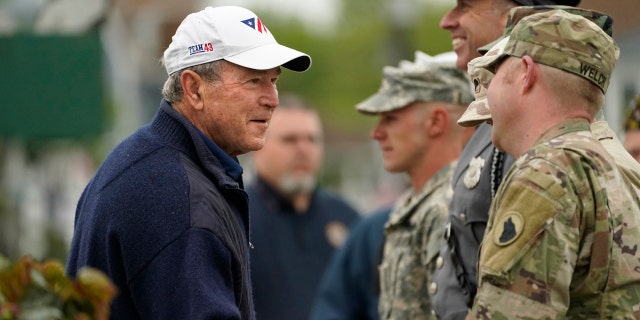 President Bush might not be the picture of conservatism anymore, but at least he was out there shaking hands, in person, without a mask or surgical gloves. The covid panic is slowly dissipating.
For me personally, I spent some time reflecting over the veterans I loved dearly.
None of them died in battle, but they all brought home their battles. I am proud to honor them today. I can't help but wonder how they'd react to the world we're spinning around on these days.
My grandfather, Lt. Colonel K. Wesley Pyle, Retired was my magic, my lighthouse, and a hero in every sense of the word. He left a strong legacy because he touched the hearts of so many. My paternal grandparents met while serving in Africa during the war. Captain William Rutherford and 1st Lt. Frances Rutherford- they died before I was even imagined. Yet, their absence molded parts of me. There was just something about their Army pictures, hanging on my father's wall, that instilled a sense of respect deep within me.
My step-father was a Marine Corps Drill Instructor. Sgt. Carrol L. Quinn, III. He ran a tight ship. I can't tell you how many times I sit down to write an article and I wish I could just dial his number. He read two newspapers from cover to cover every morning. If I could capture his rants in writing, I'm sure I'd have a million followers in a week. Then, there was Major U.G. Smith. My other grandpa. He coached basketball and owned the local Dairy Queen. So, he gave me ice cream tokens and told me to root for the Longhorns even if I did live with an Aggie. He cheered for all the kids in town to "make it" and he left behind a zest for life.
But the veteran I miss most this year is my father, Wayne Rutherford.
He served in the Army like his parents did. He was a medic. And after his stint in the Army ended, he spent the rest of his life as a firefighter/paramedic. He served others for all his days. And he's molded me in too many ways to list. But on Christmas Day, he died of covid-pneumonia.
He knew covid was his worst enemy. Thus, he stayed home and wore his mask religiously. But he was among the population with complications.  Among them, two partial lung removal surgeries in the months before he was exposed to the WuFlu.
Five months have passed. And I'm still struggling to understand why he's gone. So, if anyone's ready to see covid extinguished, it's me. I'm tired of hearing the word. And I'm thankful to see celebrations all over the country seemed to buck covid, once and for all.
Now, if only our President would hold China accountable. That would be the one Biden action I could get behind. If only he'd take it…