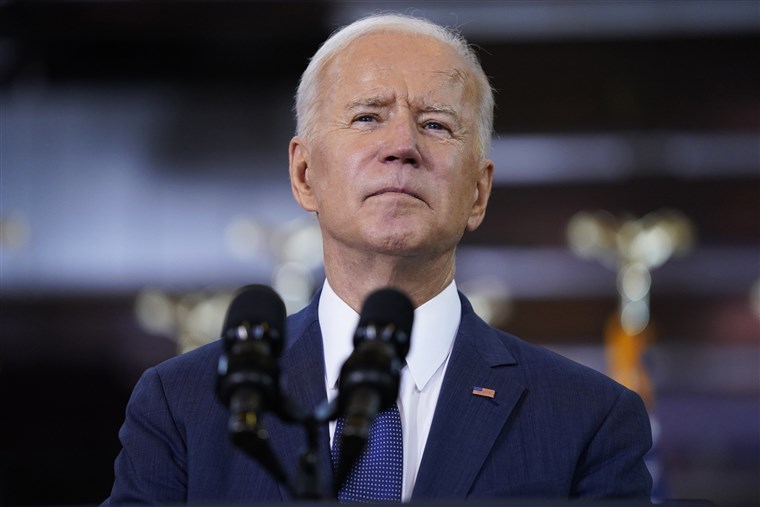 People are dying from the WuFlu vaccination. But Joe Biden presses on. Nothing 'bout a few bodies is gonna stand in his way!
Shockingly, the President just introduced a new door-to-door imitative. And what's the goal? Vaccinating MORE Americans.
Looks like missing his Fourth of July goals is hitting the President pretty hard. By now, at least 70% of Americans were expected to have at least one dose of the vaccination under their belt.
Surely Americans are ready to take this seriously! I mean, we've got the much "more contagious Delta variant of the virus" floating around. Doesn't that have people lining up for the shots? Yeah, I didn't think so.
Sadly, despite the proven dangers to young people, government officials even target children in a desperate effort to raise their numbers.
I'm in a small county in Texas, and our county judge recently announced plans to pay parents $250 a child to get them vaccinated. He actually said that since the county would be given the money, they might as well share it with parents. Because there was no way they were going to get more adults to show up- so might as well play on the desperation of struggling parents.
Sorry Judge, my kids are worth more than the $1,500 I could cash in. I'm not willing to risk leaving one of them in a wheelchair just so I can go back-to-school shopping.
A good friend of mine posted this on Facebook.
The 12 year-old Maddie de Garay took part at a Covid vaccine trial. Now, she's sitting in a wheelchair and needs to be fed artificially.
Call me a conspiracy nut, call me an Anti-Vaxxer I don't care because apparently YOU don't care about the people it has destroyed INCLUDING CHILDERN because people like YOU felt the need to talk down and chastise anyone who spoke out against bs covid and these bs vaccines. WAKE UP SHEEP
And if Biden himself knocks on my door, he'll get a big fat NO THANK YOU. And he may be escorted off the premises by one of my four legged friends.
Still, that's exactly what the president wants to see. A door-to-door effort to bombard us with propaganda.
"Now we need to go community by community, neighborhood by neighborhood and often times door-to-door- literally knocking on doors, to get help to the remaining people protected from the virus," Biden said.
White House Press Secretary Jen Psaki also referred to the "door-to-door" effort while listing the five objectives of Biden's COVID response earlier in the day at Tuesday's briefing, citing "targeted community door-to-door outreach" to "get remaining Americans vaccinated by ensuring that they have the information they need on how both safe and accessible the vaccine is."
Critics were quick to slam the new initiative on social media, including several GOP lawmakers.
"How about don't knock on my door. You're not my parents. You're the government. Make the vaccine available, and let people be free to choose. Why is that concept so hard for the left?" Rep. Dan Crenshaw, R-Texas, reacted to the president.
"The government now wants to go door-to-door to convince you to get an 'optional' vaccine," Rep. Lauren Bobert, R-Colo., warned.
"Hell no," Republican congressional candidate Sean Parnell exclaimed.
"Vaccine education and conversation should be between a doctor and patient, not by a grassroot government door knocker," physician and Fox News contributor Dr. Nicole Saphier wrote.
"A lot of people have big government antibodies. Don't knock on those doors," Rep. Thomas Massie, R-Ky., wrote.
"It's NONE of the governments business knowing who has or hasn't been vaccinated," Rep. Andy Biggs, R-Az., similarly expressed.
"Whoever suggested that the best way to reach remaining vaccine skeptics was to talk about going door to door should be fired immediately. It's the Beto O'Rourke of vaccine outreach," GOP strategist Matt Whitlock knocked the Biden administration.
Yikes. It looks like this isn't heading in Biden's favor.
Fox continues:
"How will the government know who is vaccinated or not for this kind of targeting?" Daily Wire senior editor Ashe Short asked.