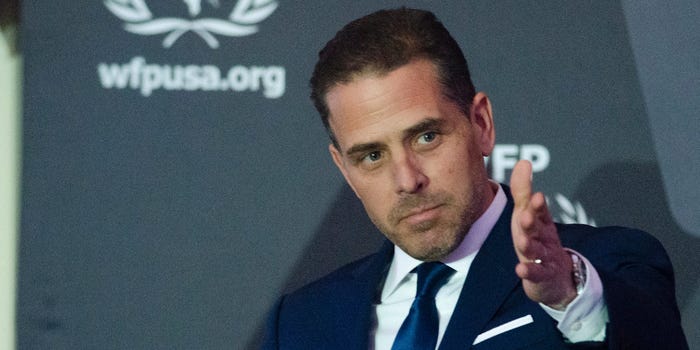 When news of Hunter Biden's laptop escapades first surfaced during the election, the mainstream media quickly discredited it as "misinformation." Aka #FakeNews.
Not just misinformation, but Russian misinformation. And we all know the implications of adding the word "Russian" to that label. However, now that buyer's remorse is sinking in among voters, it seems that interest in these old stories is resurfacing.
Here we are one year later, and Politico just verified some of the original allegations levied by the New York Post.
According to one article,
Politico Playbook published reporting from correspondent Ben Schreckinger's new book "The Bidens," which delved into the emails that surfaced in the explosive reporting that was ultimately suppressed by Big Tech.
"A person who had independent access to Hunter Biden's emails confirmed he did receive a 2015 email from a Ukrainian businessman thanking him for the chance to meet Joe Biden. The same goes for a 2017 email in which a proposed equity breakdown of a venture with Chinese energy executives includes the line, '10 held by H for the big guy?'" the Playbook wrote. "Emails released by a Swedish government agency also match emails in the leaked cache, and two people who corresponded with Hunter Biden confirmed emails from the cache were genuine."
Of course, that's a far cry from the headlines Politico previously ran with.
In October 2020, their headline read: "Hunter Biden story is Russian disinfo, dozens of former intel officials say."
The article adds:
The report, authored by Natasha Bertrand, now a CNN reporter, highlighted an open letter signed by "more than 50 former senior intelligence officials" who insisted that the published emails from the laptop had "all the classic earmarks of a Russian information operation."
The letter, which was parroted by much of the media, baselessly suggested the emails were hacked and could have been tampered with by the Kremlin in order to make its contents look incriminating.
Signatories of that letter included outspoken Trump critics John Brennan, James Clapper, Michael Hayden, Leon Panetta, and Jeremy Bash, many of whom work as analysts on MSNBC and CNN.
Proposed Propaganda
With the election just around the corner, one "expert" after another weighed in to act as though Biden was a boy scout. And these were Trump smoke mirrors meant to deflect from our real problem- Donald Trump.
The unsubstantiated claims from the former intel officials were elevated throughout the media including CNN, MSNBC, and The Huffington Post.
Washington Post columnist Greg Sargent quickly declared the day after the New York Post first began reporting on the alleged contents of Hunter Biden's laptop that it was "Trump's fake new Biden scandal," calling the allegations "laughably weak."
"While Trump and his propagandists would surely prefer to have a more compelling scandal to tout, the thinness of this new gruel is largely secondary," Sargent wrote on Oct. 15, stressing Steve Bannon's involvement in the distribution of the laptop's contents. "Trump's last-ditch hope is to cast a vague pall of corruption over Biden … But plainly, the mere fact of covering smears and disinformation, even negatively, itself rewards their purveyors."
Meanwhile, great efforts were made to create the illusion that Trump was being duped by the Russians.
That same day, The New York Times ran a report sounding the alarm about "Russian disinformation," claiming that President Donald Trump was warned that Russians were "using" his personal attorney Rudy Giuliani, who was given the laptop before providing its contents to the press, to spread false claims about the Bidens.
"The intelligence agencies warned the White House late last year that Russian intelligence officers were using President Trump's personal lawyer Rudolph W. Giuliani as a conduit for disinformation aimed at undermining Joseph R. Biden Jr.'s presidential run, according to four current and former American officials," the Times reported at the time.
NPR public editor Kelly McBride addressed a listener's question about the news outlet's blackout of the Hunter Biden story at the time. After claiming the Post's reporting had "many, many red flags," including its potential ties to Russia, NPR apparently determined that the "assertions don't amount to much."
"We don't want to waste our time on stories that are not really stories, and we don't want to waste the listeners' and readers' time on stories that are just pure distractions," NPR managing editor Terence Samuel told McBride. "And quite frankly, that's where we ended up, this was … a politically driven event and we decided to treat it that way."
You know what they say: hindsight is 20/20.
Looking back, it's obvious to even the leftist media that they let a huge scandal float on by, just to get rid of Trump. In fact, last week Project Veritas busted CNN for openly planning to avoid any story related to the President's son, his laptop, or the string of drugs and hookers he paraded.
Jake Tapper pretended the "false allegations" were just "too disgusting" to mention on the air. Meanwhile, Wolf Blitzer bought into the idea that Rudy Giuliani was a Russian puppet. And I remember the particular exchange between President Trump and Sixty Minutes when Lesley Stahl laughed at the President. As Trump put it, Biden was in the middle of one thick and juicy scandal.
"He's not," Stahl replied.
"Of course he is, Lesley," Trump sternly doubled down.
"No, c'mon," Stahl continued to reject the president's claim, before lecturing him, "This is '60 Minutes' and we can't put on things that we can't verify."
Of course, Lesley was wrong. As were all the other doubters. Along with those who intentionally buried a story that links the President to some pretty seedy behavior. Hunter's laptop is how we learned "the Big Guy" was sold to China.
I have to ask myself if these people ever stop and look back, and shoulder a chunk of the blame for the 2020 election. This story should have been covered at every angle. Until we dissected every salacious detail. Instead, we got slapped with a #FakeNews label. And we ended up with Joe Biden.
Now, inflation is out of control. Unemployment is making a huge comeback. The economy is tanked. We're global fools. Afghanistan was a disaster. Still is. The losses are steadily racking up. And how much of this nonsense to we owe to the mainstream media that continually hides the truth? I'd say their culpability is magnanimous.