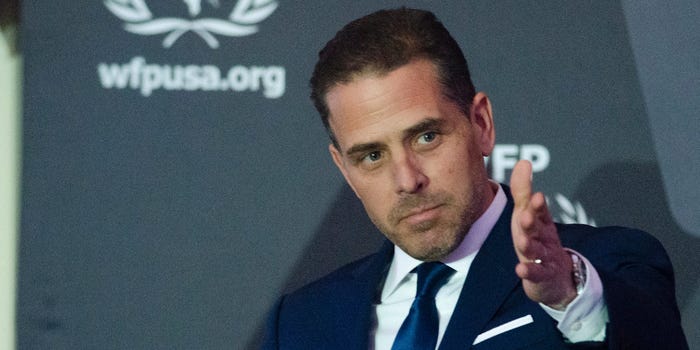 Would it surprise you to learn that Hunter Biden's art dealer is a criminal? I doubt it. And yes, the story is true.
I'm actually surprised that Hunter's "art" dealer is not his drug dealer and a sex-trafficking pimp. Multi-tasking would save Hunter a lot of time.
As The Washington Free Beacon reports, Hunter has other "people" to satiate his impulses.
The art dealer who the White House has tapped to vet Hunter Biden's art sales for ethical conflicts was sentenced to three months in jail in 1998 for threatening to stab a man to death and was later accused of defrauding an investor in a messy 2016 lawsuit, raising alarms with ethics watchdogs.
No harm, no foul. After all, no Russians or Ukrainians were harmed in the making of Biden's fortune.
The article continues,
Georges Bergès, the gallery owner who is scheduled to host exhibitions of Hunter Biden's paintings this fall, will be responsible for approving sales of the art works—which are priced between $75,000 and $500,000 and will be open to foreign buyers—according to the White House.
Court records obtained by the Washington Free Beacon shed additional light on Bergès's legal history, which was first reported by the New York Post in January. Bergès was accused in May 1998 of assaulting a man with a knife and making death threats, according to charging documents filed in Santa Cruz County. According to prosecutors, Bergès threatened the victim "with the specific intent that the statement be taken as a threat" and "was so unequivocal, unconditional, immediate and specific as to convey to the victim a gravity of purpose and an immediate prospect of execution."
How many interviews did this guy have to go through to carry Hunter's "art"?
Frankly, I'd like to know how these two met. A crack house? A whore house? If Hunter were Don Jr., you can bet we would know a lot more about their relationship.
Put simply: Hunter Biden is a criminal and so is almost anybody associated with him.
Now, we learn government funding plays a role in all this. As part of the scamdemic, if you can imagine that.
The New York Post explains:
A federal COVID loan to the art gallery repping Hunter Biden more than doubled after his father took office, records show.
The Georges Berges Gallery initially received a $150,000 COVID "disaster assistance loan" from the Small Business Administration last year, according to public records.
But the loan was recently "revised," with the SBA approving a further $350,000 to the SoHo gallery this summer, records show.
The approval came on July 26, in the lead-up to Berges' exclusive marketing of 15 paintings by the president's scandal-scarred son, public records show.
In addition to the COVID disaster assistance loans, the SoHo gallery received nearly $80,000 in two payments in April 2020 and February 2021 under the SBA's Paycheck Protection Program, funds meant to help businesses keep up with paychecks to employees during the pandemic.
All tolled, $580,000 in taxpayer-funded COVID relief aid was doled out to a gallery with only two employees, according to SBA records.
And what did Berges have to say about all this? It was the standard leftist "no comment."
The Big Stink
In fact, this art business might wind up being the biggest scandal to come from the Bidens. Just last week, images from Hunter's art show in LA refreshed the ethics concerns surrounding this sham of a business.
Last weekend, images posted on social media and shared in the press emerged showing Hunter Biden displaying his work in Los Angeles at Milk Studios — a Hollywood venue that typically hosts video and photo shoots.
One attendee at the LA event was the city's mayor, Eric Garcetti — President Joe Biden's nominee to be the next US ambassador to India and a former national co-chair of his 2020 presidential campaign. Harrison Wollman, the press secretary for Garcetti's office, confirmed that the mayor had attended the show but said he did not purchase any art.
Garcetti was not the only political attendee at Hunter Biden's art preview. Michael Tubbs — a former mayor of Stockton, California, who is now a special adviser to California Gov. Gavin Newsom — 
posed
 with the President's son for a picture at the show. CNN reached out to Tubbs for comment about the show. Instagram posts show Hunter Biden's daughters Naomi and Maisy in attendance. Other attendees reportedly included former pro boxer
 Sugar Ray Leonard
, artist 
Shepard Fairey and the musician Moby.
Hypocrisy 101
Remember when Biden said the Trump family benefited too much from the presidency? Or how 'bout when the White House claimed the Bidens would never know who purchased the art? Ironically, this is sounding a lot like "you can keep your doctor, and your plan."
Well, sadly there is no process in place to enforce these empty promises. We're just told to believe that even though Hunter is at the shows, he has no idea who is laying down the Benjamins.
However, I can't say it's been all lies. Hunter told the truth once. In an art world podcast, Biden commented on the prices of his art:
"Look, man, I never set my prices — what my art was going to cost, what it costs or how much it would be priced at. I would be amazed, you know, if my art had sold at, um, you know, for $10," he said.
I have to agree there. My three-year-old granddaughter is a better painter.
Biden BOGO
Obviously, Biden never had any formal art training, and he's not some prodigy of the creative community.
Jeffry Cudlin, professor of art curatorial studies and practice at the Maryland Institute College of Art, said none of the art's value is derived from the work itself.
"How much of that value is due to the art itself? That's easy: None of it," wrote Cudlin in an email to the Washington Examiner earlier this year. "They're fine decorative amateur work. Hey, everybody needs a hobby!"
Clearly, buyers are purchasing these pieces in search of the fringe benefits. Shockingly, Hunter sold five pieces for $75,000 each last week alone. Sounds like a classic BOGO to me. Buy one Biden, get the other Biden free.