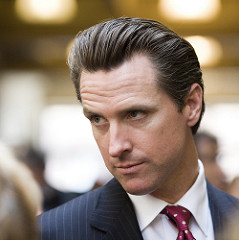 I'd love to see one of these Leftist vax Gestapo get a REAL shot of these "death pokes." And maybe we did?!
Supposedly California Governor Gavin Newsom got his second Wuflu shot in late October. And he hasn't been seen since.
This egomaniac loves the camera, so people are rightfully asking, "Where is the poster child for vax mandate insanity?".
I haven't seen anybody say it, so I will say what most people are thinking: "Gavin Newsom is recovering from adverse affects of the shot." Or as many California may hope, he could be dead.
Now I'm not wishing death on the man, though I would like to see his political career die. But I would not be surprised if we got news that Newsom is a casualty of the vaccine.
If that were the case, what would the headlines read?
While I don't think Newsom died from the shot, I truly believe he had some adverse reaction that Leftists don't want us to know.
Though one of the effects is an enlarged heart, I doubt that's Newsom's problem. He'd need to have a heart for that to happen. But as one commenter wrote, "It's going to be difficult for Newsom to disguise his Epstein-Barr".
I think the person meant Guillain-Barre Syndrome.
GBS would be difficult to disguise, as it is a neurological disorder where the immune system of the body will attack part of the peripheral nervous system. The virus offers a range of symptoms ranging from brief weaknesses to devastating paralysis that leaves a person unable to breathe on their own.
Newsom certainly wouldn't want to be seen with paralysis. But he could wait it out, as even with the most severe cases of Guillain-Barre Syndrome most people recover.
Still, Newsom could have blood clots. I know from my father-in-law that these can be painful. And I know from my mother that blood clots can kill you.
Regardless of what's going on, don't the voters of California have a right to know where Newsom is?
The Daily Mail inquired about Newsom's whereabouts as well.
Their article noted that the last time Newsom was seen publicly happened when he got his Wuflu booster shot on Oct 27. Then he abruptly canceled plans to attend COP26 in Scotland.
Seriously?! A trip on taxpayers' dime for climate farce. That's a Leftist's wet dream. But they used the excuse that 'family obligations' are the reasons he decided against the trip, and that he would attend virtually.
I could find no report of Newsom virtual or otherwise. And you can bet these Leftist clowns wouldn't reveal what the 'family obligations' were.
All we know for sure is that Newsom is a media whore. So if things went well after his booster, he'd milk that cow for sure.
I say to Newsom, "You should have taken the placebo, like the rest of the elitists!"