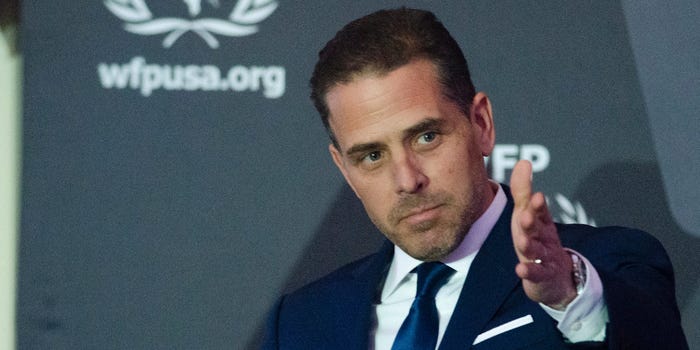 If Hunter Biden's father hadn't been cheated into office, the world would be a very different place.
For example, Durham's report might actually have gotten dozens of former Obama administration employees arrested.
Next, the Clintons would likely be in prison. And while I could name many more things that would be dramatically different, the biggest involves Hunter Biden. He would undoubtedly be facing trial for a variety of misdeeds.
As the New York Post explains,
The Biden family offered their services to a huge, Chinese-government-linked energy consortium to expand its business around the world. How do we know? Because of hundreds of emails documenting the deal found on Hunter Biden's laptop, left in a Delaware repair shop in April 2019. In her new book, "Laptop from Hell," New York Post columnist Miranda Devine tells the tale:
James Gilliar, a wiry, 56-year-old British ex-SAS officer, got to know Ye Jianming, the 40-year-old chairman of CEFC, when they were both working in the Czech Republic.
CEFC was a Chinese conglomerate, one of the largest energy companies in the world.
Ye's task at was to spend $1.5 billion as quickly as possible to ensure the Czech Republic would become China's "Gateway to the European Union," a priority of President Xi.
To that end, Ye bought everything from a football team and a brewery to an airline, before being named "special economic advisor" to Czech President Milos Zeman.
Now he was looking for an influential partner to help with acquisitions in other locations around the world that had strategic significance for the Chinese state.
No doubt a guy dropping this kind of coin would catch the attention of Leftists. Being in bed with America's biggest enemy provided icing on the cake.
The article continues explaining Gillar's idea and connection to the Bidens.
Gilliar connected with Hunter Biden through trusted Biden family friend Rob Walker, a former Clinton administration official whose wife, Betsy Massey Walker, had been Jill Biden's assistant when she was Second Lady.
Note the incest in these crooked dealings.
Social Media Christmas Sale Kevin Jackson
As for Ye, his job was to nuzzle up to the people in charge. And my bet is that Ye's primary role was to corrupt these high-level officials.
The Post explained his role as follows:
"In his public activities as a private entrepreneur, Ye Jianming is al- ways walking alongside important foreign political figures. He has been photographed with world leaders such as Israeli President Peres, Turkish President Erdogan, Chadian President Déby, and European Commission President Juncker. He has met with the Crown Prince of Abu Dhabi, and the Prime Minister of Bulgaria held a feast to welcome him."
In the winter of 2015, Chairman Ye and CEFC Executive Director Jianjun Zang, a.k.a. "Director Zang," flew to Washington, DC. A meeting with Ye was scheduled in Hunter's diary for December 7, 2015, in a week that was a swirl of back-to-back Christmas parties hosted by Joe and Jill at the vice president's residence at the Naval Observatory.
With Ye's money and influence, it was only a matter of time before the Bidens bit. So now America has a tainted, compromised idiot negotiating from a position of weakness.
I can only imagine the amount of dirt the Chinese have on the Bidens. The Bidens' only saving grace is they have no scruples. So if the Chinese revealed anything about them, they would only verify what we already know.
The rest of the article explains how Hunter Biden arranged for his family to get $10 million annually for 3 years for doing pretty much nothing.
Also, Hunter Biden was given a diamond ring worth approximately $80,000. Do I really need to explain where things would be if we were discussing the Trump family?