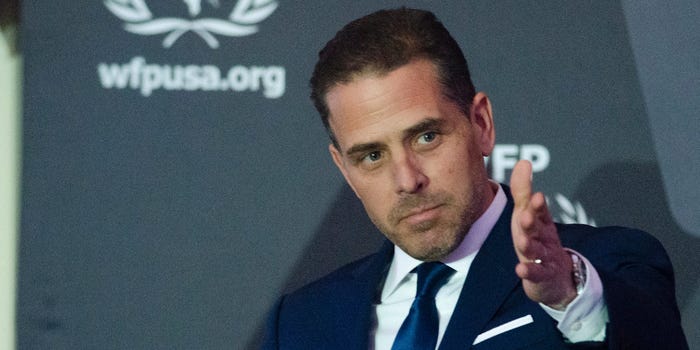 I don't anticipate the book by Hunter Biden's ex-wife will glorify life with the Leftist's new Renaissance man.
The man who cheated on his wife with his dead brother's widow will be back in the news. And I can't wait.
If Hunter Biden were Hunter Trump, Donald Trump would never have become president. Further, most of the family would be in prison for violating multiple international laws related to peddling influence.
Instead, because Hunter is a "Biden", he will never face charges. I know…never say never.
Joe Biden should have been disqualified for being cheated into office for a variety of reasons. For example, Biden the Elder is a demented clown. I know this, because of reason number two Biden should be disqualified: he put his crackhead son in charge of the family's racketeering business.
Sadly, everything millions of Americans predicted came true.
But despite Biden's record and Hunter's continuing shenanigans, the Bidens get good coverage. The media pretends that Biden is the picture of health, mental and physical. One can only imagine the camera angles and other smoke and mirrors such a ruse requires.
Consider the cast.
Doctor Jill. An egomaniac who enjoys playing politics.
Having the media at their disposal, the Biden administration has done a fabulous job painting the Biden's as the All-American family. There is Joe Biden, his wife, Dr. Jill Biden, their list of kids, and even a family dog. Again, on television and paper, the Biden family appears to be molded out of American freedom itself. That is until one takes a close look at the life of Hunter Biden, who not only partied in a world of drugs, women, and rock and roll but also cheated on his wife with his late brother's widow.
Hunter, who is now apparently a famous artist.
He brought his new baby boy— not his baby boy DNA tests proved that he had with a stripper (the baby who the Biden family pretends doesn't exist), but instead, the baby he had with his latest wife, Melissa Cohen. And with all the hubbub surrounding Hunter Biden's sexual escapades with hookers, prostitutes, the widow of his deceased brother Beau and her sister, it might be easy to forget Hunter's former wife of 24 years and mother of their 3 children, Kathleen Buhle.
Although the White House has worked hard at keeping the truth a secret, the former wife to Hunter, Kathleen Buhle, is set to release a book on June 14 entitled, If We Break: A Memoir of Marriage, Addiction, and Healing.
Hunter Biden's ex-wife Kathleen Buhle will release a memoir in the run-up to the midterm elections about the breakdown of their 24-year marriage, his drug addiction, and his affair with Beau's wife that could unearth more embarrassing details about the first family, The Daily Mail reported.
"Kathleen Buhle emailed Hunter Biden in July 2016  after reportedly discovering romantic texts between her husband and Hallie – the widow of Hunter's brother Beau. 'I'm leaving you because you are having an affair and you have been emotionally abusive,' she wrote"
The Hill adds:
In [the book], Buhle recounts meeting her future spouse, describing him as the "dashing son of a senator," and how his drinking contributed to her marriage's unraveling "under the merciless power of addiction."
Buhle and Biden were married from 1993 to 2017.
The couple divorced amid reports that Biden and the widow of his late brother, Beau Biden, had begun a romantic relationship. Beau Biden died in 2015 of brain cancer.
Buhle also claimed in court documents that her 51-year-old estranged husband had been using money from their joint accounts to pay for drugs, alcohol and prostitutes.
"Anyone who has seen addiction ruin a relationship, or been through infidelity and divorce, can tell you how devastating it feels," Buhle, a mom of three, told People magazine in a Wednesday interview. "But what I also realized through those crushing experiences is that I needed to find a way to stand on my own."