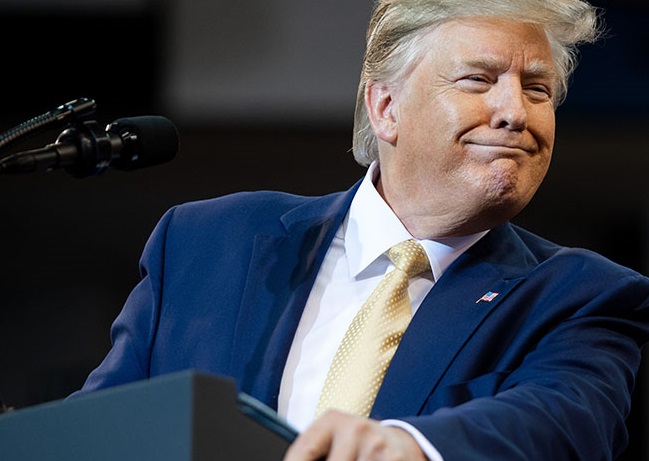 Hardly a better metaphor exists for the situation between Stormy Daniels and the Democratic Party as it relates to President Trump.
Both Daniels and the Democrats are lying skanks who went after Trump. And while they appeared to have won at the onset, in the end they must pay Trump.
A federal appeals court rejected the porn star's effort to overturn a lower court's ruling in her failed defamation lawsuit. Now Stormy Daniels owes former President Donald Trump $300,000.
Trump trumpeted the decision about the U.S. Circuit Court of Appeals for the 9th Circuit's ruling Monday night. And again Trump delivered another blow to the lies of the Left.
NEW!

President Donald J. Trump:

"The 9th Circuit just issued a final ruling in the Stephanie Clifford (aka Stormy Daniels) frivolous lawsuit case against me brought by her disgraced lawyer, Michael Avenatti, upholding the lower court ruling that she owes me nearly $300,000 in.. pic.twitter.com/BPDpdkWEAT

— Liz Harrington (@realLizUSA) March 22, 2022
In an attempted smear campaign, Democrats and Daniels concocted the story that Trump had an affair with the porn actress, whose real name is Stephanie Clifford.
"The lawsuit was a purely political stunt that never should have started, or allowed to happen, and I am pleased that my lawyers were able to bring it to a successful conclusion after the court fully rejected her appeal. Now all I have to do is wait for all of the money she owes me."
In response, Daniels promised to go to jail before she pays even one single penny. "Stormy Behind Bars." That could be the title of her next film.
Social Media Christmas Sale Kevin Jackson
The federal court's decision offers a bellwether for Democrats. Because more of their lies and smears will be exposed over the coming months.
Consider the New York Times' finally admitting that the Hunter Biden laptop was neither a Russian misinformation campaign or Right-wing smears. As it turns out, the Hunter Biden laptop stories were TRUE!
Unfortunately, leftists still try to cover-up for the crackhead. But it won't end there.
Like the debunking of Russian collusion, more stories will break. And as they do the public will realize how Democrats play politics with everything. The Party of Lynching of Negroes will never stop in their pursuit of money and power.
Still, they can't stop the speeding train. Americans will learn of their coup in the 2020 President Election. Further, Americans will discover the truth behind January 6, and how Democrats orchestrated yet another lie.
Wuflu revelations will become reality, as the "variants" disappear into the ether. However the vaccinated will suffer a different fate and Democrats won't be able to sweep the ramifications under the rug.
In the end, Stormy Daniels represents Democrats well. She showcases the debauchery of Democrats at their finest.