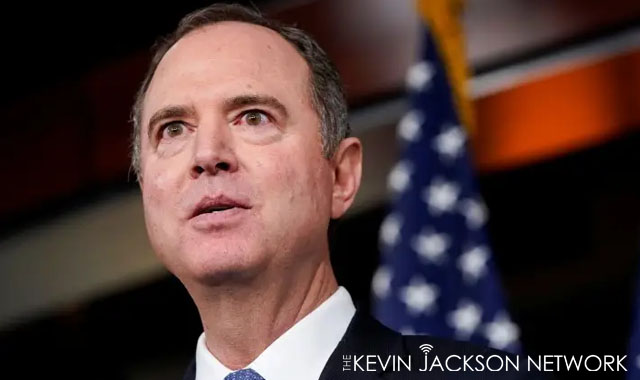 Last week, Rep. Anna Paulina Luna put forth measures to censure Adam Schiff and hold him accountable for his relentless attacks  against America.
I knew it was too good to be true, but I didn't know just how many back-stabbing RINOS would be forced to show their cards. Today, the magic number is 20, as that is the number of Republicans that voted to kill Luna's bill that would have effectively put Schiff out to pasture "for conduct that misleads the American people in a way that is not befitting an elected member of the House of Representatives."
Had Luna's bill passed, the Ethics Committee would now be starting an investigation into Schiff's "lies, misrepresentations, and abuses of sensitive information." For once, I have the same emotion as Adam Schiff.  He was flabbergasted when the measures were killed.
According to The Hill:
Twenty Republicans voted with Democrats in favor of the motion to table: Reps. Kelly Armstrong (N.D.), Lori Chavez-DeRemer (Ore.), Juan Ciscomani (Ariz.), Tom Cole (Okla.), Warren Davidson (Ohio), Brian Fitzpatrick (Pa.), Kay Granger (Texas), Garret Graves (La.), Thomas Kean Jr. (N.J.), Kevin Kiley (Calif.), Young Kim (Calif.), Mike Lawler (N.Y.), Thomas Massie (Ky.), Tom McClintock (Calif.), Mark Molinaro (N.Y.), Jay Obernolte (Calif.), Mike Simpson (Idaho), Mike Turner (Ohio), David Valadao (Calif.) and Steve Womack (Ark.).
Schiff, in comments after the vote, said he was "frankly surprised."
"And I think it showed a lot of courage for Republican members to stand up to the crazy MAGA folks," he said.
"I'm astounded by the vote frankly; it was basically almost 1 of 10 Republicans voted against this resolution," Schiff later added.
"I thought it would certainly pass. Didn't imagine they would set themselves up for another defeat on the floor. After the fiasco we saw last week."
Massie signaled ahead of Wednesday's vote that he would support the motion to table the censure resolution, zeroing in on a nonbinding "whereas" clause in the measure that said Schiff should be fined $16 million if the Ethics Committee finds that he "lied, made misrepresentations, and abused sensitive information." That dollar figure, according to Luna, was half the amount of money American taxpayers paid to fund the investigation into potential collusion between Trump and Russia.
According to the Justice Department, special counsel Robert Mueller's investigation cost $32 million.
"Adam Schiff acted unethically but if a resolution to fine him $16 million comes to the floor I will vote to table it. (vote against it)," Massie wrote on Twitter on Wednesday morning.
Now why would a Republican not want to hold Schiff accountable for his actions?
The answer is pretty apparent to me. If Republicans hold Schiff personally accountable for his lies, they too might be forced to face the music.
The Hill adds:
"The Constitution says the House may make its own rules but we can't violate other (later) provisions of the Constitution. A $16 million fine is a violation of the 27th and 8th amendments," he added in a subsequent tweet.
One notable GOP vote in favor of tabling the resolution was from Turner, the current chairman of the House Intelligence Committee who was the ranking member when Schiff led the panel during the last Congress. A number of allegations made against Schiff in the resolution stem back to his time as chairman and ranking member of the committee.
Earlier this year, Speaker Kevin McCarthy (R-Calif.) blocked Schiff and Rep. Eric Swalwell (D-Calif.) from serving on the Intelligence Committee, following through on a longtime promise.
Following Wednesday's vote, Schiff said he was grateful to have Turner's support.
"I'm grateful that he demonstrated the courage to do that and I appreciate the opportunity that I had to work with him on Intel," Schiff said.
If you ask me, that's just code for "we had enough dirt on Turner to change his vote."
Five Democrats, all of whom sit on the House Ethics Committee, voted present: Reps. Mark DeSaulnier (Calif.), Veronica Escobar (Texas), Glenn Ivey (Md.), Deborah Ross (N.C.) and Susan Wild (Pa.). Republican Reps. George Santos (N.Y.) and Darrell Issa (Calif.) also voted present.
Hours before the vote Wednesday, Santos posted a video on Twitter arguing that Schiff needed to be investigated. It is unclear why he ultimately voted present.
"To not carry out a censure would be a miscarriage of justice and a dereliction of our sworn duty as members of the House of Representatives. We must preserve the integrity of the U.S. House of Representatives and censure Adam Schiff today," Santos said in the video.
Santos is, however, under investigation by the Ethics Committee amid questions about his finances.