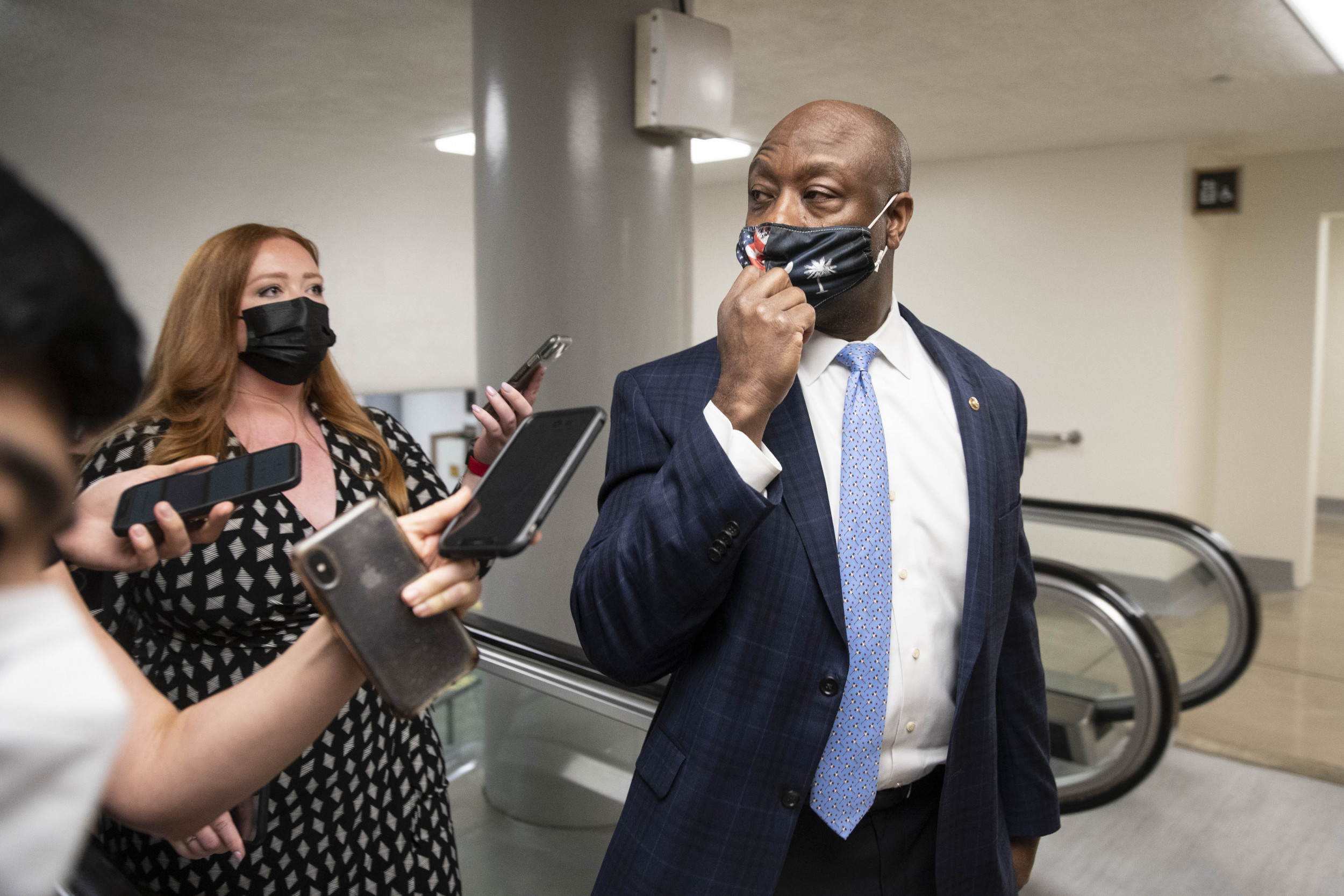 Tim Scott dropping out of the 2024 Presidential race surprises nobody. He had no chance of winning.
Scott announced during an interview on Fox News' "Sunday Night in America with Trey Gowdy,"
"I love America more today than I did on May 22. But when I go back to Iowa, it will not be as a presidential candidate. I am suspending my campaign."
Again, predictable. However the reason why Scott dropped out needs work.
News sources reported that the GOP senator from South Carolina dropped out of the 2024 presidential race shortly after publicly debuting his relationship with his girlfriend. The revelation came after the third Republican debate.
Scott supposedly came under fire regarding the secrecy surrounding his relationship with Mindy Noce, an interior designer. The two are reported to have been dating for "about a year or so."
What's the big deal? Nothing, that's what. But here's the narrative.
Scott supposedly couldn't handle the criticism of being unmarried. Really? A senator and presidential candidate can't handle the pressure of being single? Has he seen Michael Douglas in The American President?
There are also rumors that Scott he is gay. Was the new girlfriend a smokescreen.
Scott lamented his fate, and blaming forces other than the obvious for his demise:
"It's like a different form of discrimination or bias," the 2024 GOP presidential candidate told The Washington Post. "You can't say I'm Black, because that would be terrible, so find something else that you can attack."
Gay or straight, Scott's campaign could have used a boost. Nevertheless, Scott said he chose not to discuss his relationship. He said he couldn't imagine "dragging her onto the campaign trail unless I have the intention of marrying her."
Ouch. That's not going to play well in his next conversation with the never-to-be-Scott's-wife girlfriend.
The elephant in the room
Tim Scott showed complete disloyalty to former President Trump. He never should have allowed the establishment to use him in such a way. His candidacy was an embarrassment, akin to Jesse Jackson's or Al Sharpton's runs for the presidency. None of them stood a real chance. And more pointedly, all of their candidacies allowed them to profiteer at the expense of Trump, his supporters, and the American people. The only people who benefitted from Scott and others who currently oppose Trump are the Democrats and other Leftists.
They gloat at the number of people who compete for the Republican nomination. But that plays in Trump's favor.
Recently, Mike Pence quit. So Trump's traitorous VP bit the dust. Now a Senator is vamoose. It won't be long before the Montana governor calls it quits, as will Asa Hutchinson, Chris Christie, and so on. Meanwhile, the Democrats will add to their list of possible challengers to Biden.
The futility of the Uniparty to dump Trump will only cause them to make more mistakes. And while Trump gains in stature, Democrats will allow America an inside peak at their internal turmoil.
Who's next to quit?
Now that Scott has ended his run, will others follow suit? I think the Republicans will lose at least three more candidates by the end of the year. DeSantis and Haley will hold on in hopes of Trump's demise. But that's their only strategy as these two fight it out for second place.
If Trump were to get indicted and one of these candidates wins, the defection by Republicans will be resounding.
The party struggles with fundraising. And without Trump, their fundraising will be devastating.
Tim Scott could do himself and the Republican Party a big favor. If he wants a political career besides the senate, he will endorse Trump.
Regardless of what Scott does, Trump wins. Without attending a debate or spending much money, Trump is trouncing the Republican field. I have to imagine the Trump war room, as he begins taking down pictures of challengers like Hunger Games after a contestant dies.
Only in this version of Hunger Games, all Trump need do is wait for his opponents to kill themselves.