We know it's coming — the Year of the Woman and the Hillary Clinton tsunami in the 2016 Presidential Election.
There are hundreds of political, economic and moral reasons not to vote for this shrill woman, this meaner 1/2 of the Hill And Bill power pact.
But as everyone knows, one picture is worth a thousand words. So maybe, if you need some visual reminders, you will consider the following crimes against fashion.
True, every First Lady and potentially every Madam President, does not need to be a Jackie-O, Haute Couture Aficionado.
Yet, for the role of either First Lady (though Michelle seems to have forgotten) or President, a certain amount of dignified taste and decorum should be the LEAST Americans can expect.
Please take a seat before you dare (shivers of horror) scroll down.
Do Americans really want 4+ years of these über fashion faux pas? Every presser filled with cringe-worthy get-ups and shrill cackles?
You be the judge!
**************************************
As an Oregon State University Beaver, I am quite fond of Orange. But though Orange is a fine, fine color for sweatshirts and deer season, it leaves a lot to be desired when the primary color of a Hill-the-Pill pantsuit!


I'm sure many of us have wonderful memories of Hawaii and points tropical. Nothing wrong with Magnum PI, or even Don Ho in moderation.
But I'm not sure there is enough moderation in the wide, wide world to de-ugly this ensemble! Please God, make it go away!!!
Apparently Missus Clinton was on a roll with the big, bold florals. I'm beginning to suspect Hill has a rare, fashion disorder: dress tourette's! She can't help herself! And this next gown might have been the stunner that broke 1 thousand cameras!
>

This might be a good time to take a Tums. And now, lest you think those wardrobe choices were some strange, time-warp continuum, apparel-anomalies, I present 2 final dress disasters. *shudders*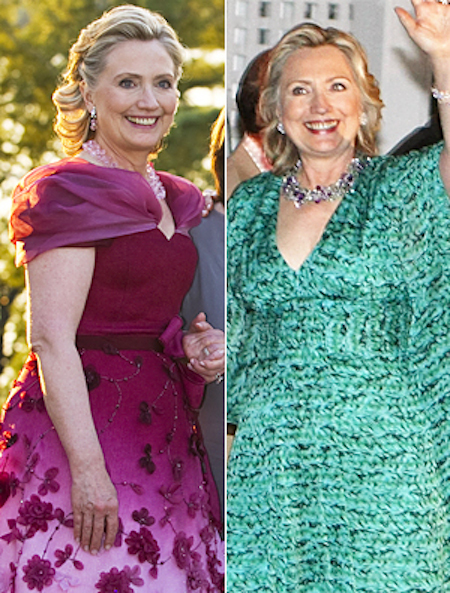 I've done my due diligence. Forewarned is fore-armed. I will now try to find some mind bleach and return to serious writing. Don't thank me…just say NO to Hillary 2016!
********************
Editor's disclaimer: If you have nightmares after seeing the afore-posted pictures, please blame a Youtube video! (h/t talkradio200)