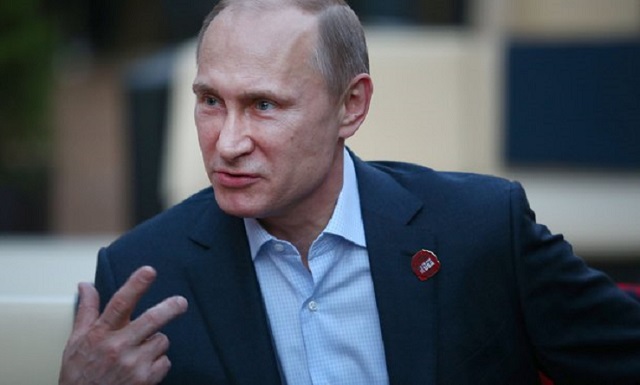 ISIS Takes Credit for MURDER of Russian Intelligence Agents
Early questions centered around the shooting as an inside job. However, Russian officials blamed a neo-nazi gang.
Nevertheless, ISIS has stepped forward to claim bragging rights.
This is the second time in two weeks that Russia has been the target of terrorist attacks.
https://twitter.com/AllyOfTruth/status/855498773434421248
ISIS took credit for the attack via its Amaq new agency, according to the SITE Intelligence Group. The attack targeted an FSB headquarters in Khabarovsk, a city in Russia's far eastern region. Russian FSB officials claimed that A.V. Konev, an 18-year-old local resident, entered the lobby of the FSB headquarters and immediately began firing on those inside until he was shot dead.

An FSB employee and a "visitor" were killed, the identity of the third victim is thus far unknown. The FSB initially claimed Konev was the member of a neo-Nazi group, with ISIS claiming the attack some hours later.

Russian authorities responded to the attack by locking down the building and the immediate surrounding area with police cordons and special forces on standby.

The attack is unusual, considering most jihadist attacks on Russian security personnel occur in the country's North Caucasus.
Democrats dismiss these threats.
Scott Bolden, a democratic strategist, appeared on Fox News to say, "we've all lived through terrorism before." His theory proposed that preparing for an attack is nothing more than fear mongering. 
However, these kinds of terror attacks are here to stay thanks to the massive migration of Muslims into non-Muslim countries.

These continuing attacks lend credence to Trump's stance on radical Islam. As one of our team points out:
This type of attack could easily happen in the United States. These terrorists lie in wait, as remnants of the Obama administration.

Let's hope that America wakes up!
Consider how difficult it must be to get inside of the former KGB facility. But ISIS claims to have infiltrated the organization.
On the other hand, Obama made things much easier in the U.S. The former POTUS actually hired Muslim infiltrators into our government. Below are just a few:
Arif Alikhan – Devout Muslim, Assistant Secretary for Policy Development for the U.S. Department of Homeland Security

Mohammed Elibiary – Homeland Security Adviser Elibiary appeared at a conference honoring Ayatollah Khomeini, has made attacks on prosecution of terrorist fundraisers, has actively promoted jihadist ideology godfather Sayyid Qutb, and threatened a Dallas Morning News journalist who repeatedly exposed his extremist views.

Rashad Hussain – Special Envoy to the (OIC) Organization of the Islamic Conference. Hussain is "a hafiz of the Qur'an"–An individual earns this designation by committing to memory the Qur'an in its entirety and enjoys high status among Sharia-adherent  Muslims who regard this feat as proof of a deep devotion to Allah.

The OIC is headquartered in Jeddah, Saudi Arabia. It is dedicated in its documents to spreading Islamic law, or sharia.

Salam al-Marayati – Obama Adviser –founder Muslim Public Affairs Council and its current executive director, and a Muslim leader who said that Israel should have been added to the"suspect list" for the Sept. 11, 2001, terrorist attacks.
Remember when Obama put Rashad Hussain in charge of America's strategy against ISIS?
Donald Trump has the difficult job of removing the radical Muslim tentacles from inside the Fed. Luckily, we have the right man for the job.