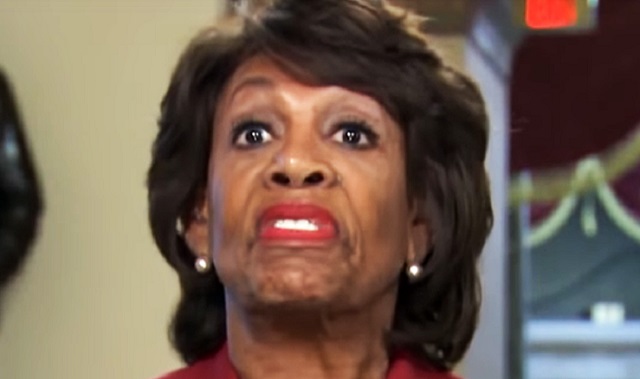 Mad Max is trying to mobilize democrats to join her Impeach 45 battle cry.
According to Waters, Trump's tax returns are the key.
In fact, during an event honoring the legacy of Rev. Martin Luther King, Jr., Waters ranted over and over about Trump's taxes, saying "I'm not backing down from the fight."
@RepMaxineWaters "@realDonaldTrump, we are going to get those tax returns" pic.twitter.com/zlXpi3YUY7

— Jay Nelson 🇺🇸 (@Jay_Nelson2021) February 9, 2019
"I'm not backing down from the fact that we have contributed so much to this democracy. We have sent our men and our women to war, who fought for this country and came home and didn't have a place to live," she said.
"They didn't have a job, but they saluted the American flag, and they fought for this country. And you think I'm going to let you stand by someone who's done nothing but steal, and lie, and undermine," she said.
"We're going to get your tax returns, we're going to find out," she warned Trump.
But here's the funny thing!
That already happened. In fact, it was almost a year ago when Rachel Maddow spent days talking about the big scoop she was about to reveal.
Maddow tweeted at the time:
BREAKING: We've got Trump tax returns. Tonight, 9pm ET. MSNBC.

(Seriously).
In typical Donald Trump showmanship, he beat Maddow to the punch, releasing his tax returns before her broadcast.
The White House on Tuesday night released some details of President Trump's income and paid taxes from 2005, as MSNBC prepared to release the information in an evening broadcast.
Trump reported $150 million in income and $38 million paid in taxes, according to a statement from the White House.
MSNBC host Rachel Maddow had teased Tuesday evening that she had Trump's 1040 form from 2005. Then, MSNBC host Lawrence O'Donnell tweeted, "This is the night we've been waiting for."
MSNBC alerted the White House about the information, and the White House seemed to opt to take the punch out of the report, releasing the major numbers itself shortly before the broadcast — and slamming MSNBC in the process.
The well-played move cemented Trump as the chess-master.
Democrats were embarrassed by several key points. First, Trump clearly chose to pay more taxes than required.
Trump paid $38 million, or 25%, of his 2005 $150 million income in taxes.
Second, most democrat politicians pay a much lower rate than the president pays. In fact, Hillary Clinton pointed out the tax dodges used by Bernie Sanders, such as stuffing money in the Cayman Islands. Ironically, she was already exposed for that exact same thing. Yet, she figured dems were too stupid to remember.
Countless officials use creative practices to avoid paying their fair share of taxes. Yet, Donald Trump willingly decided not to use a rightfully earned credit. In 1995, Trump declared a $916M loss. Rightfully, he could've avoided paying taxes for 18 years. Yet, in 2005, he paid the higher rate. Show me the democrat who donated charitably to the IRS and I'll show you some oceanfront property in Arizona.
This mad hunt for Trump's tax returns won't end well. But, it is Maxine's right to pursue the matter.
WUSA 9 reports Waters, as chairwoman of the House Financial Services Committee, has the power to subpoena Trump's tax returns and bank records.
Oddly, Maxine learned nothing from Maddow. Thus, she will continue the hunt for the smoking gun, in hopes of embarrassing Trump. But you know what they say about insanity.