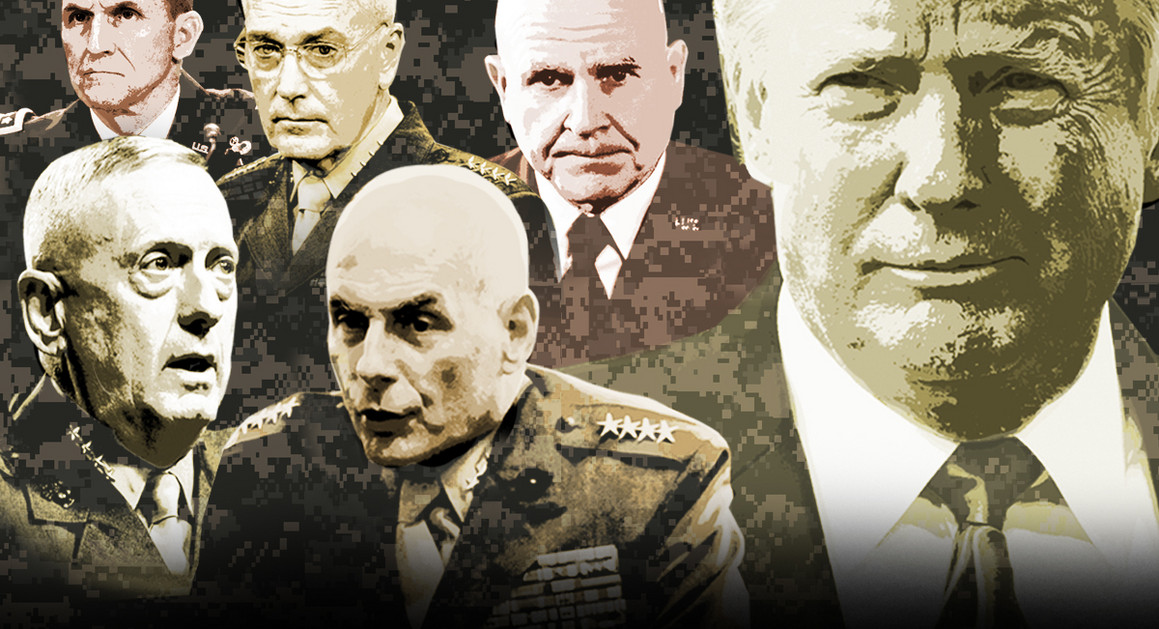 'General' Election, 'General' Revolt.
Image courtesy: The New Yorker
The Constitution Is Clear…
Article II, Section 2, Clause 1 clearly states:
The President shall be Commander in Chief of the Army and Navy of the United States, and of the Militia of the several States.
TRANSLATION:  As Commander-in-Chief of the United States' Armed Forces, the President alone has supreme operational command authority over all of America's national military forces.  The military's chain of command is absolute.  George Washington saw the necessity of civilian control over the military.
Yet there have been moments in our history when the generals thought they should be in charge when they viewed themselves more enlightened than a President that they viewed as 'not up to the job':
When this happens, past Presidents have relieved their generals of duty:  George McClellan, Douglas MacArthur, William Westmoreland, Stanley McChrystal.
Old Generals No Longer Fade Away…
The greatest general in American History famously said in his address to Congress:
Fast-forward to the 21st century. 
Where they now get lucrative contracts as consultants in the defense industry.  President Trump noticed the connections and called it out:
Trump has doubled down on his affirmations towards the U.S. military and the American soldier, while simultaneously confronting the class of generals who command them. "I'm not saying the military's in love with me—the soldiers are," Trump said at a Labor Day press conference. "The top people in the Pentagon probably aren't because they want to do nothing but fight wars so that all of those wonderful companies that make the bombs and make the planes and make everything else stay happy."

Contrast that to the bloated, top-heavy military establishment of today, where an unprecedented forty-one four-star generals oversee only 1.3 million men and women-at-arms. These men, selected and groomed because of their safe habits, spend years patting themselves on the back for managing wars-not-won, awaiting the day they can cash in.
According to the Boston Globe:
An analysis the career paths of 750 of the highest-ranking generals and admirals who retired during the last two decades and found that, for most, moving into what many in Washington call the "rent-a-general'' business is all but irresistible.

From 2004 through 2008, 80% of retiring three- and four-star officers went to work as consultants or defense executives. That compares with less than 50% who followed that path a decade earlier, from 1994 to 1998.
A few examples include several well-known names, such as:
These days, those jobs may increasingly be left to second-tier military luminaries like Marine Corps general James Cartwright, the former vice chairman of the Joint Chiefs of Staff, now on the board of directors at Raytheon, as well as former Vice Admiral and Director of Naval Intelligence Jack Dorsett, who joined Northrop Grumman.

Dorsett was later followed by former Air Force Chief of Staff Mark Welsh; meanwhile, former Chairs of the Joint Chiefs—the highest ranking position in the military—William J. Crowe, John Shalikashvili,, Richard Myers, and Joseph Dunford went on to work for General Dynamics, Boeing, Northrop-Grumman, and Lockheed-Martin, respectively.
A Cut Above The Rest
No retired general has made it a personal to takedown President Trump and his Administration than Stanley McChrystal.  The former commander of forces in Afghanistan also clashed with Obama, and was fired for it.
In his post-military career, McChrystal joined board of directors of:  JetBlue Airways, Navistar International, FiscalNote, and as Chairman of the Board of Siemens Government Technologies.  He has also served on the strategic advisory board of Knowledge International, a licensed arms dealer.  In addition, McChrystal has taught graduate-level Leadership courses at Yale, and serves on the Franklin Project at The Aspen Institute.
However, McChrystal's active participation to upend the Trump Administration does not end with his moneymaking projects.  He is the mastermind behind a political psyops technology that was employed in the War on Terror to help Democrats in the 2020 election!
Fox News explains:
An anti-Trump Democratic-aligned political action committee advised by retired Army Gen. Stanley McChrystal is planning to deploy an information warfare tool that reportedly received initial funding from the Defense Advanced Research Projects Agency (DARPA), the Pentagon's secretive research arm — transforming technology originally envisioned as a way to fight ISIS propaganda into a campaign platform to benefit Joe Biden.

The initiative, called Defeat Disinfo, will utilize "artificial intelligence and network analysis to map discussion of the president's claims on social media," and then attempt to "intervene" by "identifying the most popular counter-narratives and boosting them through a network of more than 3.4 million influencers across the country — in some cases paying users with large followings to take sides against the president."

Social media guru Curtis Hougland is heading up Defeat Disinfo, and he said he received the funding from DARPA when his work was "part of an effort to combat extremism overseas."McChrystal, who led U.S. forces in Afghanistan before he was fired by then-President Obama in 2010 for deriding his civilian bosses in a Rolling Stone interview, said that the operation was necessary, even if it might appear unseemly.
Is this the overt example that Chuck Schumer hinted about back in January 2017?
Play (Right) For Pay
Remember, generals are themselves politicians and their promotions are approved by Congress.  To be able to climb that up that high into system, they have gotten adept at 'playing the game'.
This President's Administration has been one of the most polarizing since Andrew Jackson.  We have seen the end rewards for those that go against the Commander-in-Chief, but what about those that toe the line and show an ounce of loyalty, not just to Trump but to duty and country?
Just ask:  Michael Flynn, Carter Ham, HR McMasters, John Kelly, or James McConville of how each suffered greatly for it in the end.
But no bigger shame was felt than what fell upon David Petraeus.  Which sent a shiver up every military bureaucrat, and served as a warning to all others hereafter.
Taking A Stand
While the mainstream media continues its attempt to sow chords of low morale within the military's ranks, the President maintains massive support from the leadership ranks.
An open letter was signed by 235 retired flag officers endorsing Trump's reelection.
Fox News writes:
Retired Army and Air Force generals and Navy admirals were among those who signed the letter, which was released by the Trump campaign Monday. The former leaders warned against the dangers currently facing the nation, and claimed that President Trump is better equipped to handle them than his Democratic opponent.

The letter warns that those dangers include the growing acceptance of radical leftist ideology.

The retired leaders went on to claim that the Democratic party's positions regarding border security, the Iran nuclear deal, and policing also threaten U.S. national security.

On top of that, the letter cites military budget cuts under the Obama-Biden administration and warns that "Democrats have once again pledged to cut defense spending, undermining our military strength."
The endorsement came after a hit-piece in The Atlantic claimed that Trump disparaged military veterans and fallen soldiers.
While the story hurt him with the military ranks, the story quickly began to lose steam.  Since then Atlantic editor Jeffrey Goldberg has quietly walked back the story.
KUSI-TV delves further:
The article alleged that the president referred to slain American soldiers buried at a French Cemetery as, "losers" and "suckers" during a trip to France in 2018. The story used solely anonymous sources to back up its claims, and President Trump has been adamant that it is false.

The Trump campaign has released alist of 21 government officials, 14 from the Paris trip, who spoke on the record refuting the anonymous sources in the false story from The Atlantic.

Trump's former National Security Advisor John Bolton, who is not the biggest fan of Trump, was among the officials who refuted the claim. Bolton told Fox News, "I didn't hear either of those comments or anything even resembling them. I was there at the point in time that morning when it was decided that he would not go Aisne-Marne cemetery. He decided not to do it because of John Kelly's recommendation. It was entirely a weather-related decision, and I thought the proper thing to do."

Zach Fuentes, Former White House Deputy Chief of Staff to Gen. John Kelly, John Kelly's top aide, also strongly refuted to Breitbart News saying, "I did not hear POTUS call anyone losers when I told him about the weather. Honestly, do you think General Kelly would have stood by and let ANYONE call fallen Marines losers?"

Furthermore, the U.S. Ambassador to France and Monaco, Jamie McCourt, said The Atlantic story about President Donald Trump is untrue. McCourt was with the president, and she confirmed that the story is false.
"Just shows you how corrupt the establishment press is our country." @AlexMarlow of @BrietbartNews weighing in on the @TheAtlantic's anonymous sourced report that @realDonaldTrump denigrated fallen WWI heroes.@KUSI_GMSD @KUSINews

Link: https://t.co/k3sFFjDUW2 pic.twitter.com/aPx0i4GLBh

— Paul Rudy (@PPRPapaPig) September 8, 2020
Nevertheless it was a falsehood that Democrats pounced on, and Biden knowingly used in the recent presidential debate.
Standby, this election season has 30 more days (at least).