The Devil Wears…Nike?
Lil Nas X, the same performer who did a dance off against Sam Elliot to 'Old Town Road' in the Super Bowl Doritos commercial, designed "Satan Shoes" which claim to have real human blood in the soles of the shoes.
There are 666 pairs of a modified Nike design were selling for $1,018 per pair!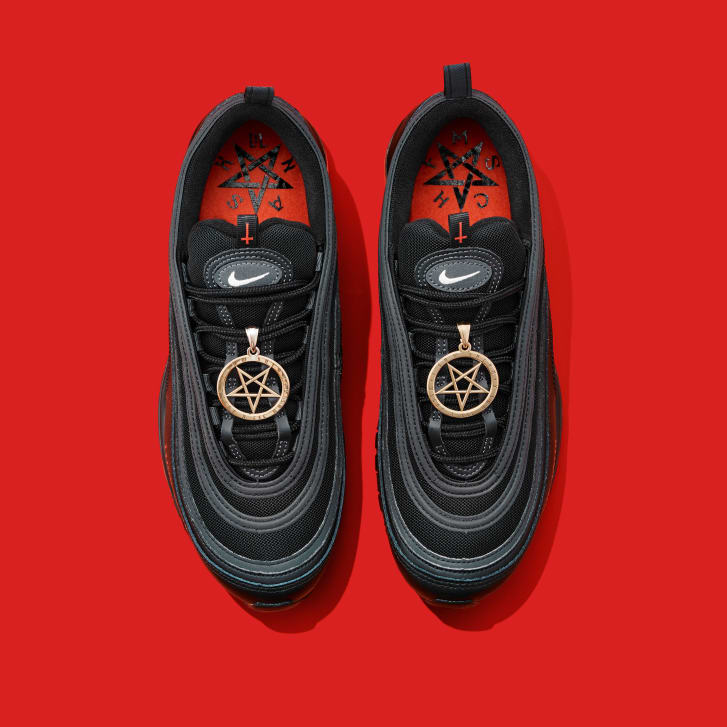 The shoes sporting a bronze pentagram along with an inverted cross sold-out instantaneously.
CNN adds:
The black and red sneakers, part of a collaboration between Lil Nas X and New York-based art collective MSCHF, were made using Nike Air Max 97s, though the sportswear brand has distanced itself from the design.

MSCHF confirmed via email March 29 that the limited-edition "drop" of 666 pairs sold out in less than a minute (though Lil Nas X will keep the first pair, MSCHF creative director Kevin Wiesner told CNN).

They were priced at $1,018 a pair, a reference to the Bible passage Luke 10:18 that reads: "I saw Satan fall like lightning from Heaven." Each shoe's air bubble sole contains 60 cubic centimeters (2.03 fluid ounces) of red ink and "one drop" of human blood, according to MSCHF.
This publicity stunt comes on the heels of his newly released music video "Montero (Call Me By Your Name)".  During one over-the-top scene, he rides a stripper pole down to Hell and gives Satan a lap dance.
The video's backlash made big news all over the world, but was slow to erupt in America until finally exploding in the headlines this past weekend.
People Magazine explains:
Filled with biblical references, the video begins with the artist being seduced by the snake in the Garden of Eden. He's then put on trial and subsequently stoned to death (but not with stones) before he ascends to Heaven. His trip is cut short, as he rides a pole down to Hell, where he gives Satan a now-infamous lap dance in patent leather thigh-high stilettos.

Before dropping the music video, Lil Nas X penned a letter to his 14-year-old self, writing in part, "This will open doors for so many other queer people to simply exist."
The Devil (Didn't) Make Him Do It.
Lil Nas X echoed Charles Barkley in his steadfast defense of his perverse performance:
there was no system involved. i made the decision to create the music video. i am an adult. i am not gonna spend my entire career trying to cater to your children. that is your job. https://t.co/SzjjYe2tf4

— i am reading all that (@LilNasX) March 27, 2021
But Nike, has not been as upfront with their mea culpa. Now, the delayed backlash is quickly turning into a huge PR storm.
NBC News provides the details:
Nike filed a federal trademark infringement lawsuit Monday against the company that released a controversial customized version of its sneakers in collaboration with the rapper Lil Nas X.

Nike filed the suit — Lil Nas X was not named as a defendant — after many people said they believed it was involved with the shoes, even though it released a statement over the weekend saying it had nothing to do with them.

The lawsuit argues that Nike must maintain control over its brand "by setting the record straight" about what products bear its distinctive "swoosh" logo.

In a statement after the complaint was filed, Nike reiterated that it is in no way affiliated with the Satan Shoes.
Clapping Back!
Lil Nas X posted a series of faux apologies:
pic.twitter.com/m0R2Fa3dRU https://t.co/4sVit8vbKY

— i am reading all that (@LilNasX) March 29, 2021
Esquire approvingly remarks:
He didn't apologize for any of it.

Actually, Lil Nas X has spent the majority of the weekend doing what he does best: trolling his critics online.

After the explosive Friday release of the "Montero" music video, the internet has been set ablaze by two factions: fans praising the video. and detractors who are aghast (aghast, I say!) at what they've seen come from the young rapper. The video and subsequent rumor of "blood sneakers" has caught the ire of the conservative set, making them question if Lil Nas X is appropriate for children.

Of course the video, which references the 2017 film about two young men who fall in love, is a statement on the singer's sexuality. The rapper unabashedly embraces his queerness, telling a story equal parts demonic, erotic, and brazen.

Clearly not heeding the message of the note, people got in his business. The video has drawn the attention of the likes of Candace Owens, the governor of South Dakota, and that wannabe blonde conservative influencer who carries a gun around all the time.
We've Seen All This Before.
Let's be honest…all of this is nothing new.  Here are a few examples:
The entertainment industry has always enjoyed provoking those inner demons within all of us for attention, notoriety, and most of all for profit.
This is no different, and like all of the others this too will pass into pop culture trivia.