Turns out, while Joe Biden landed his son a lucrative position that paid Hunter millions, dear old dad was in on the cut.
New emails reveal Hunter spent mucho dinero paying for house repairs and AT&T bills. In fact, Hunter says it was "half his salary."
It's funny that emails eleven years old are suddenly the talk of the town. But Democrats have a penchant for resurfacing ancient history. I just love how Joe repeatedly says he NEVER benefited from his son's dealings. Yet, here's proof that he did.
As the Daily Mail explains:
Hunter Biden complained that 'half' of his salary went to paying his father's bills while he was Vice President, casting doubt on the Joe's previous claims that he's never benefited from his son's business dealings.
The bills included a $190-a-month AT&T phone bill and thousands in repairs on Joe's lakeside home in Wilmington.
The payments were described in a 2010 email, when  Joe Biden was earning $225,000-a-year as Vice President. He had already made well over $100,000-a-year for decades prior as a senator and author.
Hunter, according to emails, had to foot a $190-a-month AT&T phone bill for his father, and pay for repairs to his lakeside property in Wilmington, Delaware. At the time, Hunter was working as the interim CEO of Paradigm Global Advisors and he'd also founded the investment firm Rosemont Seneca Partners.
He joined Ukrainian gas company Burisma Holdings on its board in 2014.
Now, I can't lie, it does bring me a degree of pleasure to prove another Biden claim false. Are the fact checkers lining up to correct their earlier assessments? The ones where they said Biden was on the up-and-up?
My dad used to watch and old cop show. The lead investigator, Joe Friday, had a hook line. I can't tell you how many times I'm reading about the Bidens and I hear Joe Friday say "Just the fact ma'am. Just the facts."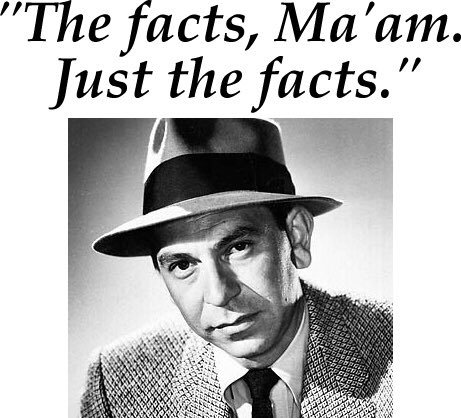 And the facts here are pretty interesting:
The Daily Mail adds:
I'm sure more emails will soon surface. And leftists will scramble to create more lies to cover Biden's ass. Already, democrats choke back the embarrassment of Creepy Joe's well-documented sleaziness. I can't wait to see how they justify another Biden lie.