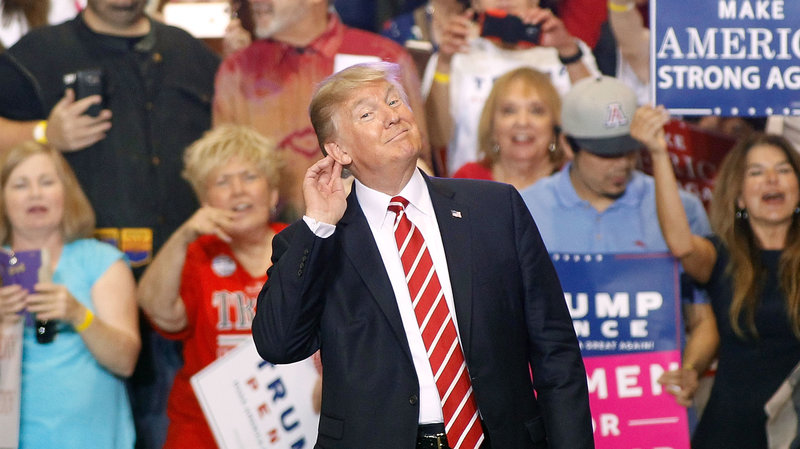 Donald Trump kicked off 2022 with a rally in Arizona, and one thing is abundantly clear. Trump owns the GOP. Despite the few loud mouth defectors.
Those questioning the truth of that statement should think carefully about 2022. Look at the candidates seeking Trump endorsements. We've already established that Trump still has the power to make or break a candidate.
You can bet Trump reveled in knowing he's forced more than a few prominent names into retirement. Especially Republicans that joined the left in blaming Trump for the Jan. 6th insurrection. The latest among them is Rep John Katko of New York. Apparently, the recent announcement of his retirement sent shockwaves through the NY political arena. And the should-be president had a special message for Katko. Trump wrote:
Great news, another one bites the dust. Katko, from Upstate New York, is gone!
At last night's rally, Trump added: "They're falling fast and furious. We're getting rid of them fast." Apparently, the swamp draining continues.
You can bet your bottom dollar that Trump faced his naysayers head on. Unlike most politicians, Trump doesn't shy away from the scandals, hoping they'll evaporate on their own. Instead, he rips the lies apart. Which brings me to the first take-away from the Arizona rally.
A Bunch of Bullsh*t
The first thing Trump said was "The Big Lie is a lot of bullsh*t." And while the mainstream media adamantly denies the plausibility of Trump's statements, he stood strong on his allegations of being cheated.
"I ran twice and we won twice and we did better the second time. We did much better the second time," Trump said.
Obviously, Democrats took advantage of the pandemic. While they employed scare tactics to lockdown America, they also creating a climate of main-in voting that was riddled with corruption. Further, Democrats will do anything to keep the actual truth from coming out.
As Trump stated:
"Why aren't they investigating November 3rd a Rigged and Stolen Election. The people are very angry. They got duped and they found out what happened. The people have to be free to find the answers and if not, they will never trust again and our country will be absolutely decimated."
With Democrats in power, Jan 6th will never be fully vindicated. Innocent people will continue to sit in disgusting jail cells while their lives are systematically destroyed.
Meanwhile, Biden continues to break the nation.
In fact, Trump made sure to point out the obvious.
"We've had more problems, we've had more destruction than five presidents put together in the last year."
Trump also added: "These decisions they're making, they're wrecking and devastating people's lives, firing Americans from their jobs, forcing innocent children to grow up in masks." Of course the crowd went wild with agreement. Because we know it's true. The grocery shelves are empty. The gasoline is sky high. Foreign Policy is an embarrassing joke. In fact, Biden's done so bad they've renamed inflation- it's now Bidenflation.
And let's be clear. Trump isn't the only one attacking Biden's job after his first year in office.
Even as President Joe Biden was spewing deplorable falsehoods about his political opponents in Atlanta, the chickens of his administration's economy were coming home to roost. Wednesday's Bureau of Labor Statistics report on inflation, revealing last month's 7% inflation rate, sets yet another 40-year record, harkening back to the bad old days of double-digit interest rates and Paul Volcker's bitter medicine for the economy of the early 1980s.
With this week's report, it is clear that the Biden economy is in an inflation crisis. It is a crisis that neither Biden nor his useless Twitter-addicted senior staff has any clue how to fix. But they have all kinds of ideas about how to make it even worse.
Inflation is raging even as last week's Labor Department employment report shows that Biden's economy is falling far short of expectations for job creation.
If you're wondering why Biden has become so bitter and vituperative about legislation in Congress that is going nowhere, look no further than these economic results. The average worker in 2021 lost the equivalent of two paychecks due to Bidenflation.
Lower-income earners have been hit the hardest as food and energy prices have skyrocketed. Biden has no clue how to stop these rising prices, which is why he can resort only to distractions. That's why he can be found in front of the nearest camera, loudly spouting whatever nonsensical political rhetoric his staff writes and puts in front of him in a special large-type font.
Ouch. Biden isn't winning any friends. Frankly, if the left wants to get real, the Big Cheat back-fired. Which brings me to perhaps the biggest take-away from Trump's Arizona rally.
Donald Trump is the Front-Runner for 2024
Between Trump's power to energize voters and Biden's power to fu** it all up, one answer is becoming abundantly clear. Trump will wipe the floor with Biden in 2024- if Creepy old Joe has the cajones to run again. Both left-wing and right-wing media groups acknowledge that no one seems to have the power to pull ahead of Trump in the 2024 GOP primary. Just as no one will beat him fair and square. Now is the time for Biden to decide if he even wants to take on the stress of trying to stand up against the Donald.
If money talks, the Joe Biden needs to start listening.
According to Fox News, Trump is a juggernaut. "The former president's three main political fundraising committees reported hauling in a combined $82 million during the first six months of the 2021, with over $100 million cash on hand as of the end of July, which was the most recent filing period for the groups."
I'd love to see the number of donations rolling in after these Trump rallies. The next one is January 29th, in Conroe, Texas. And I can't wait to see the crowd in action, because this Lone Star wordsmith already has tickets to the show!