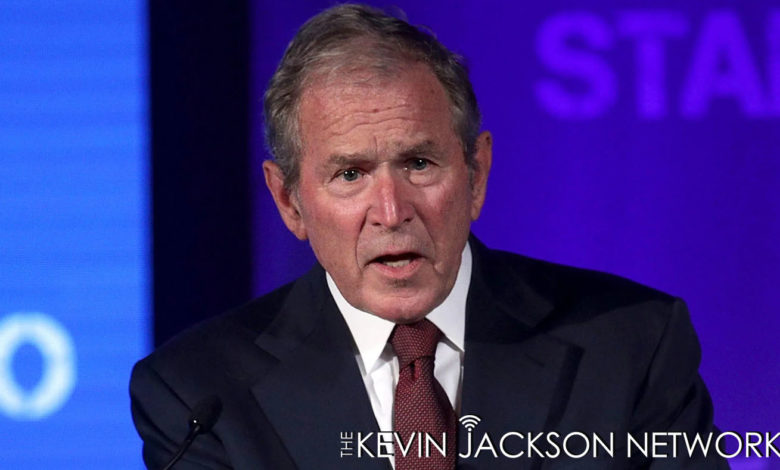 Holy Mother of Mayhem the media has nothing better to do than try deflection.
Does anybody really believe the story of the Iraqi who wants to kill Bush? I know, I know, Bush killed Saddam Hussein, so it's possible that some Hussein family member issued a fatwa.
I'm not buying it.
Still, according to Forbes,  an Iraqi national migrated to the US in 2020 and had an asylum application pending. The man with the vendetta is Shihab Ahmed Shihab Shihab. He resided in Columbus, Ohio where he was arrested.
Supposedly the FBI discovered the plot through two confidential informants and surveillance of the suspect's WhatsApp account, a messaging platform. Keep in mind this is the same FBI who knew of the Pulse nightclub mass murderer, the Boston Marathon bombers, and other terrorists who followed through with their crimes. But they nabbed the one guy in over 20 years who was tracking down George Bush.
The story claims that the man was so dedicated to his scheme, he had gone so far as to travel to Bush's Dallas home to take video. What? Like a tourist? Does this guy not know that Secret Service is with Bush all the time, not to mention surveillance of Bush's residences.
Next, the guy is said to have recruited a team of fellow Iraqis he hoped to smuggle over the Mexican border.
Honestly, this part is the most believable, as it would explain why Democrats have allowed a veritable mad dash to the border and into America.
Shihab claimed to be part of a group called "Al-Raed"; a group that was led by a former pilot of Saddam Hussein. Allegedly up to seven members of the group plotted the assassination. So as they say, "The plot thickens!". And then there were seven.
Sources report that Shihab had been sent in advance "to locate and conduct surveillance on former president Bush's residences and/or offices." He was also to "obtain firearms and vehicles to use in the assassination."
Bush worried?
Heck no. Because he isn't buying it either.
Freddy Ford, chief of staff for the Office of George W. Bush, said, "President Bush has all the confidence in the world in the United States Secret Service and our law enforcement and intelligence communities."
I'm not sure why the media would toss this news story out there. Are they pretending to care about former Republican presidents, not that Bush is a Republican per se. But what is the agenda?
While I get that even this is considered "news", I'm just not buying the story. And for all the reasons I stated above, and then some.
Is this story an attempt to restore America's faith in the FBI? Because it sure looks like it. Particularly now that Bush is no longer persona non grata.