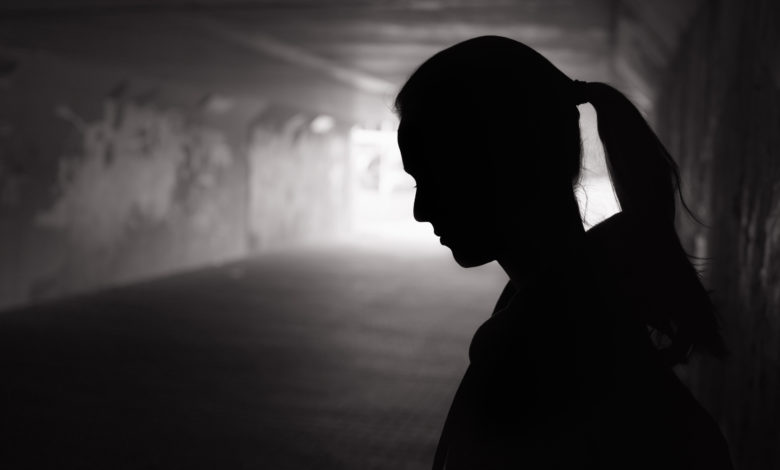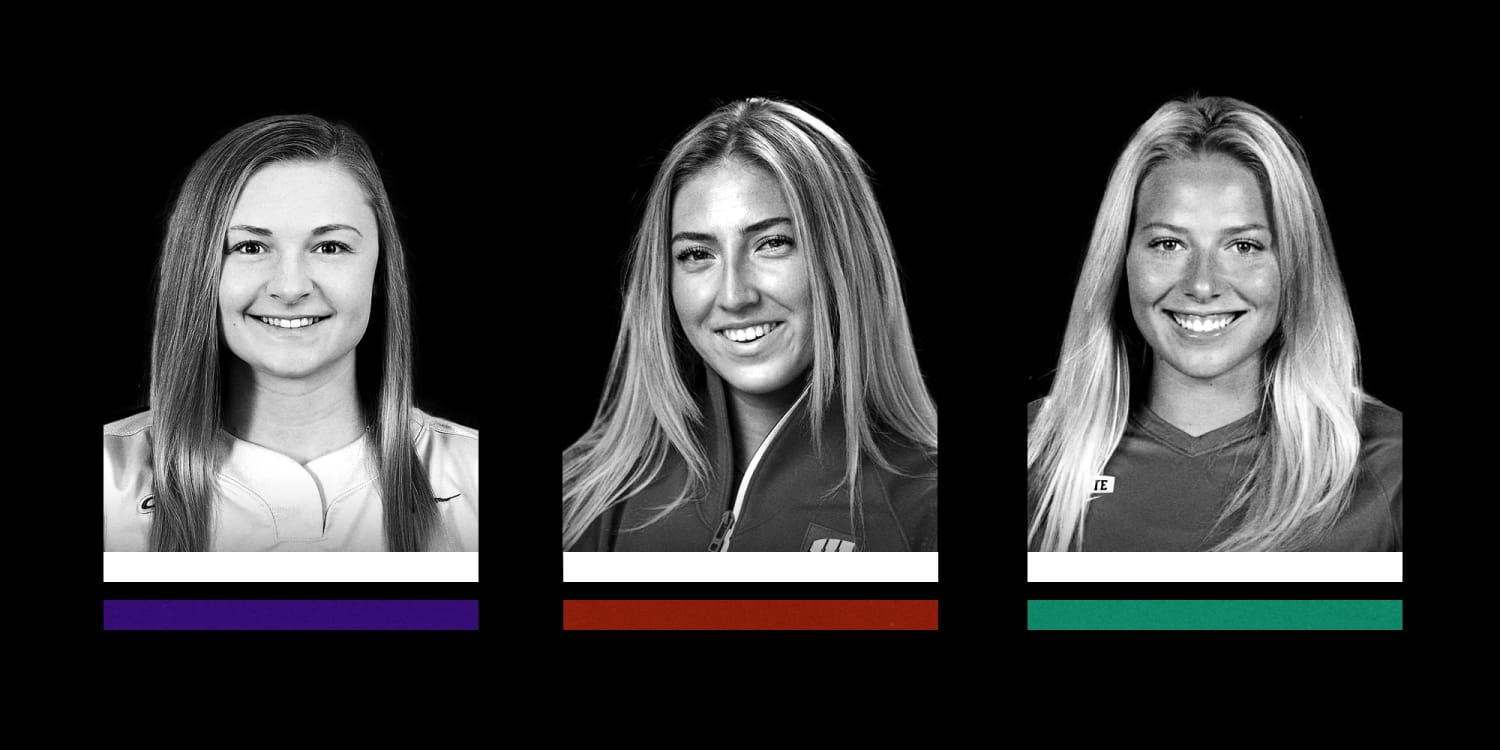 In this era of superior 'girl' power, we see the breaking of the nuclear family, bashing traditional societal roles as misogynic and sexist, even calling for the elimination of men.  Women are dominating across the spectrum from the sports world to the corporate business world.  Women are now outpacing men by being more educated. Further women are the family breadwinners, and female innovators are changing modern culture.
But currently there is an alarming cultural trend that is also happening in America.  Since the beginning of this year, successful young women that have been described as:  accomplished, charismatic, attractive, outgoing, intelligent, and competitive all also have another thing in common…they are also the victims of suicide.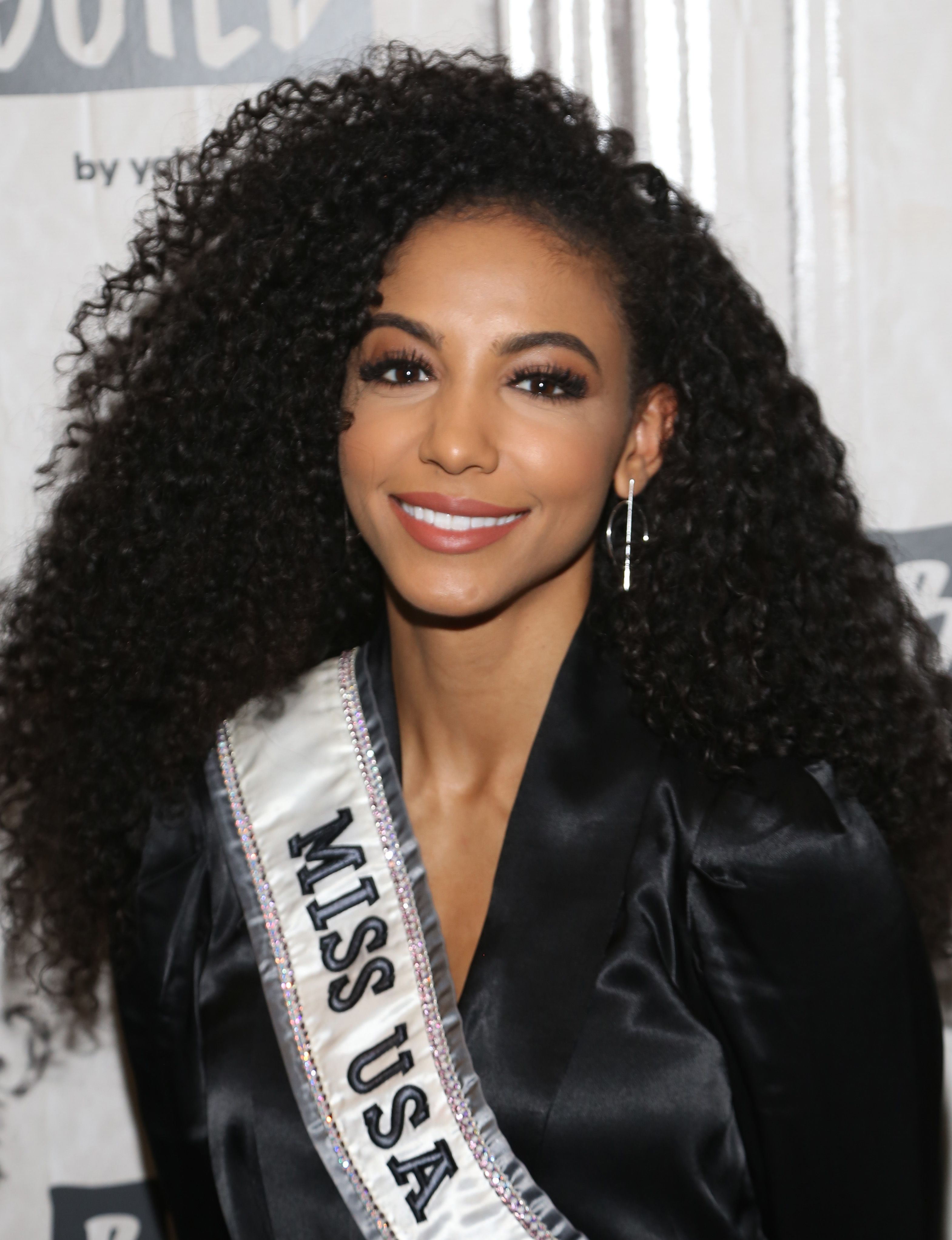 CNN stated:
Former Miss USA Cheslie Kryst died Sunday morning, said her family and the New York Police Department, which is investigating her death.  She was 30.

Kryst was an attorney who sought to help reform America's justice system, as well as a fashion blogger and entertainment news correspondent, and was crowned Miss USA in 2019.  For her work on Extra, she was nominated for two Daytime Emmy Awards.

She died after jumping from a building in Manhattan, police said.  The New York City Office of the Chief Medical Examiner confirmed to CNN that she died by suicide and had multiple blunt impact injuries.

The former Miss USA winner posted on Instagram a photo before her death.  "May this day bring you rest and peace," she wrote alongside a photo of herself.
The Washington Post wrote:
Last week, just hours after talking via FaceTime with her parents, the 22-year-old was found dead in her on-campus residence, and authorities determined she died by suicide. The death has left her family as well as the university community reeling and in search of answers.

Mr. and Mrs. Meyer raised the possibility that a pending disciplinary action against their daughter — about which few details are known — might have been a factor. The "whys" behind the death of this vibrant young woman might never be understood; experts caution that there is rarely any one reason for any suicide but rather a multitude of factors.

Katie Meyer was reportedly the fourth Stanford student to die by suicide in the past 13 months.  There has been a spate of suicides at other colleges, and although there is no definitive data about campus suicides, experts at the Jed Foundation a national nonprofit that works to improve the emotional health and prevent suicides of young people, say mental health challenges have steadily grown among college students over the past five years.

The pandemic has had a profound impact, forcing students to confront isolation, uncertainty, financial stress and other challenges. The return of students to campuses after two years of remote schooling has overwhelmed some university mental health centers.
Richmond Times-Dispatch stated:
Investigators found no signs of foul play in the death of a Virginia State University student whose body was found Saturday inside her off-campus home at University Apartments in Ettrick.

Chesterfield County police on Monday identified the student as Anisa M. Sistare, 21, from Chesterfield and was a Marketing major.

The body showed no obvious signs of trauma and there was no evidence of a drug overdose, police said. Her remains were taken to the state medical examiner's office for an autopsy to determine her cause of death.

Sistare's death is the second VSU student suicide at University Apartments in three months.
Detroit Free-Press learned:
The Northern Michigan University community is mourning after the death of track & field athlete Jayden

Hill, 19, died Sunday, according to the school.  No cause of death has been released.

Hill was born in Monrovia, Liberia, before moving to the west side of Michigan where she attended Coopersville High School in Allendale.  A decorated high-school track athlete, Hill originally committed to Ottawa University Arizona, where she intended to study pre-law and psychology.

Hill transferred closer to home in January, joining NMU on scholarship.  According to the school, Hill was pursuing a degree in political science with a concentration in pre-law.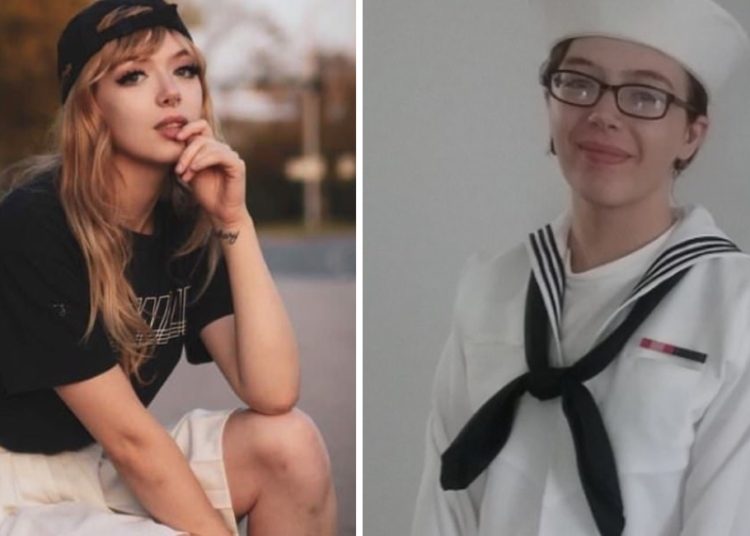 NewsNation made a shocking announcement:
A Navy investigation is underway after the deaths of seven service members assigned to the USS George Washington over the past year.

Four of these deaths were confirmed or apparent suicides, with three of the bodies being found in less than a week.
UK Daily Mail dug further by talking with Petty Officer Huffman's family:
There has been an outpouring of grief on social media by the sailors' distraught friends and family.

'Word of my daughter, Natasha Huffman's death has been spreading rapidly,' Huffman's mother, Kathleen Krull, posted on Facebook. 'She had a heart of gold and always stood up for the underdog. She was fiercely protective of people she loved. It still doesn't seem real to me that my baby girl is gone.'

The heartbroken mom said that she is working with the Navy on funeral arrangements.

Huffman's boyfriend, Will Maher, called her 'my best friend and my soulmate' also posted a message thanking friends for their support.

'I don't think Tasha realized how many lives she'd touched. I know that she would have loved to see everyone's kind words,' Maher said.

He also asked for donations to support her funeral service.
The US Navy is investigating the connections of the suicides to the current living conditions on the carrier.
Fox Sports reported:
"Balancing athletics, academics and the demands of everyday life overwhelmed her in a single, desperate moment," Sarah Shulze's family said. "Like you, we are shocked and grief stricken while holding on tightly to all that Sarah was."

The California-born runner was a junior and member of the cross country, indoor track and outdoor track teams at the University of Wisconsin.

She earned academic all-Big Ten honors in 2020 and 2021 for cross country and in 2021 while running at Wisconsin.
The 21-year-old Grove City College senior was a cheerleader who majored in Elementary and Special Education, and also worked as a Teaching Assistant.  Kylee's story is odd in the sense that there has not been any reporting of her sudden death.
Minus her obituary in the Pittsburgh Post-Gazette, the funeral home announcement, and a link to various posted photographs from her Instagram page are all that appear.  No statement from College Administration, state and local media are silent, and the school's cheerleading blog page has not been updated since Paul Ryan was House Speaker.
There has been no official cause of the death given, likewise there is no indication that Kylee's case is being currently investigated by Pennsylvania law enforcement.  Many online sleuths have taken to the internet to learn any further information since hardly anything has been provided to the public.
Sports Illustrated reveals:
The Western Office of the Chief Medical Examiner in Virginia said Thursday that James Madison University catcher Lauren Bernett died by suicide.

The 20-year-old was named Colonial Athletic Association Player of the Week just a few days ago after a dominant performance in the three-game sweep against Drexel.  Bernett hit .778 with seven RBIs in the series.

The McDonald, PA, native majored in biology with a minor in pre-veterinary medicine.  She played a critical role in the program's College World Series run in 2021.
Things have changed.  This is not the world of the Baby Boomers and Gen-Xers were raised to subsist in.  Rules have changed.  Millennials and the inbound Generation 'Zoom' have upended the traditional norms of superlative American values in favor of materialistic populism.
Still this path has not borne the fruits of happiness and contentment as promised.  Many of the biggest celebrities in modern culture across nearly all genres have admitted suffering from varying degrees of depression and anxiety.  This sad reality was further grasped with the recent suicide of legendary country singer Naomi Judd.
Depression is a mood disorder that causes a persistent feeling of sadness and loss of interest. Also called major depressive disorder or clinical depression, it affects how you feel, think and behave and can lead to a variety of emotional and physical problems.

More than just a bout of the blues, depression isn't a weakness and you can't simply "snap out" of it. Depression may require long-term treatment.  Most people with depression feel better with medication, psychotherapy or both.
The quick answers in defining the root of these problems has been to blame the crisis on the Covid pandemic, drug use, ethnic/gender identities, competitive stress, and even on social media.  These were women that had everything modern society claims is required to achieve success, and ergo attain happiness.
But is the truth really that simple, or is society just wishing it was?  Marriages are rapidly declining.  In addition, women are deciding to delay having children until later in life, or foregoing motherhood altogether.  Young women in large numbers are not attending church services, abandoning traditional dogmas for a more secular approach.  Yet, many are still unhappy with life.
The suicide rate increased 33% from 1999 through 2017, from 10.5 to 14 suicides per 100,000 people (NCHS Data Brief No. 330).  Rates have increased more sharply since 2006.  Suicide ranks as the fourth leading cause of death for people ages 35 to 54, and the second for 10- to 34-year-olds.  It remains the 10th leading cause of death overall.

But it's a different story in other parts of the world.  Over roughly the same period, other countries have seen rates fall, including Japan, China, Russia and most of Western Europe.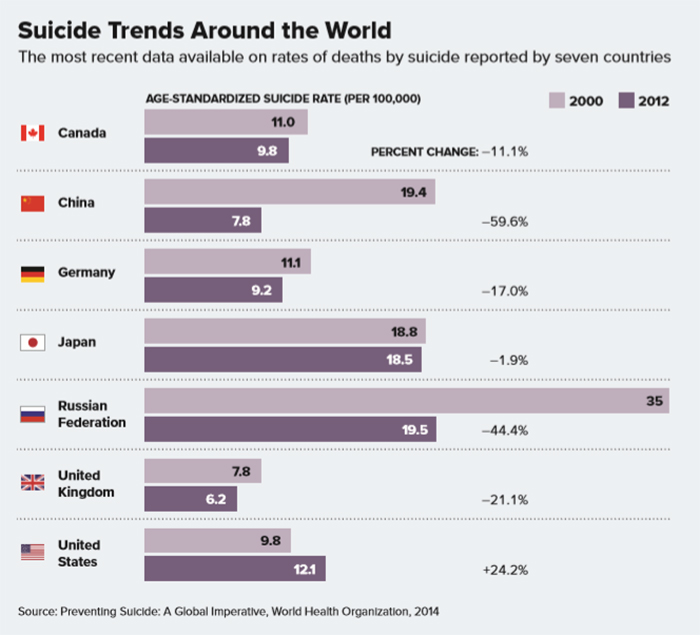 What is the Fix?
Personal pride, individual stubbornness, and self-denial remain the invisible barriers for people needing help.  It might take a forced intervention of family and friends to get a loved one to admit help is needed.  Just because someone says they are "fine", and may appear to be in good spirits on the surface, doesn't make it so. Because  what's hiding beneath the surface that gets overlooked. Eventually, these hidden facets eat at one's spirit.
It is widely agreed that there are no single signs for depression, nor are the signs easy to detect if someone is contemplating taking their own life.  The conversation must begin reevaluating what has transformed into radical 'toxic feminism' and the valuing self-indulgence of personal narcissism.
The New York Times warns:
The largest increase in suicide attempts were among women; young adults between 18 and 25; unmarried people; people with less education; and people who regularly use substances like alcohol or cannabis. Only one group, adults 50 to 64 years old, saw a significant decrease in suicide attempts during that time.

Among the major findings was that there was no significant change in the use of mental health services by people who had tried suicide, despite the passage of the Affordable Care Act in 2010 and receding stigma around mental health care.

Still, many respondents to the survey in the new report said the cost of mental health care was prohibitive; others said they were uncertain where to go for treatment or had no transportation.

People who survive a suicide attempt often do well afterward, said Dr. Paul Nestadt, an assistant professor of psychology at Johns Hopkins who has researched the epidemiology of suicide.
What is most important is the providing real help for those who need it, and the proper care for those that have contemplated suicide previously.