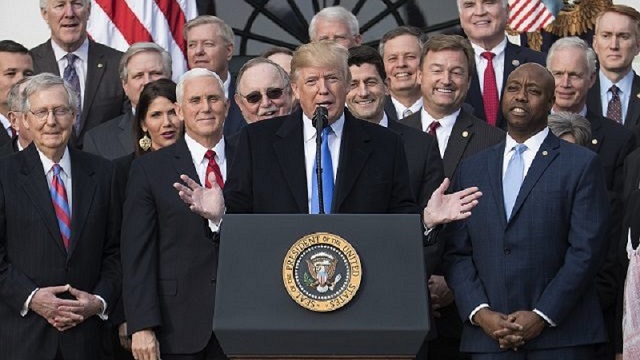 In case RINOs Mitch McConnell and Kevin McCarthy wonder who runs the Republican Party, Trump-endorsed candidates left little doubt.
In fact, not only is a Trump endorsement golden, an endorsement from a prominent Democrat such as AOC is a nail in the coffin, so to speak.
Recent elections highlight the stark contrast.
As the Washington Examiner reported,
That's a 55-0 record.
The headliner from yesterday's elections was the surprising victory of Hillbilly Elegy author J.D. Vance. The 37-year-old first-time candidate endorsed by Trump took the GOP primary in Ohio.
"President Trump's historic endorsement streak of success continues unabated," former White House Political Director Brian Jack told Secrets today.
"He's 55-0 in midterm primaries — undeniable proof that his endorsement is the most powerful endorsement in politics," he added.
As Trump might say: "Winning!".
And so it was. A skunk, as we would call it in the country. Yes, Trump skunked the establishment Republicans. While I don't agree with all Trump's picks, I do endorse his "skunk at the picnic" approach to establishment politics.
For those paying attention, establishment Republicans despise Trump as much as Democrats.
The value of a Trump endorsement.
While a Trump endorsement isn't required, it's certainly not a bad thing. As the article suggests,
Just yesterday, Secrets reported a Rasmussen Reports survey that suggested an endorsement from Trump is not just valuable, but much more than one from unpopular President Joe Biden.
As we learned from AOC, other tests await.
Of the 55, five Trump-backed candidates have been pushed into runoffs, and Team Trump does not view them as losses. "We count runoffs as a win too — they didn't lose," said a Trump adviser.
Trump does have one notable endorsement in trouble, Georgia gubernatorial candidate David Perdue, who is trailing Gov. Brian Kemp leading up to the May 24 GOP primary. But his other big endorsement in Georgia, former football standout Herschel Walker, is leading as are many of his other picks.
Nobody expects Trump to go 100 percent. But the track record thus far bodes well for Trump and the Republican Party in general. No wonder Democrats threw the SCOTUS-leak "Hail Mary!". A desperation move for certain.
As you consider the future for Trump-endorsed candidates and the midterms, consider as well the Democrats scrambling for a Biden endorsement. A short list, if it exists at all.