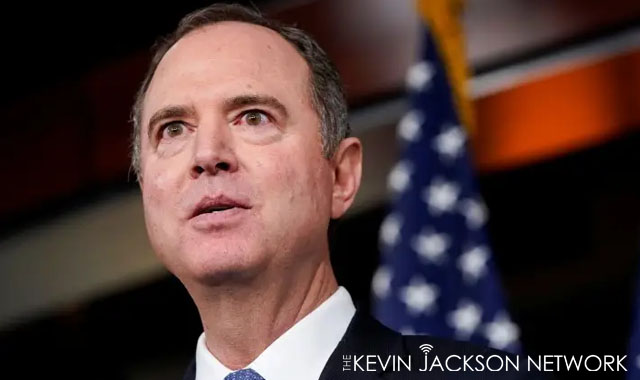 House minority leader Kevin McCarthy will soon replace Nancy Pelosi as Speaker of the House. And when he does, HUGE changes are headed our way.
Like Trump, McCarthy is a swamp-drainer. As such, his first target is obvious- crazy-eyed Adam Schiff.
On "Sunday Morning Futures," McCarthy told Fox News, "Another change you're going to get: Adam Schiff will no longer be on the Intel Committee when I become Speaker. I promised that more than two years ago," and McCarthy is determined to deliver. "[Democrats] also used the intel community as well to lie to the American public. Should those people keep their clearances? Should those people still be allowed to have information? If they're going to be political individuals, then, no, they should not. And this is just the tip of the iceberg of what we need to investigate going forward," McCarthy said.
Schiff is no stranger to investigations. He's been trying to dig up dirt on President Trump since 2016. There's only one real difference. Schiff created fiction. McCarthy will dig up facts.
Schiff has more problems than just his fake Russian narrative.
Don't even consider his Donald Trump witch hunt. Because even after the Big Cheat succeeded in putting a demented clown in the Oval Office, Schiff continue to lie, push false narratives, and brand the truth as "misinformation".
Never forget that Adam Schiff, using his authority as chairman of the House Intelligence Committee, lied repeatedly in Oct. 2020 that the @nypost Hunter Biden laptop story was a "smear [that] comes from the Kremlin." CNN's Wolf Blitzer laps it up here, as did most media organs https://t.co/IFCWflzGKh

— Miranda Devine (@mirandadevine) December 5, 2022
But now, leftists are in trouble. Serious trouble. All thanks to the richest man in the world and his decision to defend freedom.
Elon Musk Obliterates Schiff
BREAKING REPORT: Adam Schiff absolutely humiliated after getting FACT CHECKED BY ELON MUSK for falsely claiming that hate speech was trending up on Twitter…

— Chuck Callesto (@ChuckCallesto) December 8, 2022
Adam Schiff had the audacity to tweet the following:
On Elon Musk's Twitter:
– Slurs against Black people have tripled
– Slurs against women are up 33%
– Slurs against Jewish people are up 61%
– And slurs against gay men are up 58%
These numbers are abysmal – and unacceptable.
Today, @RepMarkTakano and I are demanding action.
Musk wasted no time firing back.
"False, hate speech impressions are actually down by 1/3 for Twitter now vs prior to acquisition," Musk shot back.
Schiff was left completely humiliated considering Musk's response at time this article was published received over 110,000 likes while Schiff's only received 25,000 likes.
False, hate speech impressions are actually down by 1/3 for Twitter now vs prior to acquisition @CommunityNotes

— Elon Musk (@elonmusk) December 8, 2022
— Val 💋💋 (@TrumpsHurricane) December 8, 2022
Adam Schiff posting lies is up 100%

— Five Times August (@FiveTimesAugust) December 8, 2022
Read the room, Schiffty. No one believes a word you say.

— Miranda Devine (@mirandadevine) December 8, 2022
You can't build a career on making shit up. Or, maybe YOU can. Have your intern throw in some citations next time. He/She will find them in the file next to your impeachable accusations of Trump/Russia collusion.

— Buzz Patterson (@BuzzPatterson) December 8, 2022
I'm old enough to remember when Adam Schiff read a transcript of a phone call into the Congressional Record that he had totally made up

— NurseHelen (@helen_hulett) December 8, 2022
I could go on for days. But there's no need. Clearly, nobody lined up to Schiff's box of lies.
The Big Picture
Schiff should be focused on the bigger picture here. His popularity on Twitter isn't an actual problem. A person can be decimated on social media, and live through it. But McCarthy's investigation is the real deal. And depending on the severity of Schiff's actions, he could be facing some staunch consequences. I'm imagining impeachments and prison, but we'll have to wait and see how McCarthy fares in his quest for the truth. I'd settle for "banned from public office for LIFE."
Of course, Musk plays an important role in all this. By exposing the lies and deceit leftists operate under along with the extremes they're willing to go to, the mainstream media, Democrats, and RINOs are all forced to face the one thing they've never been good with: the TRUTH! I can't wait to see how it all pans out.