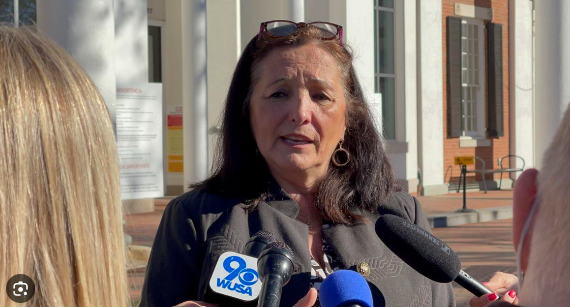 This exposé breaks the news about felonies perpetrated by the Loudoun County Virginia Commonwealth Attorney Buta Biberaj.
One of the nation's wealthiest counties in America, Loudoun County Virginia finds itself mired in worldwide headlines for corruption in the Board of Supervisors' office. They've allowed the rapes of children in high school bathrooms, arrests of parents merely for asking questions of the School Board, and fentanyl overdoses on school grounds.
Buta Biberaj is running for her second four-year term as Loudoun County's Attorney for the Commonwealth of Virginia (OCA) in the upcoming November 07, 2023 election. In addition to her incompetent performance, other red flags emerged.
Biberaj supervises the prosecuting of criminals. However, evidence suggests that she herself engaged in criminal activities both before and after her election in 2019 as Commonwealth Attorney.
For example, while in office Biberaj was sued, but DELETED ALL COURT RECORDS:
Former Fairfax County Commonwealth Attorney, Andrew J. Kersey sued Buta Biberaj. She appealed, but lost the appeal.
Her response? She deleted all traces of the court records. Nonetheless, this investigative reporter obtained hard copy printouts of the records.
A name search by Plaintiff Andrew J. Kersey's name proves that Defendant Biberaj has feloniously deleted court records. Also, a name search conducted by entering Defendant Biberaj's name proves she has feloniously scrubbed her name from the court records.
Defendant Biberaj feloniously deleted the case number of the litigation against her from court records
When all data fields were filled out by this reporter—case number, names of Plaintiff and Defendant, date—had been entered, it was found that Defendant Biberaj has feloniously deleted all traces of the lawsuit against her.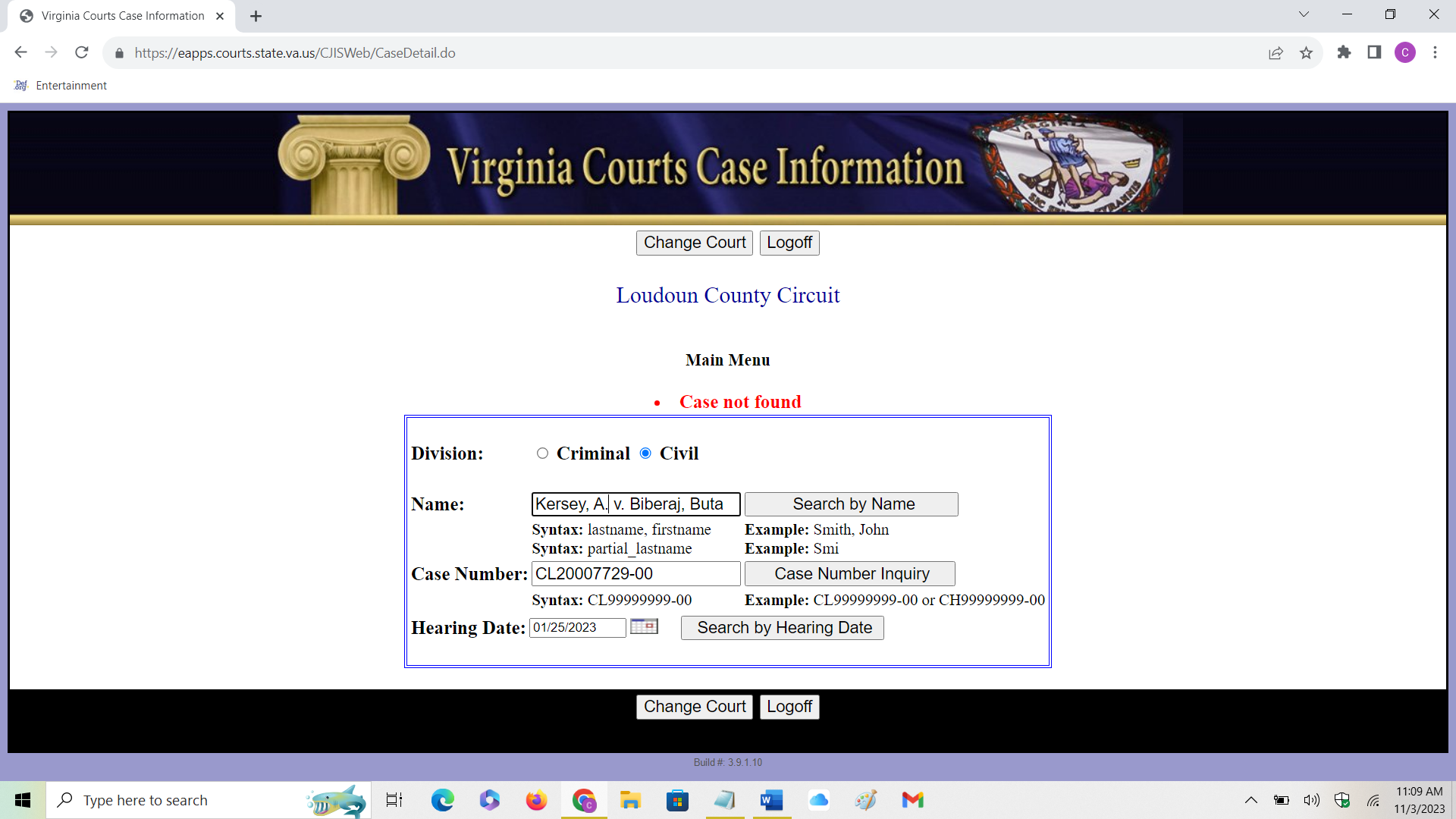 Who's side is she on? Criminal or victim?
Ronald Pandolfi, Ph.D., who is Chief Technology Officer for the non-profit Kashimir World Foundation recounted the fraud that Biberaj committed against the court prior to being elected Loudoun County's Commonwealth Attorney.
While a criminal defense attorney, Biberaj defended a man who had brutally assaulted Dr. Pandolfi's wife at a public event in Fairfax County. Biberaj arranged for her client to be freed on bail. However, the victim received a 3-year protective order against her assailant.
One year later, thought the protective order remained in place, the criminal attacked Mrs. Pandolfi again at the Loudoun County courthouse and in front of 3 policemen.  When Dr. Pandolfi jumped in front of his wife to protect her, the assailant knocked him to the floor.
Biberaj hastily dissolved the protective order to unlawfully prevent her client from immediately being incarcerated for having violating it, openly. Next, she concealed this additional crime from the trial judge which concealment constitutes yet another crime. The judge reprimanded her for the fraud and promptly reinstated the protective order.
Dr. Pandolfi asks how many other frauds has she perpetrated that have not yet come to light?
Removed from two cases for prejudice
Circuit Court Judge James E. Plowman, Jr. disqualified Biberaj from a case twice in year 2022 because of her prejudice.
The first case involved Scott Smith, an anguished father. Smith would not stop talking when the Loudoun County School Board tried to muzzle him from asking questions at a public meeting. HIs questions pertained to why the rape of his daughter in a bathroom of Stone Bridge High School was covered up.
Not a single member of the school board answered the distraught Dad's questions about the male student rapist. Nor did they ever report the sexual assault to the police.
The rapist student who professed to be transgender was wearing a skirt when he invaded the girls' bathroom and raped the young girl. The school board then conspired to transfer him to Broad Run high school where he not surprisingly repeated his crime.
The father was arrested and dragged out of the meeting. Biberaj then hit the heartbroken man with charges of disorderly conduct and resisting arrest.
Incredibly, despite the assault, the school board enacted a policy allowing anyone labeling himself or herself as transgender to use the school bathroom for the gender they chose. The outrage of Loudoun County residents resulted in the rapes and coverups making news not only nationally, but worldwide.
Secret Activism
While these anti-parent and anti-student actions of Biberaj are openly perpetrated in the office in which she was swore to protect the public, she also indulges in secret activities.
Buta Biberaj is a member of a private Facebook group called "Anti-Racist Parents of Loudoun", despite at age 59 she never had children and has never been married.  Its mission of teaching Critical Race Theory in schools  exposes parents who oppose the theory to potential violence, even murder, and other dangers. The group has been accused of doxxing those parents—i.e., publicly disseminating their names, addresses, telephone numbers, and places of employment.
The parents' conviction is that CRT is not only racist but psychologically destructive to children. Their standpoint is that it foments hatred among innocent little children by labeling white kids as racists and white supremacists merely for having been born Caucasian. CRT in the parents' eyes brainwashes white children with perpetual guilt and reinforces that false guilt by teaching that all whites owe reparations to everyone who is not white.
Biberaj didn't learn her lesson
Whereas in the first case the judge removed Buta Biberaj for prejudice against the defendant. In the second case she exhibited gross prejudice in favor of the defendant who, in this instance, was a recidivist career criminal.
Judge Plowman disqualified Biberaj and her entire crew, ordering that the Fauquier County Commonwealth Attorney adjudicate the case. Judge Plowman basically pronounced the entire OCA unfit to prosecute the case, disqualifying them due to their "lack of knowledge of the facts of the case or the ability to apply basic legal principals."
The judge also slammed the Loudoun OCA for "misleading the court" and hiding serial burglary suspect Kevin Enrique Valle's past history of serial crimes. Further, they concealed his current crimes in other jurisdictions. The prosecution lied that the crimes occurred over the course of days and weeks. However, the crimes actually occurred hours apart. On the same day Valle committed the Loudoun offenses he committed  three other offenses in Fairfax.
The Fauquier County Commonwealth Attorney successfully convicted Valle of his 12-burglary crime spree over a week and a half in Loudoun, Fauquier, Prince William, and Fairfax counties.
A deliberate pattern
 An attorney who formerly worked in OCA confirmed in an interview by then investigative reporter for Fox 5 TV, Lindsay Watts, that Biberaj "pushed to bond people out in domestic violence cases," and that "Buta pushes to let people out generally."
The Statistics
In Biberaj's January 24, 2023 letter to Mr. Tony Howard of the Loudoun Chamber of Commerce, obtained through the Freedom Of Information Act (FOIA) Biberaj writes that "The OCA has historically prosecuted certain misdemeanors and all felony cases in Loudoun County". However, her performance constitutes a lie to her assertion. (Incidentally, Biberaj failed to respectfully accord the title of President and CEO to Mr. Howard or even the title of "Mr." in her letter.)
Jim Plowman immediately preceded Biberaj as Commonwealth Attorney. His record of cases prosecuted far outstrips Biberaj's anemic record: 1,091 felonies and misdemeanors versus 549.
Her felony prosecutions constitute less than half–43% to be exact–of what her Republican predecessor prosecuted.
Plowman prosecuted 790 felonies between 2016 and 2019 compared to Buta Biberaj's 341 between 2020 and 2023. That constitutes 200% more felonious cases brought to trial than Biberaj's 341.
As for misdemeanors, Plowman prosecution of 301 is about 33 1/3% more misdemeanors than Biberaj's 208.
Of Plowman's prosecutions, the majority—close to 80%–were felonies. His misdemeanor prosecution percentage was about 20%. This is versus Biberaj's whose 208 misdemeanor trials make up about half of her 541 total prosecutions.
With a tally of 1,091 combined felony and misdemeanor trials, Jim Plowman prosecuted over 200% more than Biberaj in the same amount of years.
Manipulation of the Statistics
A FOIA request proves that Biberaj does not keep records of the many arrests she fails to adjudicate or of the many trials she drops before a verdict is handed down.
The only reasonable interpretation is that her intent is to present the fake appearance that crime has dropped under her time in office. In fact, the opposite is true; all types have escalated due to her refusal to prosecute.
The Loudoun County Sheriff, Mike Chapman, maintains crime statistics which the State Police then computerizes. For example, in the year 2022 Sheriff's office statistics for Part I Loudoun County arrests number 2,751  while arrests for Part 2 crimes number 4,509.
Part I crimes include but are not limited to homicide, human trafficking, arson. Drug offenses, vandalism, simple assault (meaning threat of violence without necessarily causing bodily harm) and DUIs constitute some of the Part 2 crimes.
 Is Loudoun turning into another California?
 A relentlessly increasing number of cities where officials' election campaigns were funded by billionaire George Soros and other Leftists are in freefall. And Biberaj uses the identical anti-prosecution strategies they do.  Countless examples exist in California, Oregon, Washington, Michigan, and elsewhere.
A recent one occurred on October 17th in Malibu, California when a driver fatally mowed down 4 Pepperdine University senior girls. Many people witnessed the horror and several of them captured and held the perpetrator for police.
The girls' killer was arrested and charged with manslaughter. Shortly afterwards he was released. The reason offered? "Lack of evidence".
Fortunately several days later he was charged, incarcerated, and held on $4 million bail.
Mike Conley of Hamilton, Virginia echoes what many Loudouners know: "The prosecutor in Loudoun County doesn't do anything. They let people reckless drive which is just wrong."
Pavel Zhardetski of Dulles, Virginia complains that "[All] Crime is growing very quickly. They [the police] can't do anything about it…", the implication being that Biberaj's lack of prosecutions is hamstringing law enforcement.
Aggressively hellbent on letting crimes go unpunished, Biberaj brazenly informed all Loudoun County judges in January of this year, that henceforth she will not be prosecuting most Part 2 crimes.
Bleeding the taxpayers
Another FOIA request shows that although Democrat Biberaj barely prosecutes half the crimes her Republican predecessor did, she nevertheless increased her staff by 61%.
In addition to irregularities of performance which many deem illegalities, and  deletion of court records–undeniably a felony–there is also an oddity about her record as Commonwealth Attorney. 
On March 25, 2021 she was bounced from those licensed to practice law in Maryland on several counts of non-compliance. As the attorney representing the state of Virginia, it is neither a requirement nor a necessity for her to practice law in a foreign state. Nor should there be time to do so if conscientiously adhering to her duties.
However, perhaps Biberaj is anticipating having to once again defend the same or other criminal relatives. Prior to 2019 she defended one of her family members in a Maryland court after he was arrested for theft.
Biberaj was the target of yet another investigation by Lindsay Watts. She broke the story that Biberaj had hired a registered sex offender, a child pornographer, to work as a paralegal in her office.
The man had access to every criminal's records, including his own. The only reason he was found out was that his probation officer telephoned Biberaj's office.
When confronted with the scandal, Biberaj lied. Twice. She falsely insisted that the man had undergone a rigorous background check and averred that it was not her responsibility to vet the man but the County's Human Resources department.
The man himself admitted in a TV interview that no background check whatsoever had been conducted, adding that he was astounded at how he was hired almost instantly.
The Forces behind her election
Leftist billionaire, George Soros was her biggest donor in 2019. His Super PAC, called the Justice and Public Safety Political Action Committee, poured $659,000 into Biberaj's campaign coffers.
And just as the Communist Party USA endorsed Hillary Clinton for president, a Chinese Communist Party-connected Marxist PAC called supported Buta Biberaj and stuffed her campaign coffers.
Trevor Loudon, a world-renowned expert on Communism who has studied its political machinations for 30 years, foretold the incursion of Communism influence into American politics and elections. Specific to Loudoun County, he outed the China-based American Communist PAC, New Virginia Majority (NVM), detailing its hold on Virginia.
NVM's co-chairman, Tram Nguyen, boasted that NVM is responsible for turning Virginia blue. Nguyen gloated in a New York Times op-ed that 18 out of their 23 intended candidates were elected. Among the victors were Buta Biberaj and Loudoun Board of Supervisors Chair, Phyllis Randall.
Biberaj was born in the Communist country of Albania. Although it now purports to be non-Communist, the government remains corrupt and, as with many formerly Communist countries, the only change is in the labels of their political parties. The regime remains the same and  consequently the people are still mired in poverty and other problems.
Lack of accountability and transparency
 Buta Biberaj has refused to answer questions by other journalists just as she has refused to answer any of mine.
Refusal to comply seems par for the course for Biberaj because she also refused to comply, as Commonwealth Attorney, to a FOIA request when she was sued in her first year of office by former Fairfax County Commonwealth attorney Andrew J. Kersey.
Among the questions I posed to her are: is she a dual citizen of Albania and the USA; why she doesn't maintain records of arrests versus prosecutions; as a Muslim does she support Israel or Hamas; is she a Communist and if not why does she carry out her duties according to the Communist playbook of undermining law and order?
Quo vadis, Loudoun?
November 7th, 2023 will tell if the people will put up any longer with Buta Biberaj's lack of accountability, transparency, and criminality. Or will they vote for Bob Anderson?
###