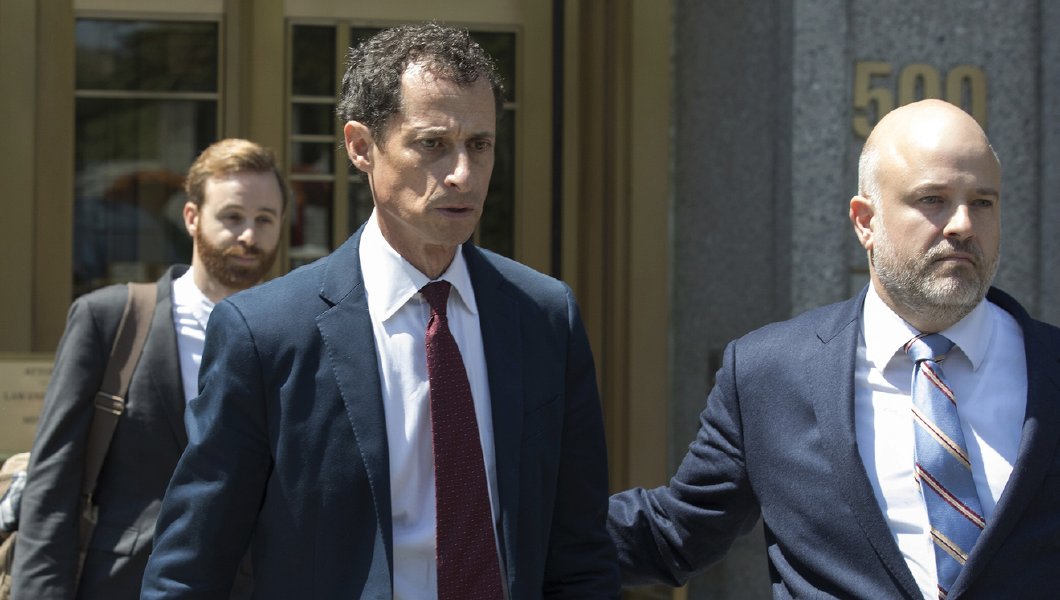 Remember When Breitbart Warned Us About Anthony Weiner?
Everytime the mainstream media is forced to accept the truth, they accuse us of being nuts.
When Andrew Breitbart broke the story regarding accusations against Anthony Weiner, he was repeatedly laughed at. In fact, he was accused of fabricating the events on several different channels. However, the dust finally settled. Weiner was sentenced to serve 21 months in prison. Translation: Breitbart was right.
I bet CNN and MSN and the rest of the leftist media sure hate to report this one, because to tell the story right, you have to tell who broke it first.
Furthermore, according to Crybaby Clinton, Weiner's fall from grace is one of the many reasons her run for the White House failed so miserably. To hear her tell it, Hillary is the victim of a man's world and Weiner's poor choices. Wanna know the truth? The truth is, Hillary Clinton took part in the victimization of a child.
As we pointed out back in March:
NYPD seized a laptop that proves Hillary Clinton knew Weiner was engaging in a sexual relationship with a minor. Clinton did absolutely nothing to protect the child.

Does it surprise anyone that the Hillary Clinton covered up Weiner's sex crimes? Hopefully not. She certainly has a history of doing such things.

Remember, Hillary married Bill Clinton and the fun began.

Time and time again she bullied the women Bill Clinton victimized. However, this time Hillary went too far.

Instead of alerting the police or calling child services, she advised her aide to stop seeing Weiner. Bad publicity is a no-no when running for President.
The Last Laugh
Now that a Manhattan judge sentenced Weiner, Breitbart gets the last laugh.
As Breitbart Reports:
A federal court in Manhattan sentenced disgraced former congressman and New York City mayoral candidate Anthony Weiner to 21 months in prison Monday, the resolution of a six-year saga of sexual impropriety broken by Breitbart News founder Andrew Breitbart.

U.S. District Judge Denise Cote arrived at the sentence after federal prosecutors asked for 27 months for Weiner's single count of transferring obscene material to a minor. In May, Weiner pleaded guilty to "sexting" with a 15-year old girl, the last in a long line of online acquaintances with whom Weiner engaged in explicit exchanges.

The former congressman's propensity for lewd behavior online, which came to destroy his political career and marriage, and, according to the Associated Press, "may have cost Hillary Clinton's [sic] the presidency," first came to the public's attention through Andrew Breitbart's nascent independent media empire. Breitbart News stablemates Big Government and Big Journalism spread the fact that Weiner had, apparently accidentally, tweeted a picture of himself in an aroused state. This touched off what came to be known as "Weinergate" and eventually led to the then-Democratic congressman resigning.

After Weiner impugned Andrew Breitbart's reputation and journalistic integrity, Breitbart famously hijacked a New York City press conference Weiner was giving to address the growing scandal. Breitbart defended his reporting and challenged the journalists in the room to name a single lie he and his team had told. Weiner himself eventually apologized to Andrew Breitbart for his claim that he was hacked and his attempt to damage Breitbart's reputation.
Deep and Wide
At the time this story broke, Breitbart had no idea just how salacious the scandal really was. It reminds me of the old children's song- deep and wide. Anthony Weiner's scandals run very deep and wide. Even after resigning from his job, Weiner kept on sexting. The age of the girls continued to get younger. When he got caught sexting a 15-year old girl, he went from tacky to criminal. Interestingly, at least once, the lewd pictures he sent included his son. Gotta start them early?
This twisted soul deserves more than 21 months, but considering Clinton has yet to face a single day for her crimes, at least Weiner will see some time behind bars. For now, we will take what we can get.
Weiner begins serving time on November 6th.