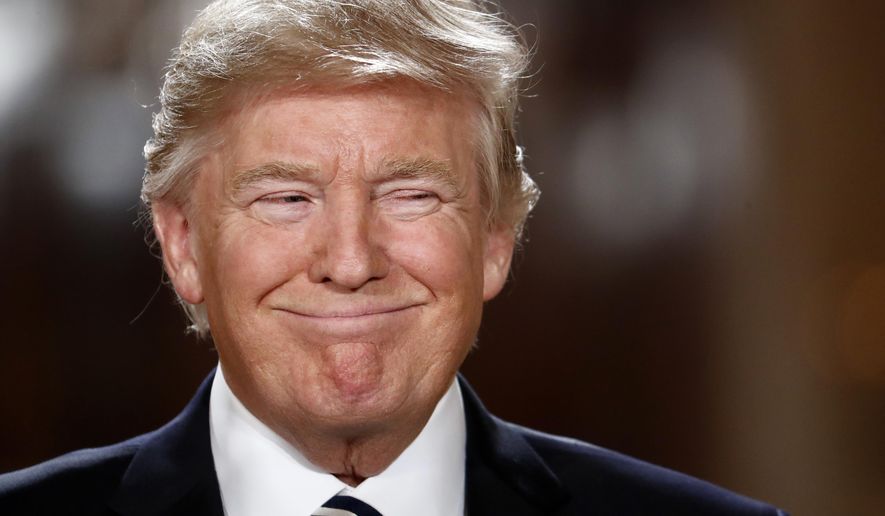 As Donald Trump constantly proves, most polls showcase Leftist hopes and dreams moreso than any reality of public opinion. But the Left keep trying.
Apparently, their polls don't discourage the real Americans, Conservative Republicans, who now support President Trump at around 95 percent. And things appear to be getting better for the president with the unwashed masses.
New York Post reports,
Despite the launch of impeachment proceedings, the president saw a 2-point increase from a poll a month ago, according to the new Hill-HarrisX survey released on Wednesday and taken after the impeachment inquiry was begun.
That makes him just 2 points shy of his highest-ever approval rating of 51 percent last August, according to The Hill.
Just as encouraging for the president, his disapproval also dropped — to 51 percent, his lowest level this year.
Talk about having a hearty laugh at the expense of the Left, President Trump must be downright giddy.
But what must Democrats think? After all, they've tried to convince themselves that impeachment answers all their questions. Clearly, anyone can see the flaw in their argument.
For example, if impeachment of Trump is what the public wants, then why doesn't Pelosi take a House vote on it? Give the people what they supposedly want…like Obamacare!
But Pelosi won't dare take that vote.
She's and her minions continue to attempt to sway public opinion against the president in hopes public sentiment ultimately swings their way.
The article highlights a couple of other useless polls that speak to this.
A new survey by Gallup found that just 40 percent of Americans approve of his job performance and only 34 percent approve of his personality.
And a separate survey by Monmouth released Tuesday found just 39 percent of registered voters think Trump deserves re-election.
If Democrats believe either "poll", then they wish for a repeat of the disappointing night of November 8, 2016.
And President Trump knows this.
He recently taunted Democrats, saying that House Minority Leader Andrew McCarthy will get the gavel in 2020. And as for his imminent impeachment, the president continues to dare Democrats to actually launch impeachment with a vote.
While they consider that, President Trump added China to the list of countries that should investigate Joe Biden. I called this a BOSS move of the highest order.
Democrats thought the threat of impeachment over Ukraine would send Trump running for the hills. Instead, Trump drop-kicked their sorry asses, then pissed on their corpses.
Speaking of Biden, what are his poll numbers?
On September 25, Paste reported on Biden's falling fortunes:
Once the dominant front-runner in the Democratic primaries, Joe Biden is watching his lead ahead of Elizabeth Warren go down the drain.
While the former vice president still leads most national polls, his descent has been months in the making, and it seems the numbers are now beginning to reflect that. Florida-based pollster Ryan Tyson told Politico, "Biden has a challenger now," referring to Massachusetts Senator Elizabeth Warren. "He didn't have one before," adds Tyson, sharing three large surveys he just completed in New Hampshire, South Carolina and Florida that show Biden slipping and Warren gaining.
Interestingly, the downward trend in Biden's election numbers and ratings began before reports of President Trump pushing Ukraine to investigate Obama's VP and subsequently undermine him—making the whole whistleblowing/impeachment ordeal seem even more ridiculous and avoidable.
There's still plenty of time for the situation to re-stabilize and even perhaps shift back in Biden's favor. But it's looking grim for Uncle Joe. Tyson's just-completed poll for New Hampshire shows Warren with 18% of the vote to Biden's 15% in an open-ended ballot question. Considering the last poll, it's a dramatic change in preference; Biden dropping 18 points and Warren gaining seven marks a huge, 25-point shift.
South Carolina  puts Biden in a similar situation: He has dropped by 18 points since May, though he remains in first place there with 19% of the vote, per Tyson's 600-voter poll. Meanwhile, Warren has gained a point and has 9% support in the poll, but has moved to second, owing to the fall of Bernie Sanders—a descent reflected in New Hampshire and Iowa numbers.
On the same day, Politico reported that Warren passed Biden in national polling:
A new national survey shows Elizabeth Warren now sitting atop the 2020 Democratic field, further cementing her ascendancy in the party's presidential primary after a pair of polls reported her leading in the first two primary states.
Twenty-seven percent of Democrats and Democratic-leaning independents polled by Quinnipiac University said they favor Warren, according to a survey released Wednesday morning. Twenty-five percent said they prefer former Vice President Joe Biden.
But it gets far worse. As NBC reported, Biden is not only falling in the polls, but his fundraising is just as dismal.
Time reported the latest results,
Joe Biden trailed rivals Sen. Bernie Sanders and Indiana Mayor Pete Buttigieg in July, August and September fundraising, setting up what will be another round of questions about whether the former Vice President really is the best candidate to challenge President Donald Trump's re-election.
Elizabeth Warren has yet to announce her third-quarter fundraising haul, potentially adding another hiccup to Biden's claim that he is the strongest Democrat in the field.
Contrast this with Trump's fundraising and you get the picture. Trump raised millions within hours of Democrats' impeachment announcement.
Clearly, everything Democrats do backfires. These clowns are in Plan G of their plot to win the presidency. And with each new coup attempt, Trump strengthens.