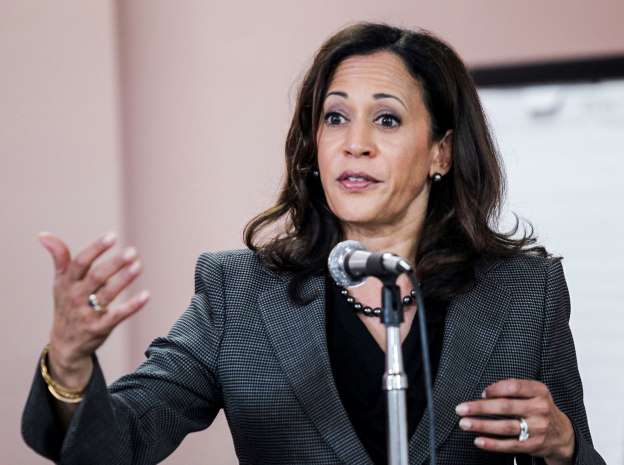 Since day one, our team has speculated that Biden's campaign is a ruse. The real goal is to get Kamala Harris elected as the first black, or sort of black, female president of the United States.
And Harris' latest comments lend credibility to our theory. She might have a back door plan after all!
I think we'd categorize this as a Freudian slip. Kamala was speaking at a virtual round table discussion with small business owners in Arizona when she touted policy plans for the "Harris Administration." And the slip-up didn't go unnoticed.
"A Harris administration, together with Joe Biden as the president of the United States," she said. She quickly clarified, "The Biden-Harris administration will provide access to $100 billion in low-interest loans and investments from minority business owners."
Fox News grabbed some of the replies on Twitter:
Many on social media questioned whether Harris' misstatement was a "Freudian slip" as critics of the Biden candidacy insist that former VP is a placeholder for the liberal senator.
"Joe better hire a food taster," Richochet editor-in-chief Jon Gabriel quipped.
"Uh oh, Kamala. You weren't supposed to say that part out loud!!" Daily Caller's Greg Price exclaimed.
The Trump campaign quickly seized on Harris' gaffe with the Trump War Room tweeting that Biden's running mate "lets the truth slip."
Trump the Troll Master
Trump has made an art of trolling Democrats. Remember when leftists spiraled out of control because Trump gutted Obamacare? First, he got rid of the penalties for not buying into the broken system. Then he ensured pre-existing conditions were covered. In fact, he got the left pretty darn good with his tactical moves.
Trump announces EO:
1- Ensure health insurance companies cover pre-existing conditions
2- Payroll tax cut extended through end of year
3- Enhanced unemployment benefits through end of year
4- Student loan payments deferred through end of year
5- Extension of eviction moratorium https://t.co/9aDJfwM8m4

— Heather Childers (@HeatherChilders) August 8, 2020
And there was that whole "you ain't black" website the Trump team put up after Joe Biden stuck his foot so far in his mouth it came out the back side.
And most recently, Trump trolled Biden with an offer he shouldn't refuse. In an exercise to prove who's faculties are still 100% intact, Trump suggested they both undergo a little drug testing prior to election day.
So make no mistake, this "Harris Administration" slip-up will garner quite a bit of attention today.
Can Biden Back-track?
Too bad it's too late for Biden to make a u-turn and pick someone who isn't planning to off him. Ok, maybe she's not physically planning an assassination, but rest assured leftists are positioning themselves for 'operation insert Kamala.'
Of course, their efforts are in jest. As Trump will easily win the election. And while Harris is wasting her time fantasizing about her own administration, I stumbled across a much more interesting theory.
According to Ivana, her daughter just might be the one to watch in 2024. America is ready for a female president. And what could be better than Trump 2.0?